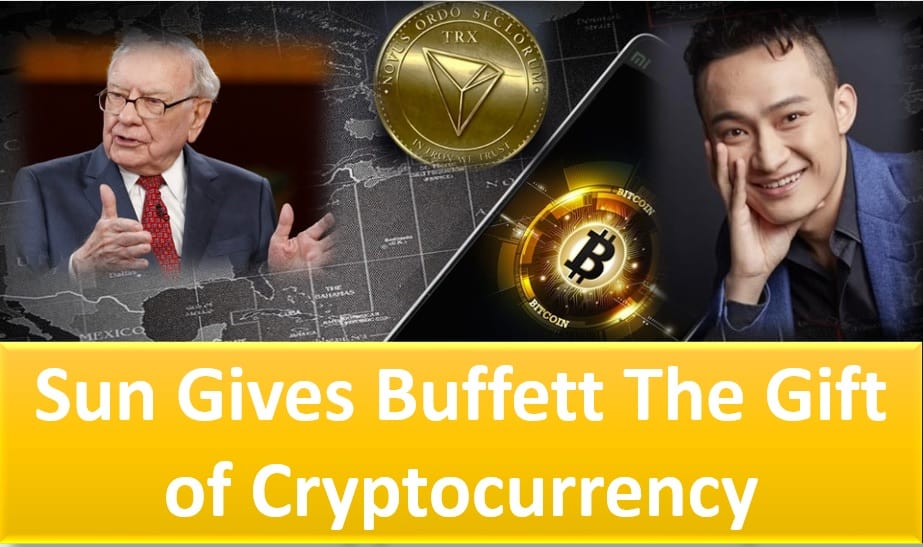 TRON CEO Gifts Warren Buffett Cryptocurrency
Last updated on November 1st, 2022 at 01:34 pm
After finally having his dinner with Warren Buffett, TRON CEO Justin Sun gifted the investor with Tron and Bitcoin, that Buffet allegedly still owns.
Warren Buffett, a well-known investor, was always known as an opponent of the crypto industry, and so it was not surprising that many were excited when the CEO of TRON, Justin Sun, won a charity dinner with Buffett back in 2019. Unfortunately, the dinner was postponed. That dinner took place recently.
While Sun did not manage to completely change Buffett's mind about cryptocurrencies during those few hours that the two had spent together, he did later report that Buffett seems to be interested in blockchain, if not cryptocurrencies. Still, Sun prepared a parting gift for Buffett — a phone with some BTC and TRX stored within a crypto wallet.
Now, Sun posted a tweet revealing that Buffett still owns the phone, although he admitted that this does not make him a crypto investor.
Buffett Kept His Crypto & His Stance Toward Them
However, according to recent reports, Buffett doesn't seem to have changed his mind about crypto, at all.
Buffett, the fourth-richest individual in the world, recently trashed cryptos yet again, claiming that they have zero value. He did so during a recent interview with CNBC's Becky Quick. This came as a disappointment to the crypto community as these comments came only a month after his dinner with Sun.
Sun confirmed that Buffett's coins are intact, which is, as he claims, "the beauty of blockchain," hinting at the technology's transparency. Moreover, as Sun's tweet claims, the coins that he gifted to Buffet already yielded a 20% return.
Another thing of note is that, during the interview, Buffett jokingly mentioned that he could issue his own crypto called Warren Currency.
However, while Buffett was clearly making a joke, Sun used his words as a marketing trick, and he openly stated that he would support WARRENCOIN on TRON blockchain.
In fact, he proposed issuing 7 billion coins with no monetary value and giving one to everyone in the world, thus making them a Buffett fan.
Sun's statement does seem to be a joke as well, but the young entrepreneur has been known to make interesting moves in the past, so something like this might even happen someday.
As for Buffett, the likelihood of him issuing his own cryptocurrency is extremely small, considering that he never even acknowledged the project's existence.
Disclaimer
The information provided here is for INFORMATIONAL & EDUCATIONAL PURPOSES ONLY!
View our complete disclaimer on our Disclaimer Page