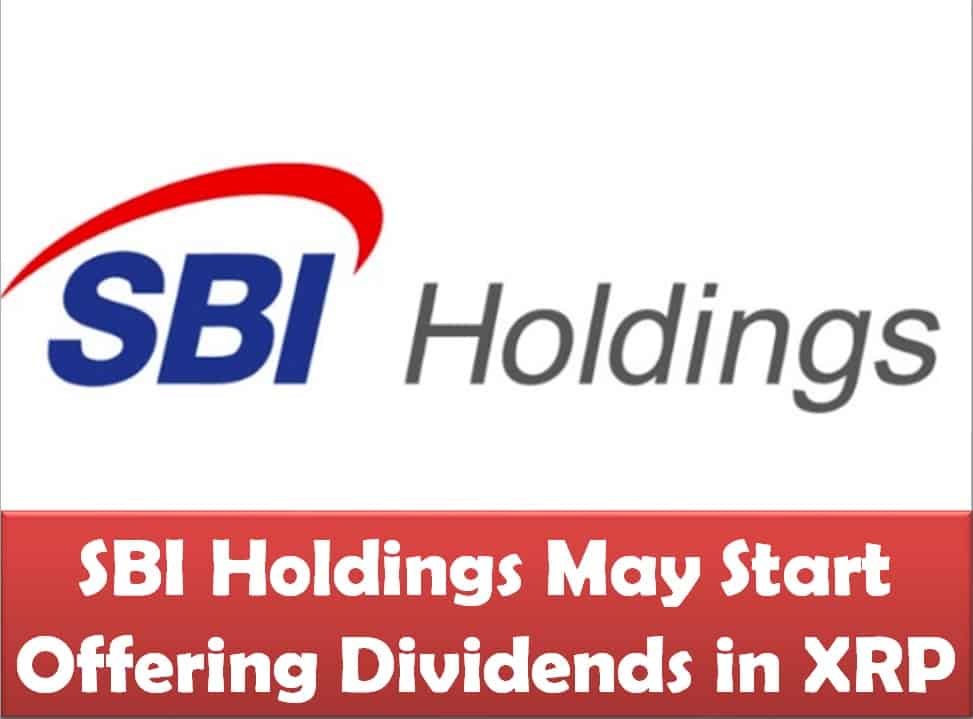 Japan's SBI Holdings May Start Offering Dividends in XRP
Last updated on November 1st, 2022 at 04:38 pm
The strength of the cryptocurrency industry continues to grow around the world. One of the most countries with a very active cryptocurrency community is Japan.
According to recent reports by Cointelegraph's Japan team, XRP might soon receive a particularly important role in this crypto-friendly nation.
The report claims that Japan's financial giant, SBI Holdings, may have a plan to start offering XRP-distributed dividends to its stockholders.
So far, SBI Holdings kept using a traditional cash system, but the company's chief executive hinted that this might change in the near future.
SBI's new plans seem to have been inspired by Morningstar, another company that is one of SBI's subsidiaries.
Morningstar implemented this same practice a little while ago. SBI seems to like the idea and it revealed that the plan is to distribute 30 XRP, which is currently worth less than $9 USD.
This will only include stockholders that own over 100 shares, each of which is currently valued at around 2,000 yen.
The CEO also stated that the initiative would be opt-in and would launch at the end of the fiscal year, so, at some point in March 2020.
Ripple & XRP Continue Expanding
The news is also very important for XRP itself. The coin's parent company, Ripple, has always had a very good relationship with Japan's SBI and the two even collaborated on the creation of MoneyTap, a blockchain-based payments app.
The app became rather popular since its release, as it was accepted by up to seven Japanese banks, including Towa, Chikubo, Ashiga and others.
It is also noteworthy that Ripple and its XRP continue to attract attention in other countries all around the world. One example is a recent announcement by the UK-based TransferGo, which is a remittance service that has been around since 2012.
TransferGo announced that it plans to start leveraging ODL (On-Demand Liquidity), which is one of the solutions built on RippleNet.
The solution allows Ripple's partners to issue almost instant transactions with minimum fees by using XRP, while the solution itself acts as a bridge between different institutions.
The transaction processing is reduced to a fraction of a second, that way anyone can send local or international payment almost instantly. Currently, most traditional systems often takes hours or even days to complete the same process.
TransferGo originally adopted ODL in order to allow foreign workers to send money back to their home countries and the move is considered a major success.
In addition, Alastair Constance, the CEO of Mercury FX, stated that his own service wanted to grow by targeting anyone who requires international transactions.
Mercury then discovered Ripple and its payment products that allow payment settlements to be completed over 100 times faster than before, while the cost is reduced to only a fraction of the former amount. For Mercury FX, the discovery of Ripple was a game-changing moment.
Ripple's own goals are advanced by these statements and partnerships, as the company's plan is to enter partnerships with as many banks and financial institutions as possible.
Their goal being that Ripple would be the center of a worldwide network of such services and all of them would use its payment systems for sending instant payments to and from anywhere in the world.
Of course, the payments are all done in XRP, even though the deposits and withdrawals are made in fiat.
Disclaimer
The information provided here is for INFORMATIONAL & EDUCATIONAL PURPOSES ONLY!
View our complete disclaimer on our Disclaimer Page