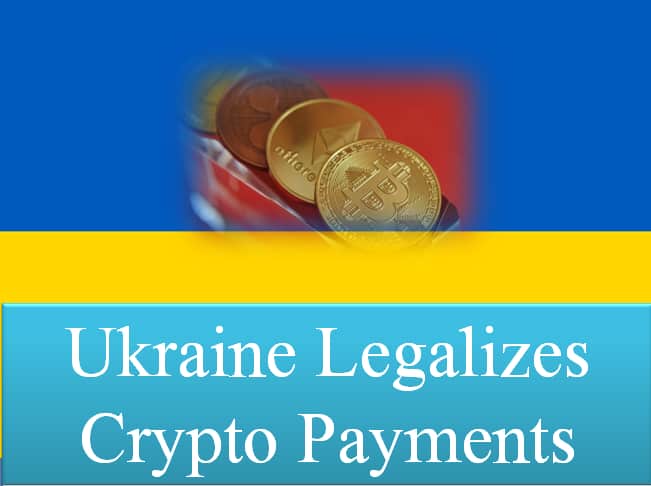 Ukraine Legalizes Crypto Payments
Last updated on November 1st, 2022 at 04:33 pm
Ukranian Lawmakers of the Verkhovna Rada, the legislative arm of the Ukranian government, have officially adopted a new crypto bill.
The bill incorporates Anti-Money Laundering (AML) best practices within the Ukranian crypto legal framework.
Ukraine Sees Crypto as Property
Cryptos are officially classified as property with this newly adopted legislation, allowing crypto owners within Ukraine to use it as a form of exchange. This allows room for things like payments, investments, transfers and legalized trading.
The new law also details a provision that enables private individuals to act as crypto custodians and money transmitters.
Even so, these services must operate within the strict compliance of Ukraine's newly adopted bill when it comes to financial monitoring and reporting standards.
Teaming Up with The Exchanges
This new crypto legislation comes shortly after the official announcement from Ukraine's Ministry of Digital Transformation. Within it, the Ministry declares its new partnership with the Belarusian crypto exchange, Currency.com. Having already partnered up with Binance before this, the Ministry is making sure it has ample experience when it comes to developing crypto legislation.
With the new crypto legislation in place, Ukraine has taken significant steps in order to jumpstart thriving cryptocurrency commerce within the country's borders. The Ukranian city of Kyiv had announced earlier this year that it was making plans of using Bitcoin payments within its public transportation system.
FATF Compliance
Through the adoption of the new regulations and standards for crypto payments as a whole, Ukraine plans on complying with the Financial Action Task Force (FATF) guidelines. The FATF, built from an intergovernmental team, has been adamant on leading member nations to provide strict regulations on crypto since the start of 2019
The FATF's primary focus when it comes to crypto is the compliance of KYC/AML regulations, with several exchanges across the world forced to comply with the so-called "Travel Rule" of the FATF.
Ukraine's lawmakers reportedly collaborated with crypto experts funded via the European Union (EU). Through the adoption of the new crypto laws, Ukraine's government is holding hopes that it would help them secure a hefty €500 million in financial assistance through the EU.
Volodymyr Zelensky, the Ukranian President, has taken a very pro-crypto and pro-blockchain stance since his inception. Reports say that Zelensky and his administration consider blockchain adoption as a means to fight the rampant, systemic corruption within the country.
What these regulations will ultimately mean for Ukraine as a whole remains to be seen. With any luck, Ukraine will enjoy a healthy boost in its economy thanks to the vast potential of money flowing into the country.
Disclaimer
The information provided here is for INFORMATIONAL & EDUCATIONAL PURPOSES ONLY!
View our complete disclaimer on our Disclaimer Page