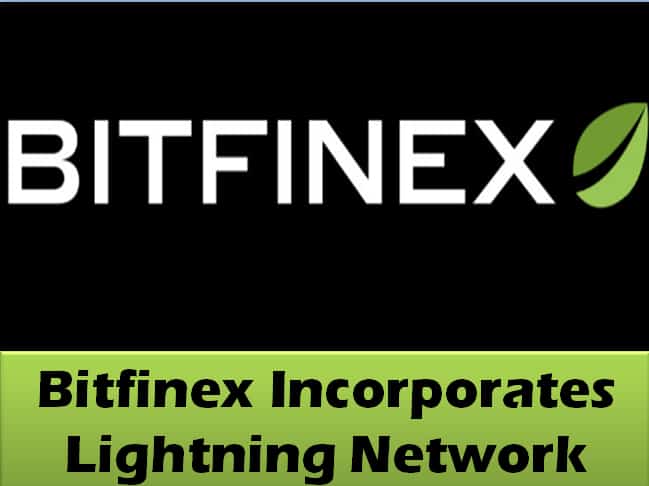 Bitfinex Incorporates Lightning Network
Last updated on November 1st, 2022 at 01:55 pm
Cryptocurrency exchange, Bitfinex has been in the news a lot over the last year. Most of the time, the news has been anything but positive and often revolves around FUD with Tether.
Bitfinex is in the news again. In this latest news from this crypto trading platform, they explain that they have completed 2 principle upgrades.
These upgrades are expected to totally transform the way a user pays and also gets to spend. In a tweet that was made on December 2nd, more information was released on the development.
Paolo Ardoino is the chief technology officer of Bitfinex and he has made it known that they would now be providing support for Bitcoin transactions that are conducted on the Lightning Network (LN).
Better Bitcoin Payments
If you ever tried to move Bitcoin from one wallet to another or use it to pay for something, you know that it isn't quick. If the mempool is clogged, it can be hours and of course it can cost a small fortune to complete your transaction.
This new development of Bitfinex means that the users will be able to gain from the benefit of instant transactions and low transaction fees. So, thanks to the Lightning Network, users will be able to more quickly move their Bitcoin and complete transactions.
Lightning Network
First designed to assist in the increase of the Bitcoin network capacity, overall, Lightning Network has been performing well. The feature has now garnered support from massive names like Jack Dorsey who is the co-founder of Twitter and CEO of Square.
However, as with most things in life, there are two sides to every story. While the utilization of the Lightning service can benefit users, is referred to as something to be used by those who are more technically minded.
It should be noted that the Lightning Network is still in its initial stages which is the impetus for many in the space being unable to make effective use of it. But it seems that with time, the whole network can and will be upgraded, making it a lot easier for practically anyone to make use of it.
Ardoino also made very clear reference to what he felt about Bitcoin scaling. He stated that Lightning Network and it's assets are an excellent P2P micro payment solutions as well as an outstanding settlement layer for B2B.
Disclaimer
The information provided here is for INFORMATIONAL & EDUCATIONAL PURPOSES ONLY!
View our complete disclaimer on our Disclaimer Page