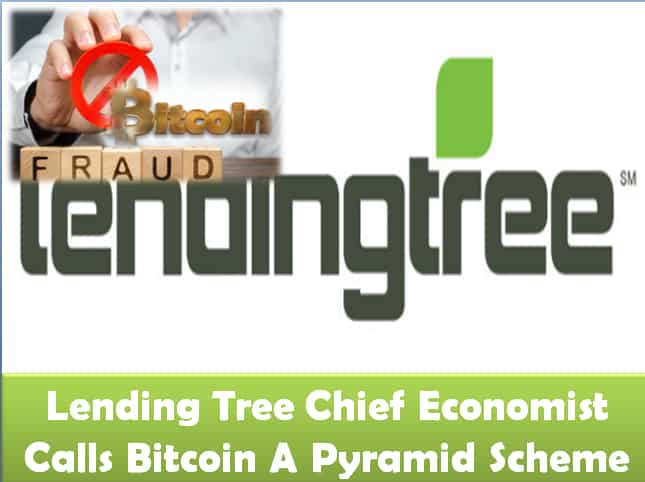 Lending Tree's Chief Economist Calls Bitcoin a Pyramid Scheme
Last updated on November 1st, 2022 at 01:44 pm
The cryptocurrency sector's struggle for acceptance is quite well known at this point. Bitcoin, the first and largest cryptocurrency recently turned 11, but that doesn't mean that the struggle is approaching its end.
In fact, while the previous year of 2019 has been quite beneficial after the fiasco that 2018 had turned out to be, cryptos are still facing some decade-old criticism and false claims.
The best-known such claim is that Bitcoin is a pyramid scheme, which was repeated most recently by a Lending Tree Chief Economist, Tendayi Kapfidze. According to Kapfidze's recent statement to Yahoo Finance, "You only make money based on people who enter after you."

While many would likely be able to understand this sentiment, there are millions of people around the world who believe that this is not true. Kapfidze was quick to note that Bitcoin has 'no real utility in the world,' and that people have been trying to create a utility for it for ten years.
Simply put, he called it a 'solution in search of a problem,' insisting that there are simply no problems for Bitcoin to solve.
Now, anyone who is familiar with the crypto and blockchain technologies is likely well-aware that this is simply false and that such claims can only come from not understanding or feeling threatened by the crypto industry.
Cryptocurrencies Do Have Use Cases
Bitcoin, as well as its underlying blockchain technology, are based on the concept of decentralization. This is their defining characteristic. The concept of decentralization has been around for a long time, but it never managed to enter the financial industry before cryptocurrency emerged.
It was deemed necessary 11 years ago, as the economic crisis caused by traditional banks raged around the world. The banks have once again misused their authority over money and caused an economic crash in an attempt to enrich their own coffers. This is what led to the creation of Bitcoin in the first place.
In other words, Bitcoin and its peers, already have a use case in the financial industry, which revolves around taking power away from corrupt institutions and bringing economic and financial balance to the world.
Furthermore, Bitcoin has also already done things that traditional financial industry failed to do in centuries of its existence, which is delivering solutions for unbanked and under-banked areas of the world.
The majority of Africa, as well as some other regions across the world, such as the Philippines, have been struggling with bad economies and the lack of banking support during their entire existence. With banks not seeing the potential in these areas, they failed to include their citizens and provide them access to the global economy.
Digital currencies have the potential to fix this, as the only thing that anyone needs in order to use them is a connection to the internet.
These two major use cases for Bitcoin, cryptocurrency and blockchain tech is only scratching the surface. It is also worth noting that cryptos are still quite young and quite new, meaning that they will take time to stabilize and evolve from a technological standpoint. However, just because they have yet to reach their full potential, doesn't mean that they are a scam.
Disclaimer
The information provided here is for INFORMATIONAL & EDUCATIONAL PURPOSES ONLY!
View our complete disclaimer on our Disclaimer Page