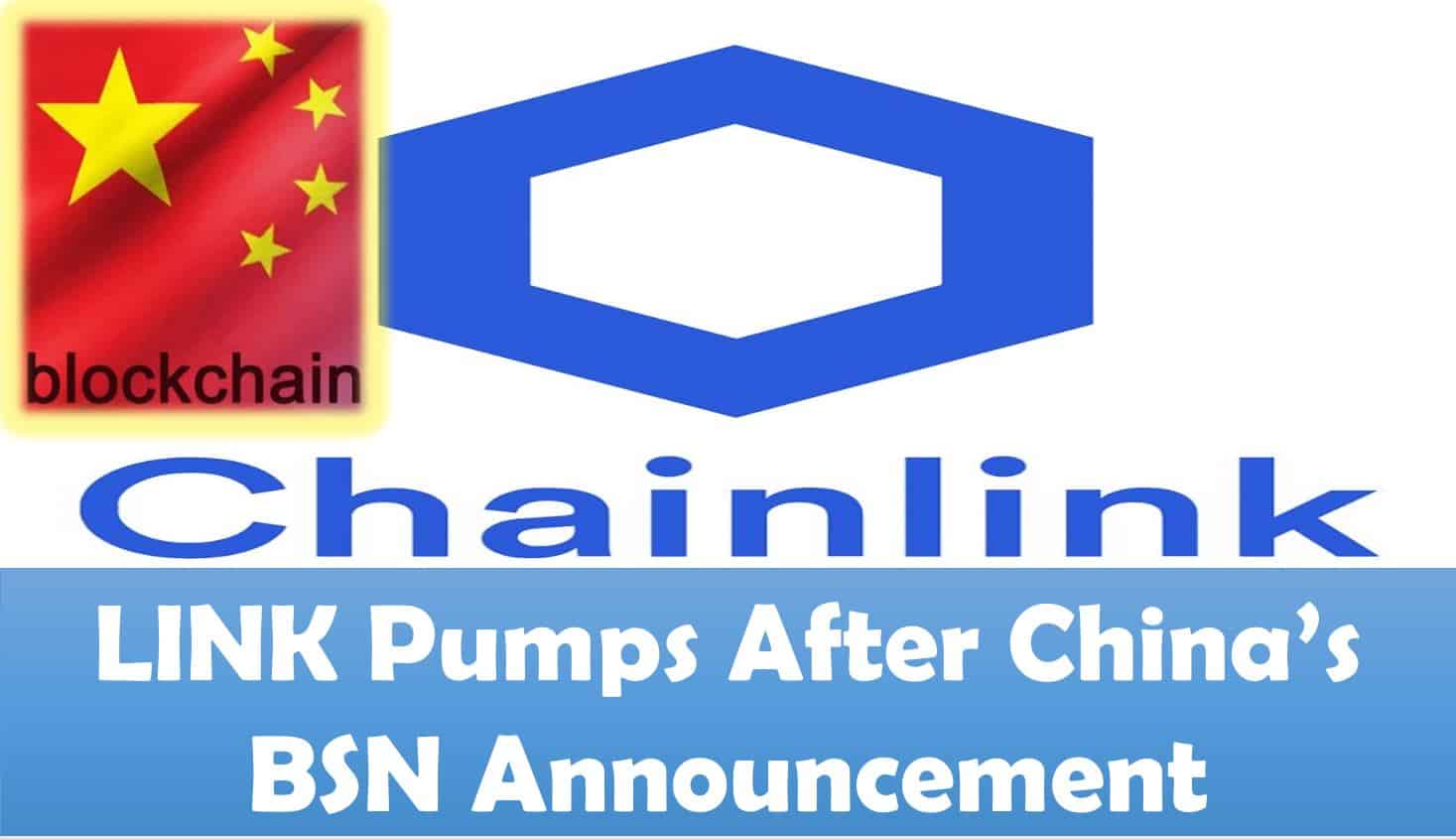 LINK Pumps After China's BSN Announcement
Last updated on December 7th, 2022 at 09:23 pm
Chainlink's LINK price rose to an all-time high when the altcoin rallied alongside other cryptocurrencies in the market. It rose to about 4,160% from its first day of trading, closing at $5.76.
The massive gain continues as the rest of the altcoin markets see bullish activity in recent weeks. However, the unprecedented rise in price of LINK was spurred on after China mentioned the Blockchain Service Network project.
The LINK/USD exchange rate increased by 7.53% and stayed at $5.76 on Binance cryptocurrency exchange. However, it later shed gains and ended at $5.58 on profit-making sentiment, although it still stayed bullish.
---


---
Collaboration With BSN
The Chinese Zhejiang district launched a landslide blockchain project throughout the country. The project is termed Blockchain Service Network (BSN), and the developers said they intend to partner with Chainlink for the success of the project. According to the authorities, they would engage Chainlink's smart contracts and oracles to set up the project.
SmartContract, the firm in charge of the Oracle Network of Chainlink, will be assisting in sourcing information and other details from the real world when the project commences. However, the Cosmos network will also be supporting the solution to ensure the interoperability between the different systems.
"China's national Blockchain Services Network (BSN) is integrating Chainlink as the preferred oracle network to provide BSN systems access to off-chain data", the Chainlink team said.
The team further stated that the collaboration will see SNZ Holding and IRIS network contribute to the technical integration support.
Cosmos is a similar network as the Oracle network, but the rival project has pledged to offer its support which will benefit everyone in the industry.
The token has also risen from the beginning of the week, rising by 12% during the upsurge of other coins this week.
---


---
Technical Outlook of LINK
For traders in the cryptocurrency space, the technical outlook of Chainlink has been encouraging. Even with the bullish activity, investor interest is high for this altcoin.
The LINK/USD exchange rate has come back from its YTD top. Interestingly, the upper trendline of Chainlink's Ascending Channel was linked to the downside pullback. But traders had to take short-term profits by selling LINK.
However, this has not affected the bullish movement of the crypto. While a healthy retracement would help strengthen the market activity for LINK, if this news continues to be positive the bulls will likely trade their longs and continue to move the price upward. Some experts have predicted that the altcoin may rise beyond it's previous all time highs.
Disclaimer
The information provided here is for INFORMATIONAL & EDUCATIONAL PURPOSES ONLY!
View our complete disclaimer on our Disclaimer Page