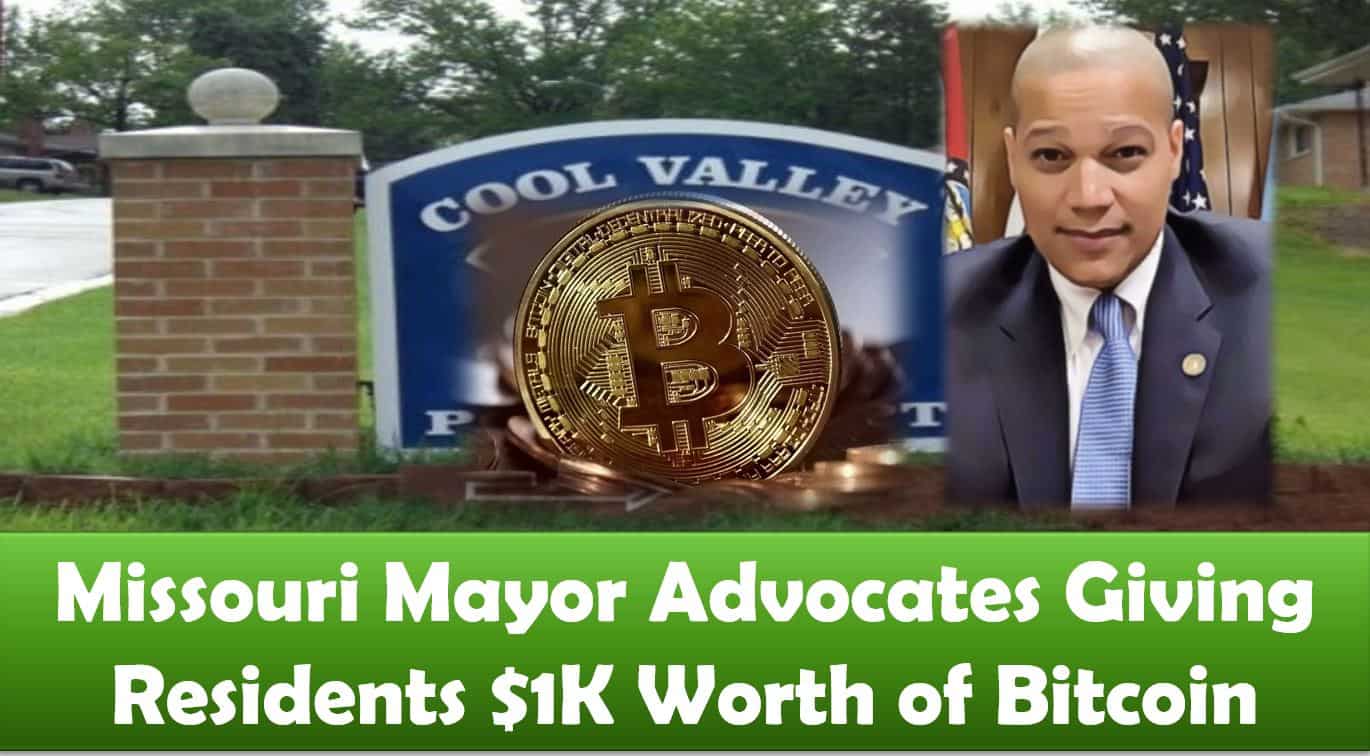 Missouri Mayor Advocates Giving Residents $1K Worth of Bitcoin
Last updated on November 1st, 2022 at 11:16 am
Cryptocurrencies in the United States are becoming more popular by the day. This is in no small part due to some major crypto enthusiasts and influencers taking bold steps to boost adoption and awareness.
The Mayor of Cool Valley, Missouri, Jayson Stewart, has joined this trend after announcing that he was considering giving away over $1 Million worth of Bitcoin to the 1,500 residents in the city.
The mayor was speaking during an interview with KDSK, a St Louis news site. He stated that he desired to ensure that every household in Cool Valley has access and exposure to some Bitcoin.
Stewart also stated that the funds used in the initiative would come from donations from cryptocurrency supporters. He also stated that there was a chance some funds would be sourced from the government's pandemic relief funds.
Residents Required To HODL
Stewart did not give an actual amount of BTC that would be given to each city resident. However, he mentioned that the amount would range to a maximum of $1000 per resident, translating to around $1.5 Million for the entire city. Hence, around 30 BTC will be used for this initiative, going by the current prices.
The mayor also added that residents who receive the BTC could be required to HODL for at least five years.
"My number one concern is that someone just sells their Bitcoin to pay their car note, and then when Bitcoin is sitting at like $500,000 all these years later, they're going to really regret that," Steward added.
Stewart also stated that the main motivation behind launching this initiative was to ensure Bitcoin reaches the people who can maximize its potential for use.
U.S. Lawmakers Take Pro-Crypto Stance
It is not the first time a U.S. lawmaker has proposed giving financial support to those they represent.
Similar initiatives have been proposed for example during the 2020 Presidential campaign by then candidate Andrew Yang. At the time, Yang stated that he would support every American citizen with $1000 monthly in Universal Basic Income (UBI).
However, Yang did not secure a nomination to run under the Democratic Party ticket despite the UBI initiative gaining overwhelming support and broad media coverage.
Other lawmakers in the U.S. have also come together to advocate for cryptocurrencies and take a pro-crypto stand.
The Mayor of Miami, Francis Suarez, has been one of the most prominent political figures advocating for cryptocurrencies. He has been a crypto enthusiast since 2017 and has always proposed friendly regulations that will boost Bitcoin adoption.
Suarez made headlines a few months back when he proposed to allow residents to use BTC to pay taxes. Suarez also added that he planned to ensure that Miami had the most progressive crypto laws in the U.S.
The growing adoption and popularity of Bitcoin have had a positive effect. The primary cryptocurrency has managed to rise to $50K for the first time since the May market crash. Growing adoption is expected to fuel BTC prices further.
Disclaimer
The information provided here is for INFORMATIONAL & EDUCATIONAL PURPOSES ONLY!
View our complete disclaimer on our Disclaimer Page