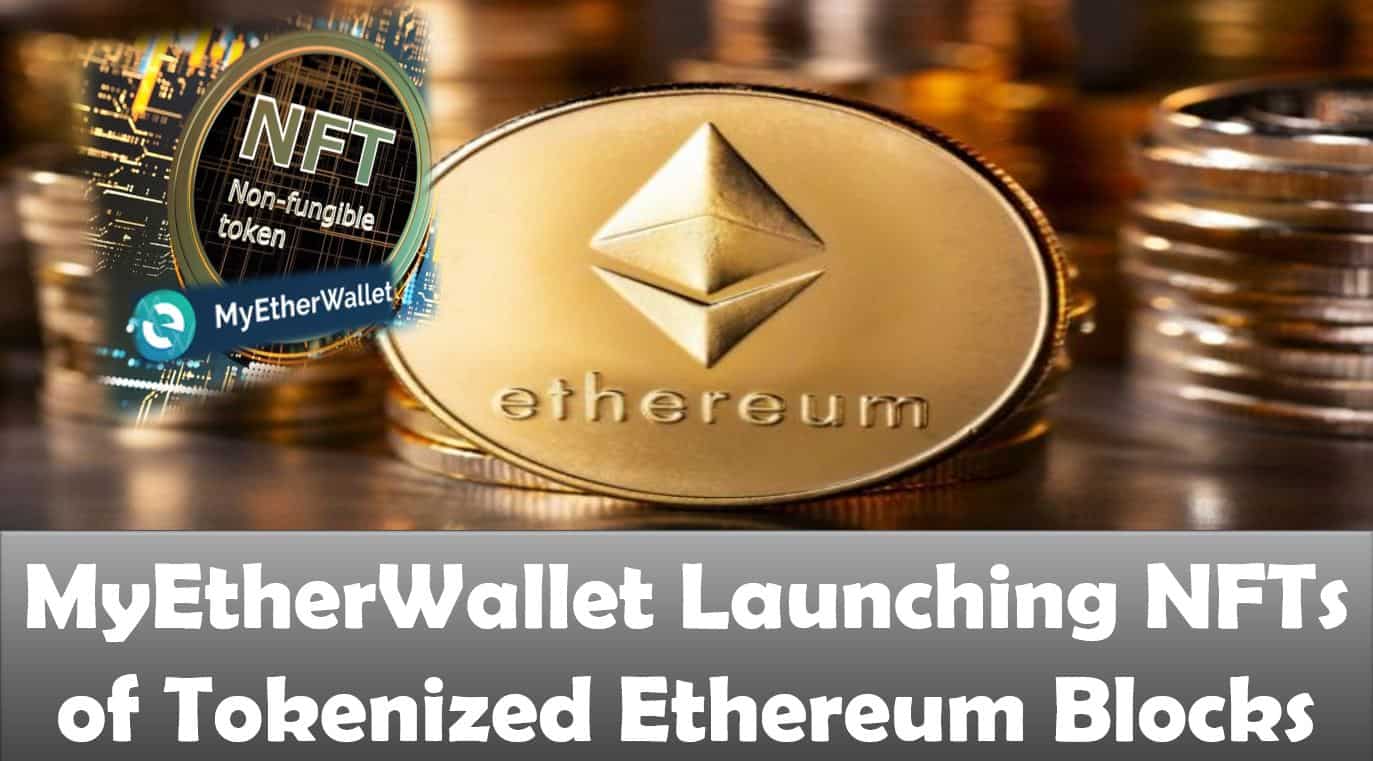 MyEtherWallet Launching NFTs of Tokenized Ethereum Blocks
Last updated on September 9th, 2022 at 10:06 am
It is now time for Ethereum enthusiasts to buy a piece of the network's history.
An announcement by MyEtherWallet (MEW) stated that new ETH blocks would be launched and they would be equipped with a feature that allows users on the platform to mint NFTs from the app directly.
The announcement by MyEtherWallet notes that users will now be able to mint transaction blocks from the Ethereum network. The minted blocks will be those that have a historic significance or a personal appeal.
However, this service will not be available right away.
In an interview with Decrypt, the founder and CEO of MyEtherWallet, Kosala Hemachandra, stated that 13 blocks with historical significance to the Ethereum network will be auctioned on December 11th during a charity drive.
Some of the blocks available during this initiative include the Ethereum whitepaper released in 2013, the first ETH token sale in 2014 and the DAO fork that happened in 2016. These historical moments have already been minted. They will be sold at an auction, with the proceeds going to various initiatives such as Wikipedia, Girls Who Code, NPR and The Skid Row Trust.
MEW SEO Kosala Hemachandra also commented on this development during a press release stating,
"We wanted to provide users with the ability to recognize major milestones associated with Ethereum. Instead of owning ETH of an Ethereum-based asset, they may now obtain an immutable and gorgeous record of ownership of the entire Ethereum block."
MyEtherWallet further states that the first 100 ETH blocks will be minted at a cost of $0.01 ETH, equivalent to around $46.26 USD each. The minting cost for the next 100 ETH blocks will increase to 0.03 ETH. The remaining ETH blocks will be minted at an even higher price of $0.05 ETH each.
Hemachandra also stated that through this new initiative, MyEtherWallet will be fulfilling its goals of empowering its users to assess the Ethereum network easily and make them be part of everything that the network can offer.
"It is a perfect fit for us to embrace NFTs and enable users of all skill levels to get involved. Our users are already accessing their wallets every day with MEW, and it makes sense to bring NFTs to where crypto fans already are," Hemachandra stated in the press release.
MyEtherWallet Is Growing
MyEtherWallet was launched in 2015, a few years after the Ethereum network was unveiled. The platform has enjoyed major growth over the years because it had 1.3 million monthly users earlier this year. This number of users has grown even bigger this year and it now sits at more than 2 million.
This is the first time that non-fungible tokens will be available on MyEtherWallet. Before this initiative was launched, the only way for users to mint NFTs was by linking their wallets to an NFT marketplace such as OpenSea.
The initial NFT drop will only include Ethereum blocks. However, the platform is planning to add other projects later on, which will boost the network's NFT ecosystem.
Hemachandra also spoke on the issue of scalability, stating that the team was ready to meet any high demands during the launch. He also noted that just like the Ethereum network, MyEtherWallet has also been innovating and this is not the first time they will be bringing a new offering to the market.
"We've been through the ICO craze and yield farming hype and have taken everything in stride," Hemachandra noted.
Disclaimer
The information provided here is for INFORMATIONAL & EDUCATIONAL PURPOSES ONLY!
View our complete disclaimer on our Disclaimer Page