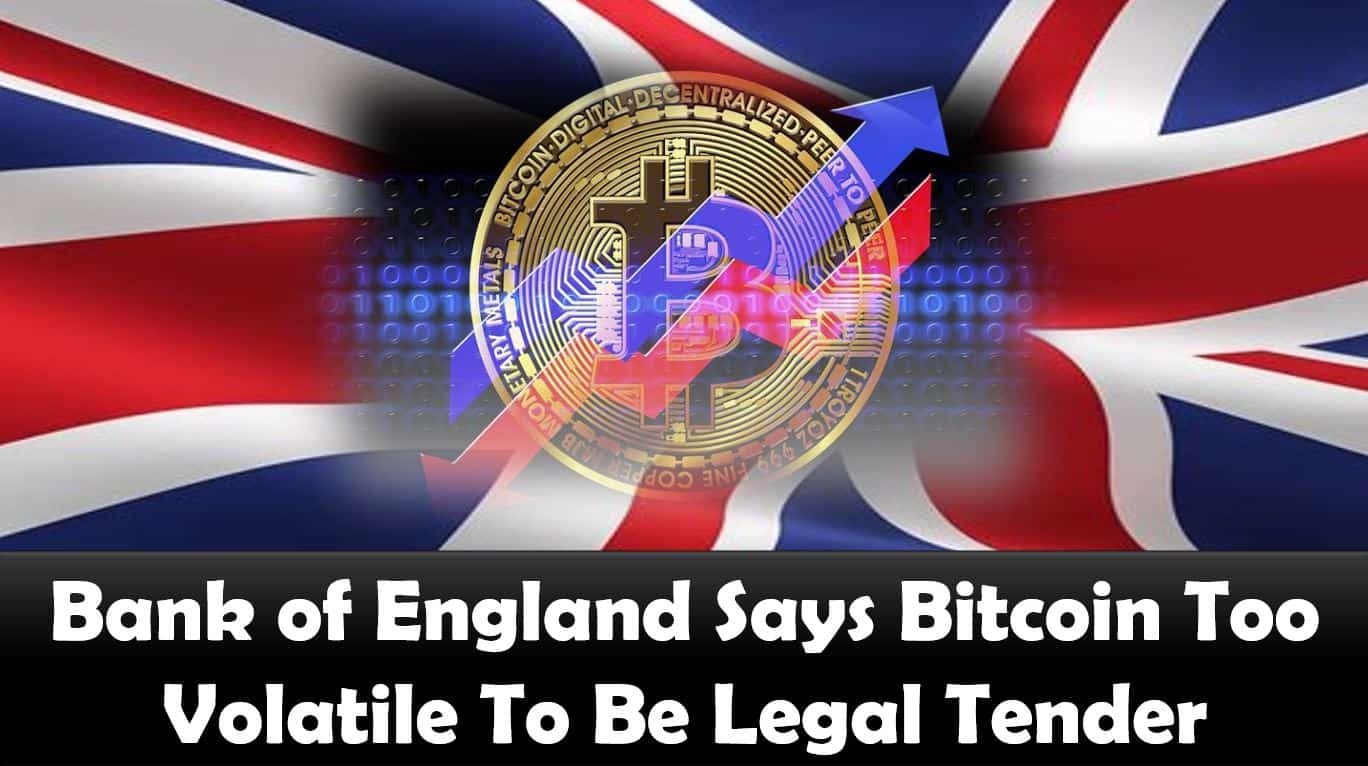 Bank of England Says Bitcoin Too Volatile To Be Legal Tender
Last updated on December 4th, 2022 at 10:10 pm
The use of Bitcoin is constantly evolving. Bitcoin is no longer just a speculative asset, it has seen adoption not only a reserve asset for businesses, but as legal tender for countries.
El Salvador made headlines because it was the first country to adopt Bitcoin as legal tender. The country's Bitcoin strategy is working, given that it has generated returns that have been used to build schools and a veterinary clinic.
Against Bitcoin as Legal Tender
The governor of the Bank of England, Andrew Bailey, has expressed his thoughts on adopting Bitcoin as legal tender in El Salvador. This comes after the president of El Salvador, Nayib Bukele, stated that he was planning to build a Bitcoin city that would foster innovations.
According to Bailey, the decision of El Salvador to adopt Bitcoin as legal tender was an alarming decision, given that the crypto asset is highly volatile. The value of this asset continually fluctuates and he believes that the risk of this volatile price movement is transferred to the consumers.
When Bitcoin was first accepted as legal tender in El Salvador, it traded at around $43,000. However, it met with a slight pullback before Bitcoin went into a strong bullish run when it reached a record high of around $69,000.
Currently, the price of Bitcoin has fallen by around 17% from its record high to trade at around $56,000 at the time of writing. Such kinds of price movements within a short time horizon is exactly what is concerning to the BoE governor.
Speaking at the Cambridge University student union, he stated,
"It concerns me that a country would choose it as its national currency."
He further questions if the Salvadorans who were using and adopting Bitcoin as legal tender understood the nature of the crypto asset and the volatility it held. According to him, this was an even bigger concern.
El Salvador Warned By IMF
Bailey also spoke of a new warning to El Salvador published by the International Monetary Fund (IMF). The IMF is a global financial body used to track the risks arising from the global financial systems.
The IMF issued the statement recently where it stated that there were "significant risks" that came from the use of Bitcoin as legal tender and the trading of Bitcoin in El Salvador.
When El Salvador announced that it was planning to adopt Bitcoin as legal tender in June, the IMF was among the global institutions that advocated against the move.
However, El Salvador did not heed the warnings but went ahead and implemented the Bitcoin law. The country is still pushing for the success of this law through new initiatives being launched by the country's president.
Bailey also spoke on launching a central bank digital currency (CBDC) by the Bank of England.
"There is a strong case for digital currencies, but in our view, it has to be stable, particularly if it's being used for payments. That is not true for crypto assets."
It should be noted that this is not the first time that the BoE has weighed in about Bitcoin and cryptocurrency. Recently the BoE deputy governor for financial stability, Sir John Cunliffe, called for regulations of stablecoins while promoting the use of CBDCs, Central Bank Digital Currency,
He stated that CBDCs were a "revolution in the functionality of money driven by technology."
However, another survey stated that the British population was skeptical about the adoption of CBDCs.
Disclaimer
The information provided here is for INFORMATIONAL & EDUCATIONAL PURPOSES ONLY!
View our complete disclaimer on our Disclaimer Page