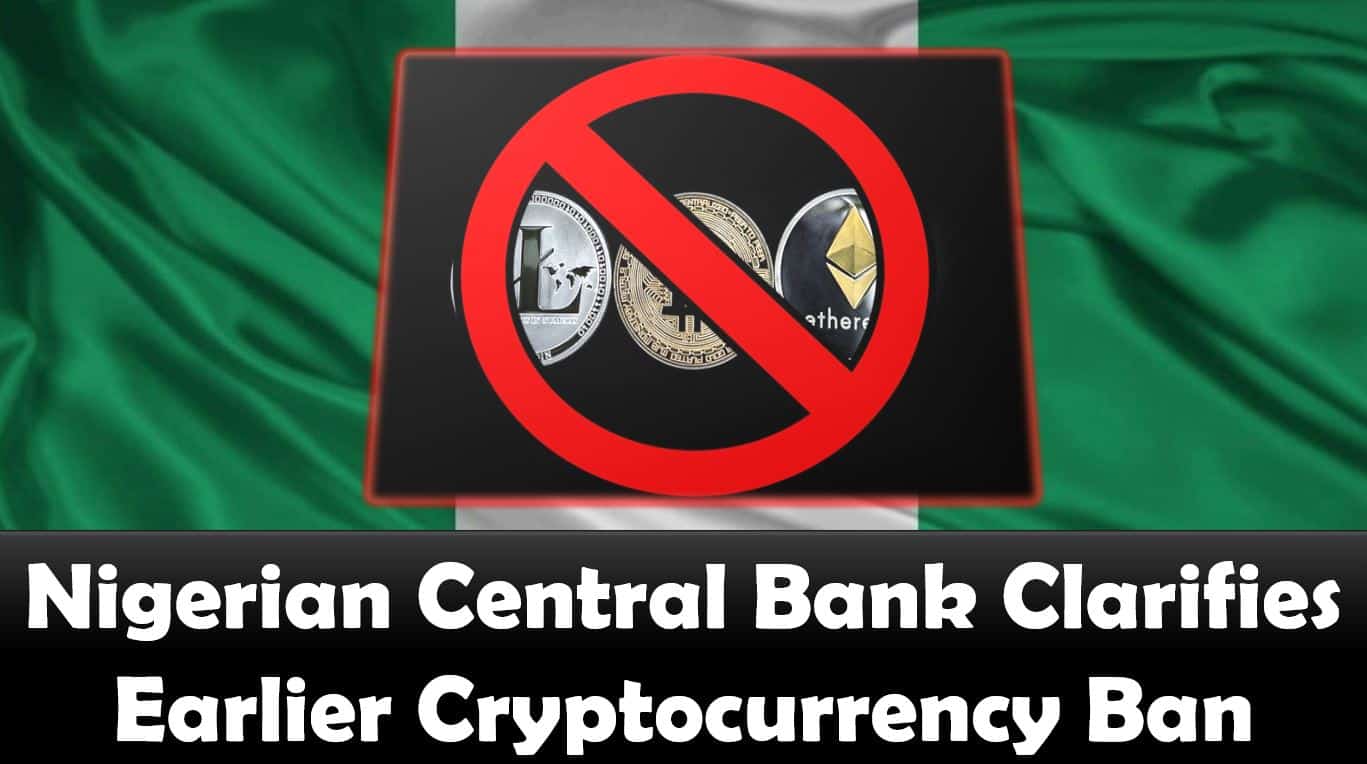 Nigerian Central Bank Clarifies Earlier Cryptocurrency Ban
Last updated on December 5th, 2022 at 02:06 pm
The Central Bank of Nigeria (CBN) has revealed the bank didn't prevent users from buying and selling cryptocurrencies in the country.
The bank said its earlier resolve about cryptocurrency transactions in the country didn't affect individuals trading the digital assets.
It said the proposal by the central bank was to protect the banking sector from cryptocurrency activities and not an outright ban of digital assets.
"The CBN did not place restrictions from use of Cryptocurrencies and we are not discouraging people from trading in it," the bank's deputy governor, AdamuLamtek, disclosed.

CBN Clarifies Confusion
After the country's central bank ordered banks to ban crypto exchange accounts, it created confusion among crypto traders. The crypto community in Nigeria didn't take such actions likely, as many voiced their opinions about the bank's decision.
But the bank has now clarified its stance on cryptocurrency trading, reiterating that crypto traders are free to do their business. However, restrictions were placed on banks to protect them from the market, which can be highly volatile.
Traders Migrated To P2P Platforms
The bank also said the frequent issues of fraud within the crypto industry also spurred its decision to bank commercial banks from certain crypto activities.
The crypto community even ran social media campaigns against the ban, with many traders migrating to peer-to-peer trading platforms.
Specifically, the Nigerian central bank ordered all commercial banks in the country to stop any dealings they have with cryptocurrency exchanges and close any account that deals in digital currencies.
At the time, the CBN cautioned that any institution that violates the new rules will incur heavy regulatory sanctions for themselves.
Clarification Coming at Right Time
Apart from the crypto community, the new rule also created confusion among the country's financial regulators. The country's financial watchdog, Nigerian Securities and Exchange Commission, decided to halt its plans to start its regulations on the crypto market.
Nigeria has one of the largest retail demands for cryptocurrencies, with the country second behind the U.S. when it comes to the number of Bitcoins traded within the past five years. The country's daily trading volume is also one of the highest.
As a result, the clarification by the central bank is coming at the appropriate time, as many scammers are increasingly taking advantage of the confusion to reap off victims.
Disclaimer
The information provided here is for INFORMATIONAL & EDUCATIONAL PURPOSES ONLY!
View our complete disclaimer on our Disclaimer Page