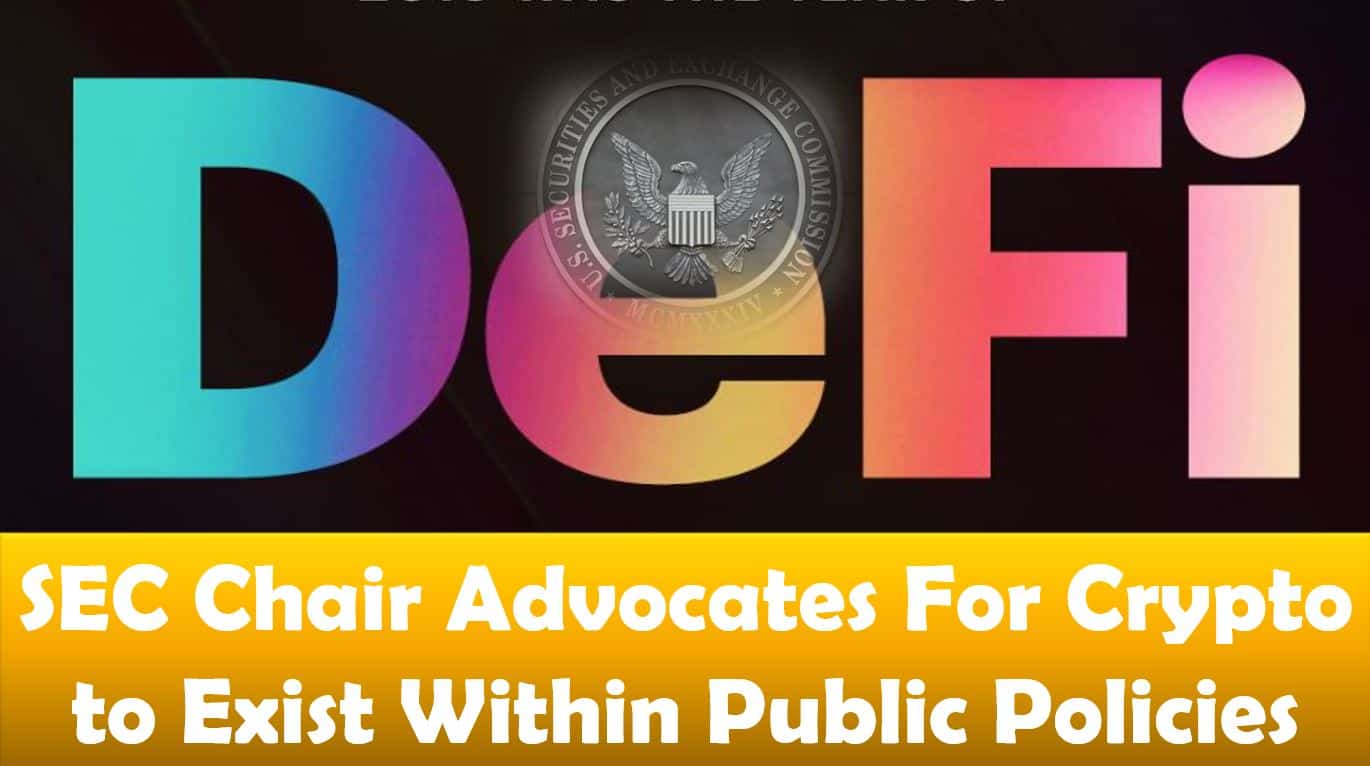 SEC Chair Advocates For Crypto to Exist Within Public Policies
Last updated on November 1st, 2022 at 12:18 am
The Chief of the U.S. Securities and Exchange Commission (SEC), Gary Gensler, has stated that digital assets cannot exist outside the public policy framework.
According to Gensler, the finance sector is all about trust and for this reason, crypto assets need to be under the regulations of public policy.
Gensler gave the remarks during an interview with the Financial Times, where he advocated for the need for regulations in the crypto sector.
The SEC chief insisted that crypto assets need regulations for them to survive in the long term. He also added that digital assets should fall under a similar public policy that other financial instruments fall in.
This move was done to protect investors and ensure that criminal activities linked to crypto assets are banned.
Crypto Relevance in Public Policy Framework
Gensler pointed to the massive growth that the crypto sector has experienced in recent years. He said that with the booming market capitalization that has shot to more than $2 Trillion, regulations in this sector had now become a necessity.
If crypto assets are included under the public policy framework, it will ensure that this sector remained relevant in the coming five to ten years.
"History just tells you, it doesn't last long outside. Finance is about trust, ultimately," Gensler added.
The recent remarks come shortly after Gensler advocated for crypto trading platforms to seek registration with the commission.
"There are a lot of platforms that are in operation today that would do better engaging, and instead there is a bit of […] begging for forgiveness rather than asking for permission," Gensler said.
Calls For DeFi Regulations
When giving these remarks, Gensler also pointed to the rapidly growing decentralized finance (DeFi) sector that was "highly centralized" and needed to be regulated to protect investors.
According to Gensler, the non-existence of traditional brokers in the crypto and DeFi sectors posed a major challenge to regulators because of a lack of clarity on how the DeFi ecosystem can be regulated.
Gensler also described DeFi as a peer-to-peer lending ecosystem. Because of this, he argued that DeFi sectors are centralized because they develop governance mechanisms, set various fees and incentive models for users on the platforms. For this reason, it cannot be argued that DeFi is simply software that has been made available online.
However, Gensler did not fully dismiss that DeFi has a decentralized aspect. He noted that there was a huge difference between the sector and the New York Stock Exchange (NYSE), with the latter being more centralized.
He hence noted that DeFi was an "interesting thing" in between centralization and decentralization.
However, this classification may meet with some debate. Last October the U.S. Comptroller of Currency went on record saying that DeFi will be an unstoppable force due to its decentralized nature.
Gensler has been a major advocate for cryptocurrencies since his appointment in April. As a former blockchain professor, many crypto enthusiasts were positive when he joined the commission, hoping to streamline the sector.
Being an advocate for a robust crypto regulatory framework has been among Gensler's major initiatives since taking his new role. Some crypto market leaders have argued that the development of strict regulations on the sector would do very little in battling fraud and might stifle the growing industry.
Disclaimer
The information provided here is for INFORMATIONAL & EDUCATIONAL PURPOSES ONLY!
View our complete disclaimer on our Disclaimer Page