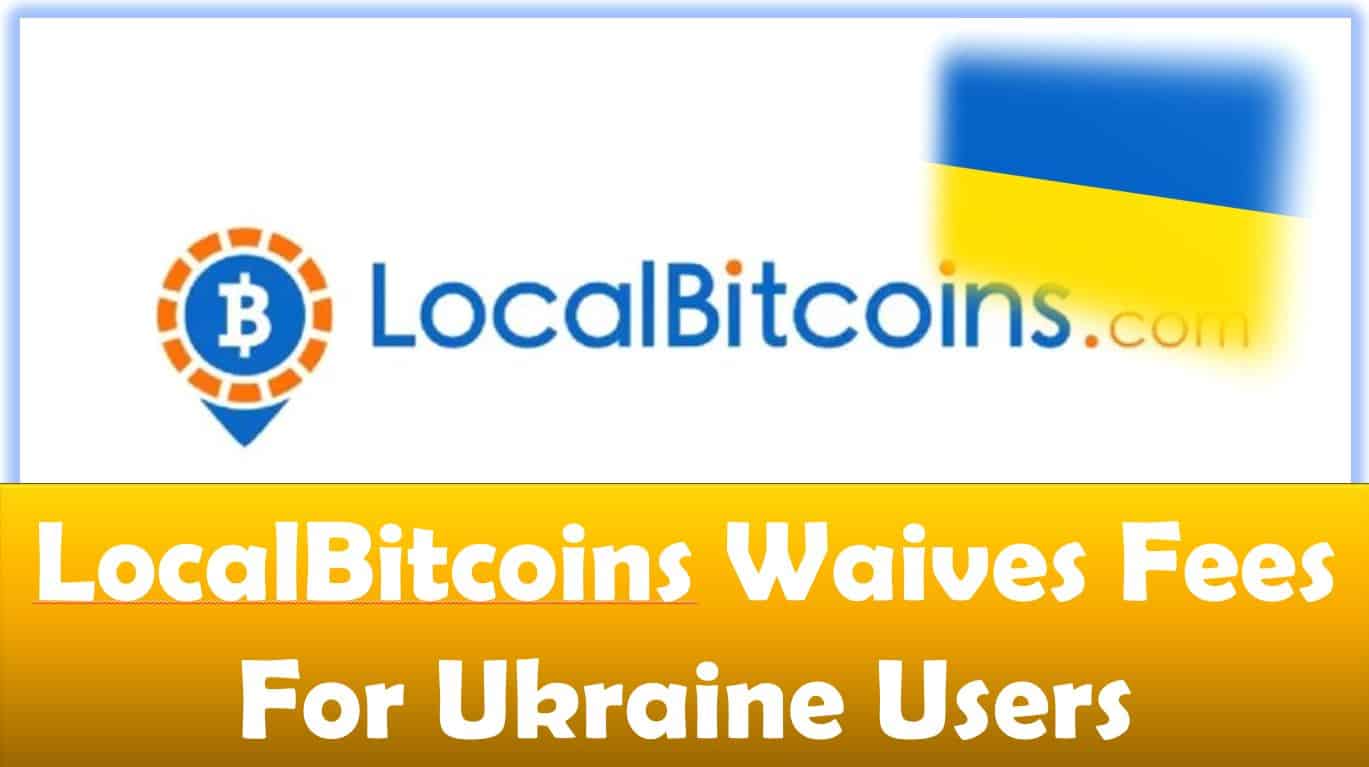 LocalBitcoins Waives Fees For Ukraine Users
LocalBitcoins, one of the largest peer-to-peer Bitcoin marketplaces globally, is removing fees for Ukrainian users.
Ukrainian users on the exchange based in Ukraine or other countries will no longer have to pay fees to complete transactions.
The Chief Marketing Officer at LocalBitcoins, Jukka Blomberg, announced that
"LocalBitcoins' core value is freedom. We understand that at the moment, Ukraine is facing extremely challenging times. For this reason, LocalBitcoins has removed all fees from its Ukrainian users."
The platform has said that Ukrainian users will not be charged any trading fees, transaction fees or any form of fees until further notice. This becomes one of the latest crypto exchanges to show solidarity with the Ukrainian people during the recent conflict between the country and Russia.
Through this initiative, any Ukrainian user on LocalBitcoins will access a free Bitcoin wallet. The wallet will facilitate the conversion of Bitcoin into the local Ukrainian currency at no exchange or transaction fees.
Moreover, it will also allow Ukrainians to receive cryptocurrencies from any location in the world easily and quickly.
LocalBitcoins is an organization that was created in 2012. The organization facilitates the peer-to-peer trading of Bitcoin and other cryptocurrencies.
The mission of this exchange is to bring financial inclusion by allowing people to buy, store, transfer and sell Bitcoin conveniently.
Crypto Community Contributing To Ukraine
Over the past few months, the cryptocurrency community has been actively contributing towards the Ukraine military and Ukrainians. More than $36 Million worth of cryptocurrency donations has been channeled towards the country.
Additionally, non-fungible tokens (NFTs) are also finding their way as part of the donations that have been committed to the country. These NFTs will be sold through UkraineDAO and the collection will include all Ukrainian citizens. Those that buy the collection will have a chance to hold an NFT that presents one Ukrainian.
The Ukrainian government has provided the official wallet address of Bitcoin, Ethereum and Polkadot. The latter was provided after the founder of Polkadot, Gavin Woods, committed an over $5 Million donation towards the Ukrainian government.
Woods' has already made this donation, and the Ukrainian government has said that it is the largest one to be made by a single individual.
Binance, the largest cryptocurrency exchange platform globally, has also committed $10 Million on the Binance charity to provide aid and financial support to the Ukrainians affected by the war.
Recently, Russian users complained that they could not link some local cards with Binance. Binance had earlier stated that it will not unilaterally ban all Russian users from the platform. The blocked cards belong to Sberbank, the largest bank in Russia that has been targeted by Western sanctions.
The CEO of FTX, Sam Bankman-Fried, also announced that the exchange would donate $25 to every Ukrainian user registered on the platform.
However, FTX is yet to issue a statement of whether it will ban Russian and Belarusian users after Ukraine's request.