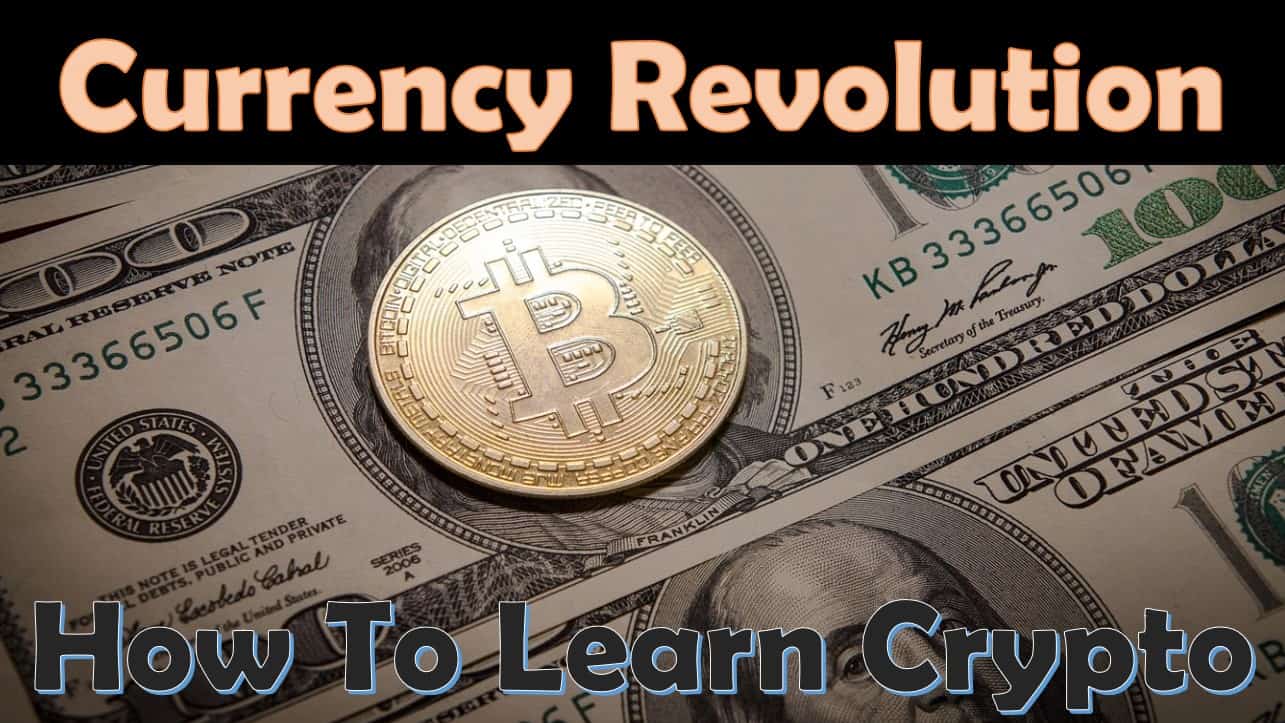 The Currency Revolution: How To Learn About Cryptocurrency
Last updated on June 29th, 2023 at 02:09 pm
Cryptocurrency is a revolutionary new form of money that provides users with the opportunity to manage and control their own finances in a secure, private, and decentralized digital system.
With the increasing adoption of cryptocurrency and blockchain technology it behooves those looking to shield themselves from the coming economic collapse and hyper-inflationary economies, need to learn about crypto.
You can use cryptocurrency related news sites, blogs, forums, chatrooms, books, tutorials, webinars, as well as crypto influencers videos and podcasts to learn about cryptocurrency. There are also free and paid courses available to help you learn as well. Most of these educational resources are free, however some do require payment.
The crypto revolution is coming!
So, let's discuss the avenues that are currently available to help you learn about cryptocurrency.
Read On To Learn About:
Unlocking the Door to Crypto
In order to take the time to learn more about crypto and blockchain, you need to have a real reason to invest your time and effort. The reasons and time commitments are obviously different for everyone, but ultimately necessary to get through the process.
However, one thing is for certain, if you pay any attention to what is happening in the world… such as items like the economy, personal freedoms and the ability to create generational wealth… then you can wrap your head around the need to understand all of your alternatives.
At the end of the day, cryptocurrency is the future of money… and as with most things in life, the best way to truly understand something is to just dive on in.
Learning about cryptocurrency can open up a whole new world of possibilities for you. From making payments quickly and securely to investing in these digital assets, there are countless ways that understanding cryptocurrencies can benefit you.
Unlocking the door to this new world of cryptocurrency can seem intimidating, but taking the time to do your research and gain a deeper understanding can open up a wealth of opportunities.
So, let's dive in…
Cryptocurrency Learning Options
Crypto News Sites/Blogs/Forums/Chatrooms
Whether you're a beginner, or have a little time under your belt in the crypto space, these sites can provide you with helpful information that will give you a better understanding of cryptocurrency.
So, if you're looking to stay up-to-date on all the latest crypto news, or just want to get advice from people experienced in the crypto space, these resources can start you on your way.
While these resources are an excellent start, there are other crypto influencers who are worth your time.
Follow Crypto Influencers on Social Media
There are many of us who have dedicated their time and energies to helping others understand and easily navigate the crypto space. Regardless of the number of followers we possess, we are referred to as crypto influencers.
Crypto influencers can provide valuable insights into cryptocurrency markets, share their expertise in trading and investing, and offer up-to-date analysis of price movements, market news, regulatory changes and more.
Crypto influencers are people who have taken the time to develop expertise in the cryptocurrency space, often through years of personal experience.
Because these influencers all have differing perspectives and expertise, they are a great way to examine things from multiple angles so you can stay ahead of the curve.
How these influencers share their knowledge with the masses varies, but some of the most effective mediums include videos, podcasts, tutorials and webinars.
The great part about the information they share is the fact that the majority of it is free. While it's true that most influencers have programs and information that requires payment, most of it can still be found online for free.
Are you ready to level up your cryptocurrency knowledge?
I'm going to recommend what I believe are the top influencers, who not only provide tons of free information, but do it on centralized and decentralized platforms.
I consume information from, and recommend, the following crypto influencers… What Bitcoin Did, Andreas Antonopoulos, Crypto Crow, Crypto Tips and Market Disruptors.
So, get out there and follow some of the top crypto influencers to benefit from their knowledge and experience. But, influencers don't just exist on social media.
Buy Books Written by Industry Leaders
Crypto Learning & Earning Opportunities
If you want to get involved with cryptocurrency without having to invest any money, learning & earning opportunities are a great way to go!
These programs give you access to educational resources, tasks and activities that will help you gain insight into the world of cryptocurrencies while rewarding you with crypto.
As more people look for ways to get involved in and learn about cryptocurrency, learn-to-earn (L2E) platforms are becoming increasingly popular.
Some of the best platforms for accurately learning about crypto and blockchain are Coinbase Learn & Earn, Coinmarketcap Earn and Revolut Learn & Earn.
So if you are curious to learn more about cryptocurrencies and don't have the money to invest, learning & earning opportunities are a no-brainer. However, once you've educated yourself, it's time to consider your next move.
Reaping the Benefits of Crypto
No matter your financial situation, there are endless opportunities to learn about cryptocurrencies and reap the benefits.
Whether you decide to pick up a book, or sign up for an online course, educating yourself on this rapidly growing industry is sure to pay off in the long run.
So, don't be intimidated by the crypto space. Take advantage of the resources out there and get to learning.
Other Crypto Benefits & Considerations
When consider cryptocurrency and its future there are many different avenues to explore. In previous articles I have discussed some of these angles and I believe they can help to expand the horizons of your cryptocurrency education.
Have you considered why cryptocurrency is good for the world?
Frankly, in my opinion, there are many reasons. I discuss my thoughts about this here.
Have you ever wondered if crypto will really replace the dollar or what the actual benefits of crypto are when weighed against the dollar?
Both of these topics have been kicked around the cryptocurrency space for years. I have laid our what I consider to be the answers to both of these questions as succinctly as possible.
Read my thoughts about crypto replacing the dollar here and my thoughts about benefits of crypto vs the dollar here.
Finally, have you given any thought about which is better, crypto or banks?
How about if crypto is better than stocks?
I have discussed both of those topics in detail. See my thoughts about crypto vs banks here. And if the idea of comparing crypto vs stocks interests you, you can read about that here.
Strive to learn as much as you can!
Frequently Asked Questions (FAQ)
Q: Can I earn money while learning about cryptocurrency?
A: Yes, there are several platforms, like Coinbase Learn & Earn, Coinmarketcap Earn and Revolut Learn & Earn that let you learn about cryptocurrency and earn money in the process.
Q: What topics should I focus on when learning about crypto?
A: It will depend on your goals, but there are a few topics everyone in the crypto space should focus on initially. You can read more about them here.
Q: Is learning about cryptocurrency difficult?
A: Learning about cryptocurrencies can seem intimidating at first; however, there are plenty of resources available that make understanding the basics easy. Plus, with platforms like Coinbase Learn & Earn and CryptoCoinMindSet, you can learn about all the crypto topics you need.
Q: What experiential learning is there for crypto?
A: Experiential learning for crypto can include joining a trading simulator to practice trading techniques, participating in an online community to learn from others and taking advantage of platforms offering learning & earning opportunities. Read more about this here.
Q: Is there any free way I can learn about cryptocurrencies?
A: Yes! There are several free resources available. These include crypto-related blogs and news sites, forums and communities.
Disclaimer
The information provided here is for INFORMATIONAL & EDUCATIONAL PURPOSES ONLY!
View our complete disclaimer on our Disclaimer Page