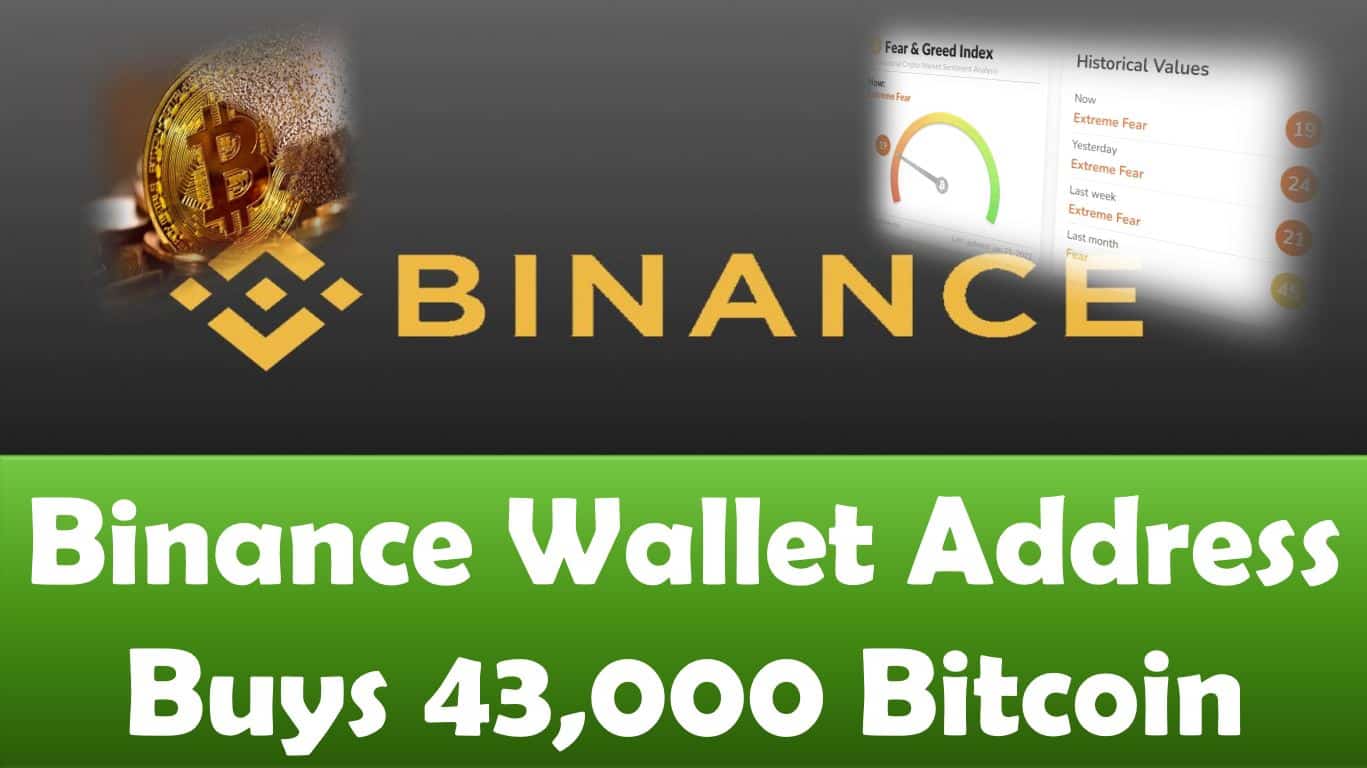 Binance Wallet Address Buys 43,000 Bitcoin
Last updated on December 4th, 2022 at 10:01 pm
Binance, the largest cryptocurrency exchange platform, is joining the list of whale addresses stacking up on more considering the ongoing market recession.
This comes as the recent Bitcoin dipped to the market sentiment hitting an "extreme fear" level.
One whale address that has bought the recent price dip is Binance. An address belonging to the exchange giant bought 43,000 Bitcoin on Tuesday.
The address purchased the new coins at an average price of $46,553 on Tuesday. Following this recent purchase, the address now has coins valued at $5.5 Billion.
This is not the only whale address that is recording increased activity. The third-largest Bitcoin address is also on a buying spree.
The address has added another 551 Bitcoin to its pile. The address has habitually purchased BTC when the price reaches the $40,000 level. This address currently holds 21,396 Bitcoin, currently valued at approximately $5 Billion.
Social media users have debated the identity of the owner or owners behind the wallet. However, in 2019, Binance confirmed that the wallet address belonged to the exchange.
A tweet published by the company noted that the wallet address would be used to issue several tokens pegged to cryptocurrency on Binance Chain. However, the use of this wallet seems to have changed and it now serves as cold storage for the giant exchange.
The wallet has been used to mint 13,001 Bitcoin into the Binance Smart Chain protocol. However, the owner has never made a sale and it has now accumulated more than 116,000 BTC.
Bitcoin Price Dip
The entirety of the cryptocurrency market has seen recent prices highs retreat. This pullback has been led by Bitcoin and Ethereum. The entire crypto market capitalization dropped to around $2.1 Trillion following a major selloff.
The price dips have been attributed to several factors that have now increased the fear levels in the market and prevented short-term traders from coming back in. One of these factors is an announcement by the U.S. Federal Reserve.
The level of inflation in the U.S. has been on an uptrend and it is currently at the highest level recorded over the past 40 years. The U.S. Federal Reserve announced plans to increase the interest rates to help deal with inflation. The announcement caused dips in both the stock market and the crypto market.
In November, Bitcoin made a notable uptrend and reached an all-time high of $69,000.
At the time, the high levels were attributed to inflation fears, where the primary cryptocurrency was obtaining a strong use case as a store of value. The recent action by the Federal Reserve to deal with inflation is definitely poised to have an effect on prices.
Disclaimer
The information provided here is for INFORMATIONAL & EDUCATIONAL PURPOSES ONLY!
View our complete disclaimer on our Disclaimer Page