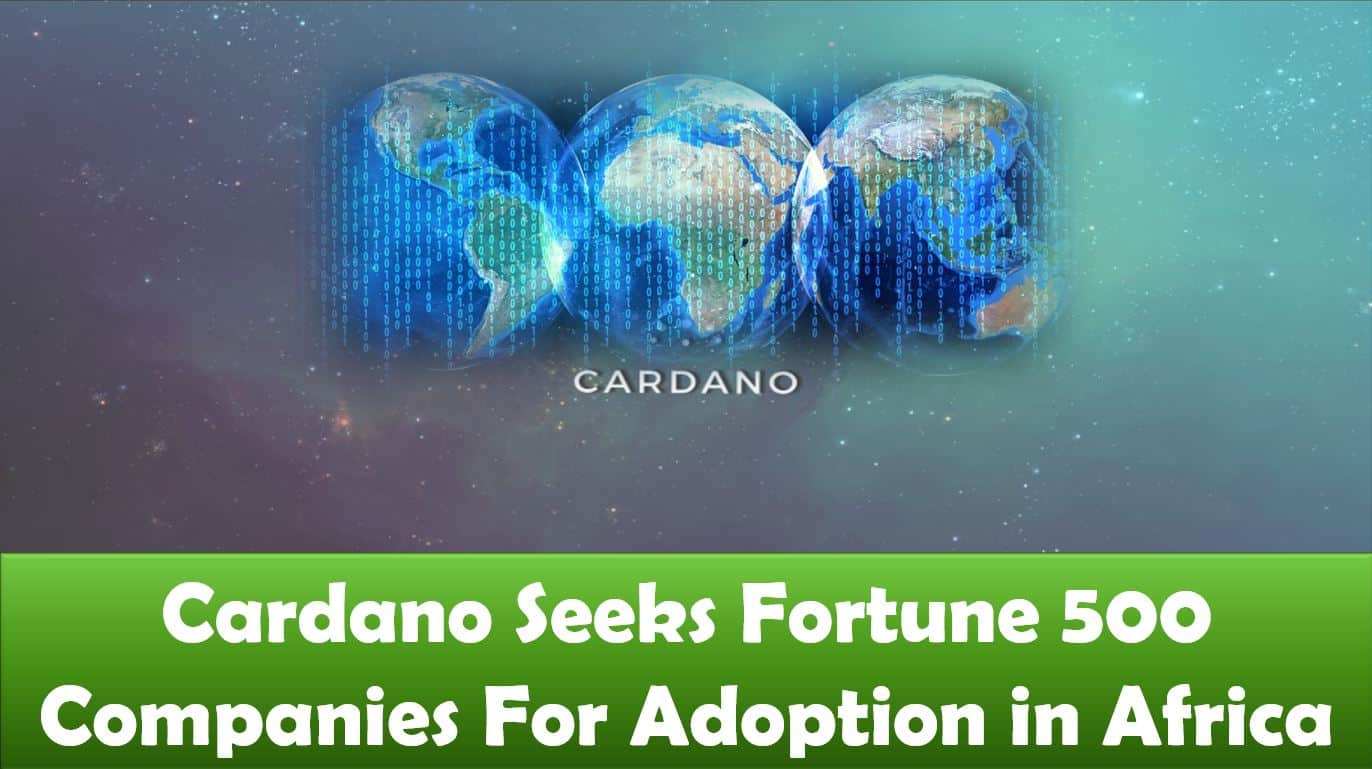 Cardano Seeks Fortune 500 Companies For Adoption in Africa
Last updated on December 5th, 2022 at 02:30 pm
Cardano, Subsidiary of Input Output Hong Kong (IOHK), is still very serious about its vision to increase its investments in Africa.
The Chief Executive Officer of the company, Charles Hoskinson has given insights on the company's plans for 2021 during an interview with Forkast News.
According to him, Fortune 500 companies that want to tap into the huge economic potential in Africa require a cheaper and faster payment gateway for local transactions.
Hoskinson said Cardano is the perfect solution for such integration.
As a result, he intends to pursue an aggressive marketing plan to get as many of the fortune 500 companies onboard the Cardano platform.
He further revealed that for the fortune 500 companies to get into the emerging markets in Africa, they need new tools that make their penetration easier and more efficient.
"We can facilitate that because we've been in those jurisdictions, especially Ethiopia, for example, for over three years," he added.
Favorable Future For Blockchain
Cardano is also working out a collaboration with the Litecoin Foundation to achieve interoperability between blockchains. According to Hoskinson, if any success is recorded with Litcoin, the same can be repeated with Dash, Bitcoin or any other cryptocurrency.
However, he has pointed out that cryptography needs to evolve before the successful introduction of quantum computing and quantum technology.
According to him, this achievement will lead to a complete revolution of blockchain technology and the entire financial sector.
The IOHK boss also said the existence of a "competent blockchain architect" will keep quantum computers in line without any issues.
However, Hoskinson fears the real problem may not necessarily be on the threat of quantum computers, but for internet communications.
Cardano Focusing on Africa
Cardano is on the list of cryptocurrencies that are potential killers of the Ethereum blockchain. Last year, the platform went ahead of Ethereum's switch to "Proof of Stake."
Among Hoskinson many credentials is that he co-founded Ethereum before leaving in 2014 and launched Cardano three years later (in 2017).
He believes 2021 will be the most productive year in the history of Cardano thanks to the strategies the company has put in place over the past few years as well as it's vision for the future.
Ever since Cardano went live, the platform has made Africa a major market target. Before the Coronavirus pandemic, the International Monetary Fund (IMF) predicted that Africa will produce the top 5 fastest growing economies in the world. Ethiopia touted as a major market for massive crypto adoption, has a young population, with 70% of them under the age of 30.
Hoskinson said young Africans dominate the population in almost all the countries on the continent. And many of them are gearing towards cryptocurrency adoption and prefer digital currencies over local currencies.
Another favorable factor is Africa's potential for DeFi (Decentralized finance), due to the continent's underdeveloped banking system and a fractured economy, according to Hoskinson.
The IOHK founder revealed in October last year that some central banks in Central Africa have contacted IOHK and have proposed a collaboration to launch a central bank digital currency (CBDC).
Disclaimer
The information provided here is for INFORMATIONAL & EDUCATIONAL PURPOSES ONLY!
View our complete disclaimer on our Disclaimer Page