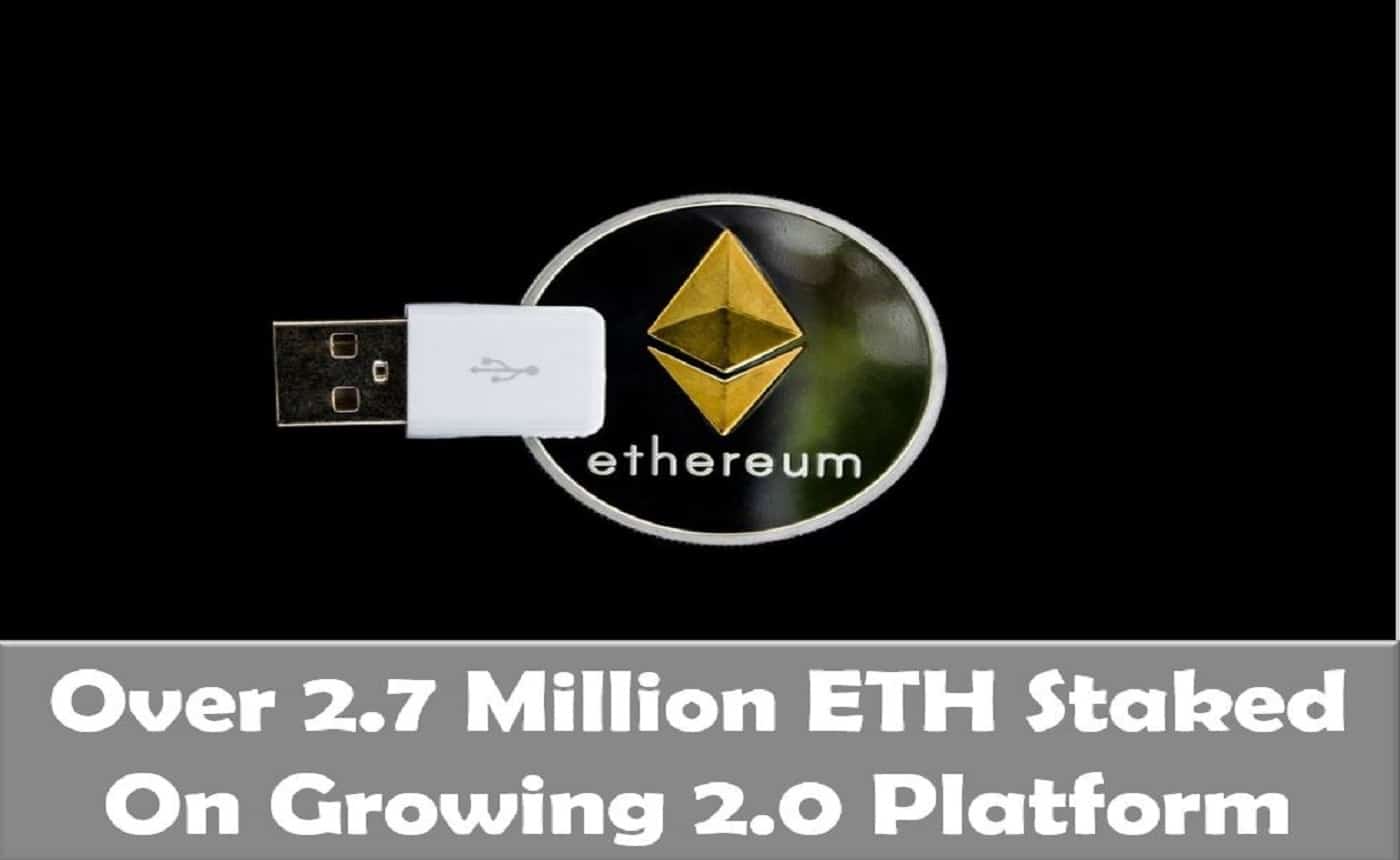 Over 2.7 Million ETH Staked On Growing 2.0 Platform
Last updated on December 5th, 2022 at 02:31 pm
The confidence in Ethereum 2.0 has continued to grow stronger each passing day, as the second largest cryptocurrency by marketcap keeps adding more approved validators.
More coins are now being staked on the Ethereum 2 deposit contract. There has been an increased number of validators, with only a few of them being penalized, based on information generated by Beaconcha.in.
This growth and surge with the approach of Ethereum 2.0 is something that was expected. Read more about that here.
More Than 2.7 Million ETH Staked
The information hitting the crypto space reveals that there are presently 2,779,362 ETH staked on the ETH 2.0 deposit contract. Based on the current valuation of ETH, the monetary value is worth an impressive $3.6 Billion. However, this is only about 2.4% of the total supply of the token in the market.
But the rise is a massive leap for Ethereum enthusiasts, given that there were only 853,088 ETH staked shortly before the ETH 2.0 platform, tagged Beacon Chain, was rolled out on December 1 of 2020. Beacon Chain was rolled out after the successful Spandina Test Net.
Even before the token hit its all-time high recently, Ethereum has made a good impression within the crypto community and there are many loyal users and enthusiasts.
Although the new network may only have less than 3% of the entire ETH supply, it is already one of the highest blockchain networks based on value staked.
Presently, Ethereum is only behind Polkadot ($9.7 Billion), Cardano ($7.9 Billion) and Avalanche ($3.2 Billion), when it comes to value staked.
But the ETH offers one of the most robust yield rates, with an estimated APY of 10.28%. Only Polkadot and Avalanche maintains higher yields than Ethereum in this regard.
Number of Validators Continues To Rise
Based on the figure from Beacoincha.in, the number of active validators on ETH2 has grown to 66,587 validators. This is seen as an impressive rise, as only 16,384 validators were present when the Beacon Chain went live a few weeks ago.
The increased number of validators is proof that the network is growing speedily. Validators are responsible for securing/guiding the network and its data.
Are you considering staking Ethereum 2.0?
Check out some additional information about staking cryptocurrency and concesus algorythims:
Concensus Algorythims Overview
Proof-of-Work vs Proof-of-Stake
Passive Income Opportunites With Staking
While there are now record numbers of validators on the platform, an additional 20,000 have applied and are presently waiting for approval.
Disclaimer
The information provided here is for INFORMATIONAL & EDUCATIONAL PURPOSES ONLY!
View our complete disclaimer on our Disclaimer Page