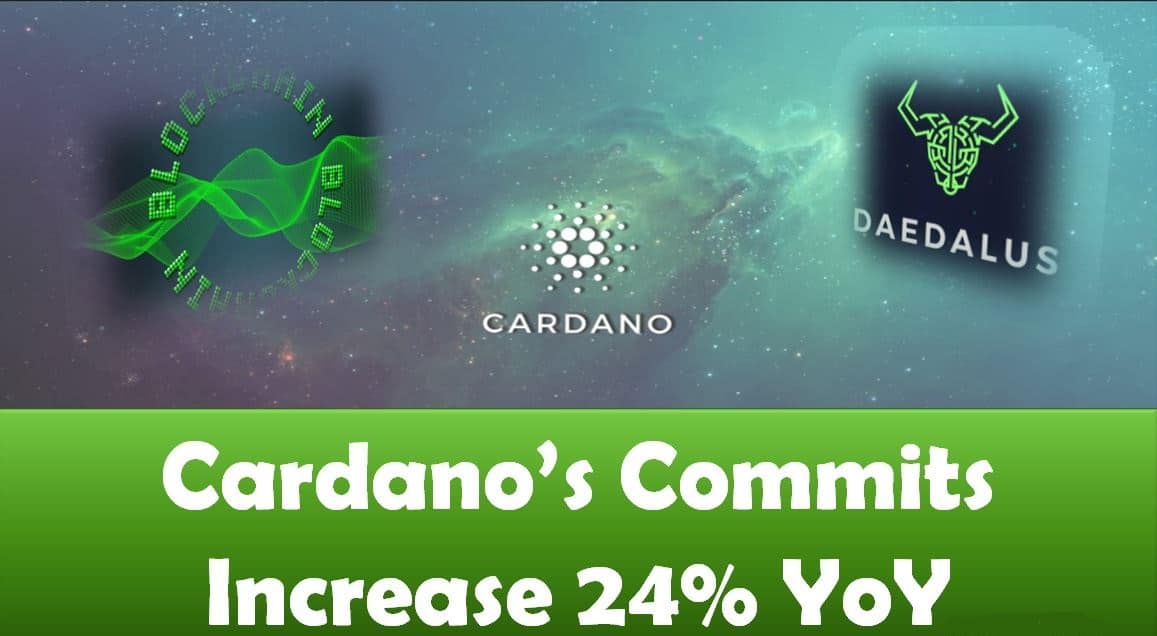 Cardano's Commits Increase 24% YoY
Last updated on December 4th, 2022 at 10:28 pm
A recent report from Outliers Ventures Blockchain Development Trends for the period of July 2020 to June 2021 has stated that Cardano ranked the highest in terms of commits per month (CPM). The blockchain's average CPM stands at 702, representing a 24% increase in one year.
Ethereum has the second-highest number of CPM, with 447, representing a 10.5% growth in one year. The third network in the rankings is IOTA with 394 CPM, followed by Filecoin with 368 CPM and rounding out the top 5 is Flow with 305 CPM.
The report also stated that the average number of commits on all the examined blockchains came in 107 CPM, showing that Cardano is 555% more active on average. Ethereum's average activeness comes in at 317%.
Watch all of our videos about Cardano, ADA and Daedalus here

Overview of Blockchain Performance
Despite Cardano taking the lead in the number of CPM, some blockchains had recorded a significant increase in commits on their protocols.
The report states that Avalanche took the lead in the general increase in commits on its blockchain.
The number of commits per year (CPY) on Avalanche increased from 1553 to 12,575, representing a 709.72% growth. Following the growth of its blockchain, Avalanche's native token, AVAX, has also increased by around 180% in the past month.
The second most improved blockchain in the number of commits is the Ocean Protocol, with a 354% growth in CPY.
Terra follows it with a 186% increase in CPY. Cosmos and IOTA follow closely with a 155% and 98% increase in CPY.
Despite the growth in blockchain and cryptocurrencies over the past year, some blockchains have reported decreases in the number of commits.
Aion reported a 95% decrease in CPY, while Energi reported a 94% decrease.
Nuls also recorded an 80% decrease in CPY, while Ethereum Classic's CPY dropped by 65%.
The report also looked at the number of active developers on various blockchains. Ethereum takes the lead with the highest number of active developers, standing at an average of 168 per month.
This is followed by Cardano with 165 active developers per month, Hyperledger with 157 active developers and Filecoin comes in fourth with 112.
Disclaimer
The information provided here is for INFORMATIONAL & EDUCATIONAL PURPOSES ONLY!
View our complete disclaimer on our Disclaimer Page