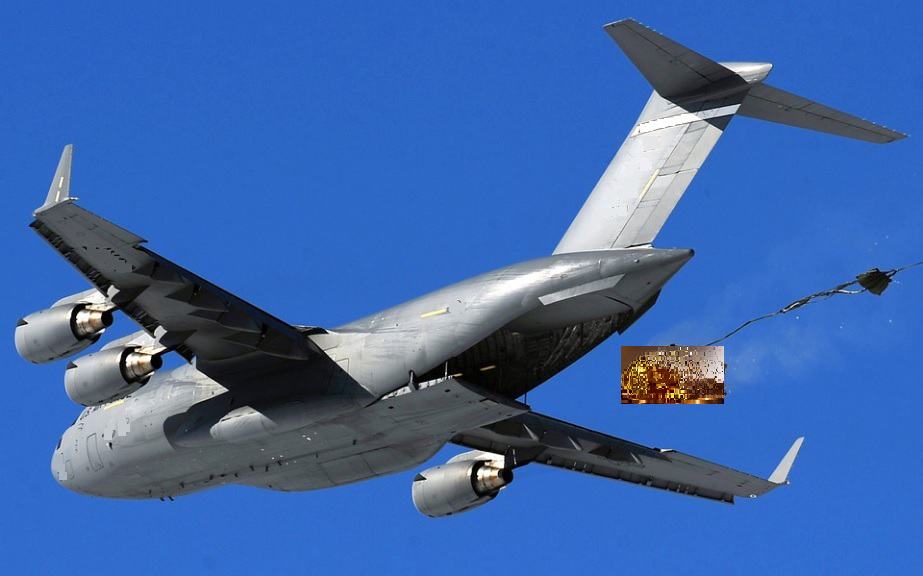 Cryptocurrency 201: Airdrops – What You Need To Know
Last updated on November 8th, 2022 at 01:57 pm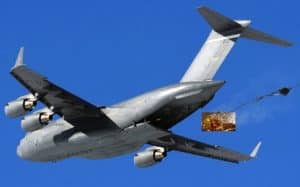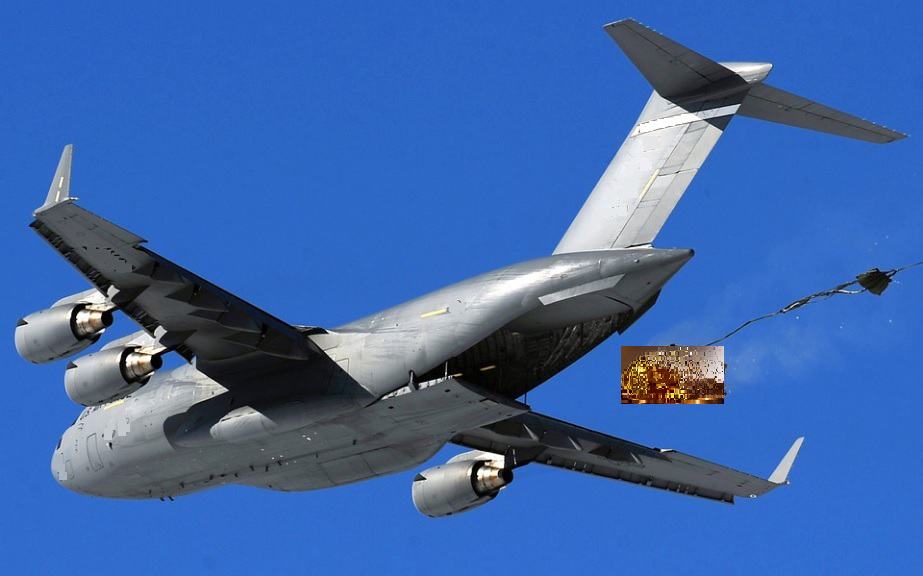 While the word airdrop often conjures up images of jets dropping supplies to people eagerly waiting packets of food or something… in the crypto space, nothing could be further from reality.
The first time we heard this term and we started doing research, the best pictures of cryptocurrency airdrops were those of planes 'airdropping' Bitcoin and other cryptos…
So, please forgive us, we decided to add to the assortment of these with one of our own here…
Alrighty then… that's enough fun…
Or is it?
We're not sure about you, but getting free money can be fun…
That is basically what an airdrop is with the cryptocurrency space.  Now that we have your attention, let us delve a little deeper.
Let's Talk Airdrops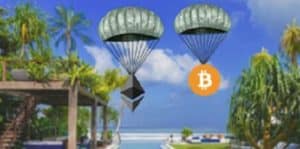 Airdrops, simply put, are free coins that are 'dropped' into your crypto wallet.
It is a useful marketing strategy used, particularly by new projects, to help them gain followers and enthusiasts.
You might wonder how giving away coins or tokens, especially for an emerging project can be an effective marketing technique… let's explore deeper…
Projects that plan this method of delivery have factored this into their total token supply.  So, using airdrops helps them gain initial marketing exposure from enthusiasts and investors in the cryptocurrency space.
Simply out, the lure of 'free crypto' is all it takes to get some cryptocurrency investors interested.
Frankly, it is especially of interest for those in the space looking for multiple sources of passive crypto income.  Airdrops become one of several revenue generating sources to help them achieve that goal.
Let The Marketing Begin
Though every airdrop is different , there are usually some general requirements to qualify… this is where the next level of project marketing comes in…
Most airdrops will require some form of KYC.
Even the most basic airdrops require a name, email and obviously a wallet address.
Now the project has an email list of interested enthusiasts which they can market to via email into the future.
Step 1 complete…
Once the initial KYC is completed, additional requirements often include, at a minimum, that the participant share the airdrop on various forms of social media. Enter the next level of project marketing…
The average person's social media footprint includes about 300 contacts.  This means when participants share the airdrop on platforms like Facebook, Twitter and Instagram, the airdrop is now being seen by hundreds of potentially new people for every one person who has registered for the airdrop.
Step 2 complete…
Oh, and as an incentive to refer people to the airdrop, some will offer additional percentages of the coin or token for those who refer the most people.
It can definitely be a great potential income opportunity.
And of course, this is 'rinse & repeat' for every new person registering for the airdrop.  Enter virility…
Step 3 complete…
How To Find Airdrops
Now, if all of this has got you thinking, you may be asking yourself how can you take part in an airdrop.
Well, as we mentioned above, the requirements for each airdrop is different. But, once you find an airdrop that you would like to participate in, all you need to do is follow their step-by-step instructions to qualify.
The next step is, finding airdrops. There are many websites within the crypto space dedicated to listing and in some cases, rating the airdrop and related project.
These airdrop websites include Airdrop Alert, Airdrops.io and Crypto Airdrops.
History of Crypto Airdrops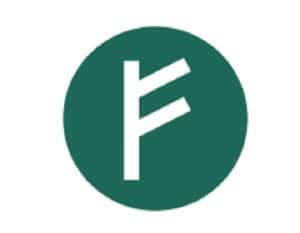 The world's first site for crypto airdrops was Airdrop Alert, functional even today, which, in the crypto space is a huge achievement indeed.
But airdrops were in existence from before this enhancement.
The first recorded event of an airdrop was by Auroracoin, which distributed tokens to the country's citizens.  This took place in March 2014.
This airdrop sent around 50% of the total Auroracoins in existence at the time, to the citizens of the country.
It was a fresh idea, aimed at helping people recover from the crippling economic crisis of 2008.
Pros & Cons of AirDrops
As we mentioned earlier, there are a number of reasons why companies do airdrops and like all things in life, there are advantages and disadvantages. Let's take a look at some of these…
Pros
• Awareness
• Low cost marketing via social virility
• Builds customer loyalty
Cons
• Scam potential
• Pump & Dump potential
Pulling It All Together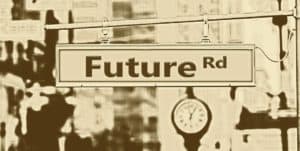 Airdrops have become a useful tool in the arsenal of many a cryptocurrency project trying to launch in the space.
From the point of view of an organization, airdrops are a sure-shot way of getting noticed.  By making it a requirement for people to share the airdrop on social media in order to qualify makes marketing sense… and as that social sharing grows… the airdrop has the potential to go viral.
From the point of view of the investor, airdrops are a great way to get a 'free' investment in a new company which may have tremendous upside potential.  Further, done consistently, this can become a great source of cryptocurrency income, for what some would say is very little work.
Even if you choose to utilize the airdrop websites we've listed above, it's a good idea to investigate a project before spending your time and giving over your information to a potential scam project.
Disclaimer
The information provided here is for INFORMATIONAL & EDUCATIONAL PURPOSES ONLY!
View our complete disclaimer on our Disclaimer Page