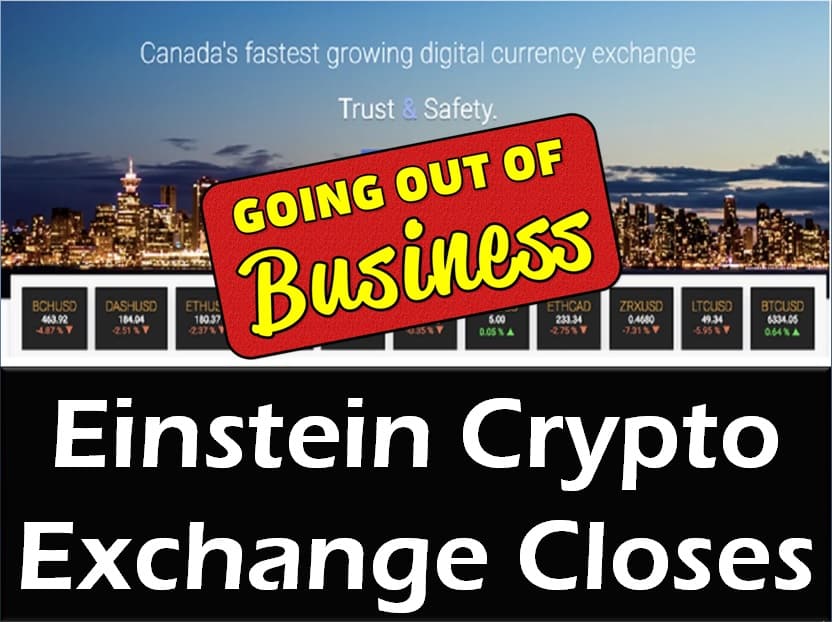 Einstein Cryptocurrency Exchange Closes Doors
Last updated on November 1st, 2022 at 01:27 am
It seems like every time you turn around recently there is an issue with another cryptocurrency exchange.
Between people loosing access to their funds in QuadrigaX or the reported wash trading taking place to provide the appearance of high trading volume.
Recently, we created a video to alert users of CoinExchange that they too would be closing their doors by the end of the year.
Watch The CoinExchange Closing Video Here
Now, it seems like another crypto exchange is going to 'bite the dust'
Einstein Goes 'Belly Up'
Even with crypto prices seemingly on the rise once again, not everyone seems to be able to profit in the current crypto market.
The latest 'victim' is Canadian cryptocurrency exchange Einstein, which has just shut down with a massive $12.4 million CAD (16.3 million USD) worth of debt.
The huge amount that the exchange owes to its customers comes as a consequence of improper use of customers' assets, according to the British Columbia Securities Commission's lead investigator, Sammy Wu.
The Canadian regulator announced this Monday that the exchange's lawyer had contacted them announcing the company's shutdown.
Citing a lack of profits as the main reason for shutting down, this announcement also states that the exchange is due to shutdown within 30 to 60 days.
However, Einstein's website is already out of order right now, indicating that the exchange may have closed shop ahead of schedule.
BCSC investigator, Sammy Wu, said that the company owes millions to its users, in both cash and crypto. This statement was made in a recent affidavit filing , which was dated November 1st.
On the same day, Wu went to the exchange's office, hoping to meet its officials. However, when he got there, he found that the elevator locked for all floors, further confirming that the exchange has stopped working.
He further added that he attempted to call Einstein's founder, Michael Ongun Gokturk, on the phone, but all he got was his voice mail, which instructed him to send a message since Gokturk does not check his voice mail. Wu also used the phone number that was listed on the exchange's website. However, all he got was a recording, stating that the company's agents are currently not available.
BCSC Investigation Continues
At the moment, the British Columbia Securities Commission is still investigating the case. According to them, the Supreme Court of British Columbia is involved as well and the court had appointed Grant Thornton to act as an interim receiver whose duty is to acquire any and all of Einstein exchange's assets and properties.
The BCSC also stated that it did not allow any crypto trading platform to serve as an exchange. They stressed that all Canadian crypto users need to be cautious when it comes to buying and selling digital currencies, as the industry is still plagued with various risks.
For now, it remains unknown what exactly happened with Einstein exchange. According to everything that Wu has stated, even its officials' whereabouts remain unknown at this time.
However, the investigation is still ongoing, and hopefully, it might yield some results in the near future.
Disclaimer
The information provided here is for INFORMATIONAL & EDUCATIONAL PURPOSES ONLY!
View our complete disclaimer on our Disclaimer Page