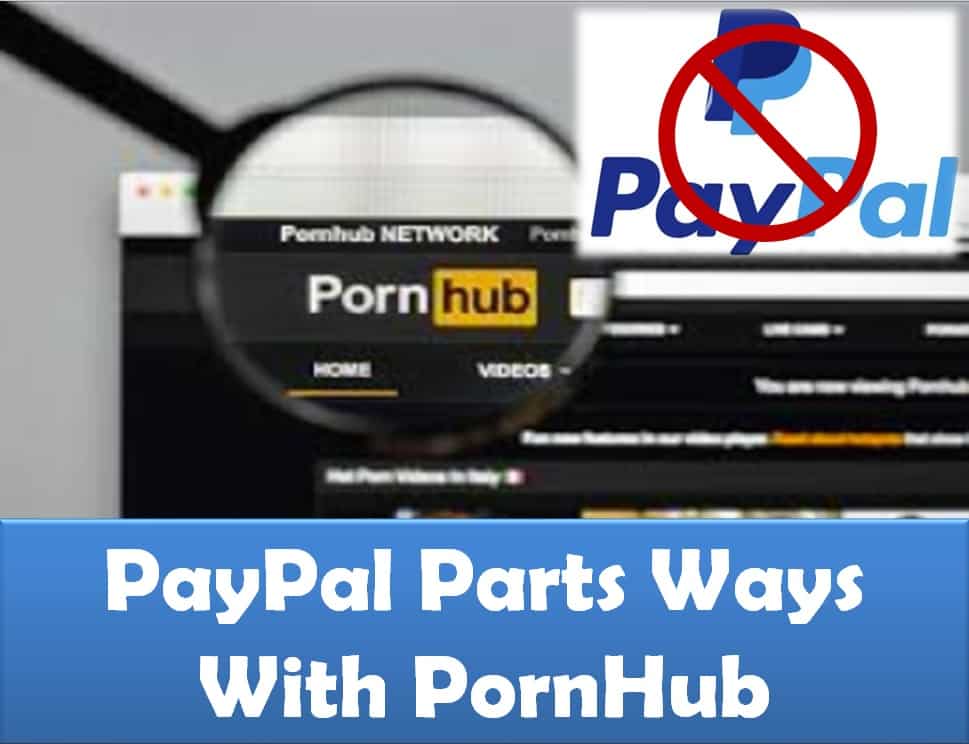 PayPal Parts Ways With PornHub
Last updated on November 1st, 2022 at 02:18 pm
Whether you approve of the adult industry or not, the fact is that there is a segment of society that frequents this industry. That interest allows for content producers on these platforms to earn a living.
Until recently, content creators on top adult entertainment website PornHub were able to receive payments via PayPal. This ability was abruptly stopped by the payment processor earlier this week.
PornHub Supporting Crypto
As many may remember, PornHub's support of digital currencies was first reported over a year ago, in the spring of 2018.
Back then, the adult content platform announced the integration of Verge (XVG), thus introducing the first cryptocurrency as an accepted method of payment for premium content.
Later on in June 2018, the platform decided to expand the number of crypto assets that can be used for paying for entertainer content through the integration of Tron (TRX) and Zcash (ZEC).
When the news hit about PayPal payments not being processed, Verge (XVG) received a brief pump in price. See the latest price of Verge (XVG) here.
PayPal Proves The Importance Of Crypto
If you have ever purchased anything online, you've undoubtedly had dealings with PayPal. While this payment processor carved out an impressive niche in the payment processing space, their actions have been clouded in controversy.
One of the most frequent complaints is how PayPal acts like a bank even though they are not regulated as such. A simple internet search will reveal many articles, forum posts and outright complaints against the payment processor. These complaints include refusing to complete legal, authorized transactions, freezing user accounts and failing to provide an adequate appeal process for its users.
Read About Some Of These PayPal Issues Here
The fact that PayPal appears to be able to act as a banking institution without adequate regulation is bad enough. Couple that with the fact that they can seemingly impose their own code of ethics on legalized industries, such as they have recently done with PornHub gives rise to one of the main aspects of the cryptocurrency space.
As PayPal continues to block its users from purchasing legally obtained goods and services, the appeal for 'being your own bank' takes on new meaning. This move by PayPal becomes just another catalyst for mass adoption of cryptocurrency.
More Crypto On PornHub's Horizon
The adult entertainment industry has been one of areas that have been willing to embrace cryptocurrency. This has shown true with the partnership between PornHub and cryptocurrency payment gateway, NetCents.
Recently NetCents announced that it has added XRP.
This news has people in the space asking the question… might XRP be added as a payment option to PornHub?
As the third largest cryptocurrency by market cap, the potential addition of XRP to PornHub might pave the way for other projects to make similar choices with the adult entertainment industry as well as other industries that are sometimes frowned upon by society, such as the gambling industry.
Only time will tell…
Modern Problems Require Modern Solutions
As the crypto space continues to mature and the financial industry continues to tighten their noose in an attempt to maintain control of their dying infrastructure, more and more people will move to blockchain and cryptocurrency. Couple this with governments basically printing fiat out of thin air and a perfect storm is brewing.
Meanwhile, previously shunned industries such as adult entertainment and gambling openly embrace the cryptocurrency space, thus making them some of the potential leaders of this pending societal change.
Who knows, in the next decade, we could see many changes in public sentiment. Such changes might even give rise to some of the largest cryptocurrencies and blockchains in the space partnering with adult websites because they see them as nothing more than another business partnership.
Disclaimer
The information provided here is for INFORMATIONAL & EDUCATIONAL PURPOSES ONLY!
View our complete disclaimer on our Disclaimer Page