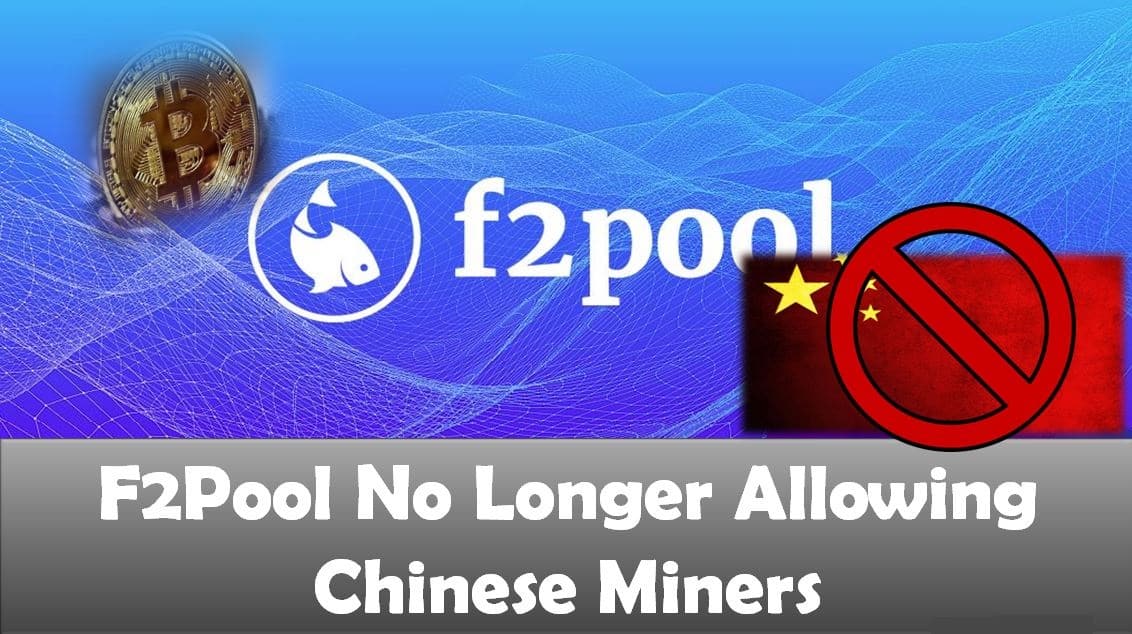 F2Pool No Longer Allowing Chinese Miners
Last updated on November 1st, 2022 at 11:12 am
The fallout from the latest round of Chinese FUD continues as F2Pool, one of the largest Bitcoin mining pools, has announced that it will no longer accept the participation of Chinese miners.
According to the announcement, the existing Chinese miners on the pool will either have their accounts suspended or terminated.
The announcement to prohibit Chinese miners from accessing the platform was published by 8BTCnews, a local media outlet.
F2Pool has been in operation since 2013, which makes it one of the oldest Bitcoin mining pools. It is also the largest Bitcoin mining pool because it contributes to 18.14% of the entire global hashrate.
The ongoing mining crackdown in China has forced several crypto firms to close shop and move to overseas markets.
When China started cracking down on Bitcoin mining in May, it led to the closure of top Bitcoin mining companies such as Huobi and BTC.TOP. These firms cited increased regulatory risk, making it hard for them to continue their operations in China.
While the closure of these mining firms dealt a major blow to the mining hashrate, this metric has shown great signs of recovery because of mining firms setting up shop overseas in locations such as North America and the UAE.
Bitcoin mining is not the only venture affected by the ongoing mining crackdown in China. Ethereum miners have also been forced to terminate their operations in the country because of a tough regulatory environment.
On September 27, Sparkpool, a Chinese Ethereum mining pool, announced that it was ceasing its operations in China. Last week, the mining pool had issued an announcement stating that it would halt services for Chinese customers. This comes after a fresh wave of regulatory crypto crackdowns in the country.
Exchanges Also Affected
Cryptocurrency exchanges in China have also started to close shop after the People's Bank of China reminded investors that crypto transactions were illegal.
Last week's announcement stated that China prohibits cryptocurrency trading and that cryptocurrencies cannot be used for transactions.
Following this new announcement, Huobi exchange, one of the largest cryptocurrency exchange platforms, announced that it would be ceasing its operations in Mainland China. The exchange stated that the closure of its exchange services in China would be gradual, but all services in China would be halted by the end of 2021.
Binance, the largest exchange platform in terms of trading volumes, had earlier stated that it no longer offers its services to China. However, it is not clear when Binance halted its services in China, as the exchange does not require a user to specify their region when creating or using the account.
During an interview with Bloomberg, Binance stated that it blocks the IP addresses originating from China to comply with the crypto laws enforced in the country.
OKEx, another top cryptocurrency exchange, is still operating in China and has not issued any directive to halt services in the region. However, this could also be because it operates like Binance, where users are not required to specify their regions when accessing the platform.
Huobi, Binance and OKEx are still operating in Hong Kong, where the crypto regulatory framework is not as tough.
Disclaimer
The information provided here is for INFORMATIONAL & EDUCATIONAL PURPOSES ONLY!
View our complete disclaimer on our Disclaimer Page