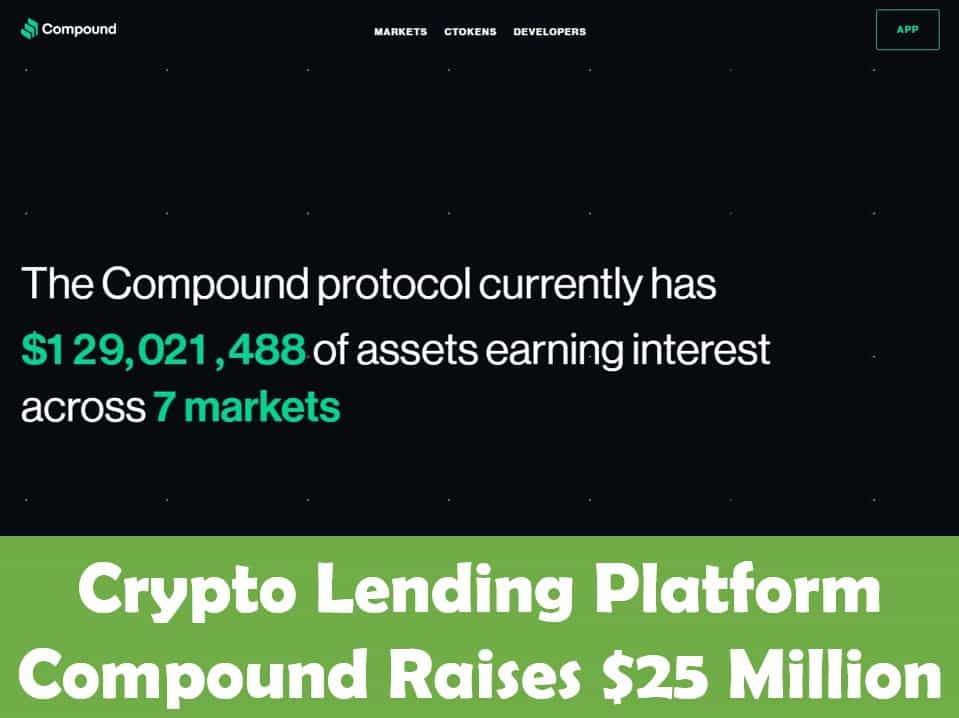 New Crypto Lending Platform Compound Raises $25 Million
Last updated on November 8th, 2022 at 01:55 pm
The crypto trend is continuously gaining popularity around the world, new businesses and services that are utilizing cryptocurrency payments continue to emerge.
Within the cryptocurrency community some of the most popular projects are those that allow users to use their crypto holding as collateral in order to get a low interest fiat based loan.
These platforms also allow others who want to 'stake' their non-stakable crypto and earn interest for doing so.
Enter Compound
Given this latest trend allowing people to earn a significant amount of money by lending their funds, it only makes sense that there will continue to be many more similar platforms in the space.
This is exactly what crypto lending startup, Compound offers.
Many users have already turned to Compound in order to make a profit.
So far, these profits have been as high as 8% percent.
Compound Uses Ethereum Smart Contracts
Compound is a San Francisco-based startup that has developed a platform that allows people to borrow lender money while lenders can make a profit through interest charged. In order to complete these transactions, the platform uses Ethereum based smart contracts, which connects lenders and borrowers directly.
In an attempt to expand its services, Compound launched a Series A funding round in which it managed to raise as much as $25 Million, most of which came from a single investor, venture capital firm known as Andreessen Horowitz.
In a recent interview, Compound's founder, Robert Leshner, stated that the firm now has more than $150 Million worth of various assets within its platform. With the new investment by Andreessen Horowitz, the company will also be able to expand its service and make it more accessible to regular people.
Leshner also stated that the company plans to get integrated with various other crypto businesses, such as wallets, custodians and even cryptocurrency exchanges. He predicts that the integration will start taking place before the end of 2020.
However, Compound's main goal remains the same; allowing people to earn money through interest rates. This has been Leshner's goal for a long time, as he spent years studying interest rates and he always felt like the world has been stuck in a zero-interest environment for far too long.
Ins & Outs of Compound
The way the platform works is quite simple in concept. Anyone could become a lender simply by providing capital in the form of stable coins, currently the only stable coin supported is DAI.
Borrowers take the coins while providing collateral in ETH or some other cryptocurrency. There is no need for an extensive amount of paperwork, waiting periods or intermediaries. The entire process handled via Compound's software, which creates smart contracts in accordance with the platform's terms.
Leshner commented on the people using his platform to borrow money, stating that they are mostly categorized into two groups.
One group consists of crypto companies that have already raised massive amounts in ETH and are now using it as a collateral to borrow money in order to pay their workers' salaries.
The second group consists of traders and crypto hedge funds that leverage their ETH for short-term investments.
Compound's Future Plans
According to Leshner, Compound wishes to expand in order to adopt a new governance structure; one that would take a page out of cryptocurrencies' book and become more decentralized. The entire crypto industry is based on the concept of decentralization and crypto enthusiasts see it as the most important part of the crypto world.
Leshner's end goal is to make a Bitcoin-like system that will ensure that no one can influence Compound's protocol, including Compound itself.
This would be the differentiation between Compound the platform and Compound the company. At the end of the day, companies come and go, but by using Ethereum smart contracts, a platform can be self-sustaining.
While only time will tell if the company will succeed in its goals, but if the major $25 Million investment is any indication, there will certainly be plenty of support for the project.
Disclaimer
The information provided here is for INFORMATIONAL & EDUCATIONAL PURPOSES ONLY!
View our complete disclaimer on our Disclaimer Page