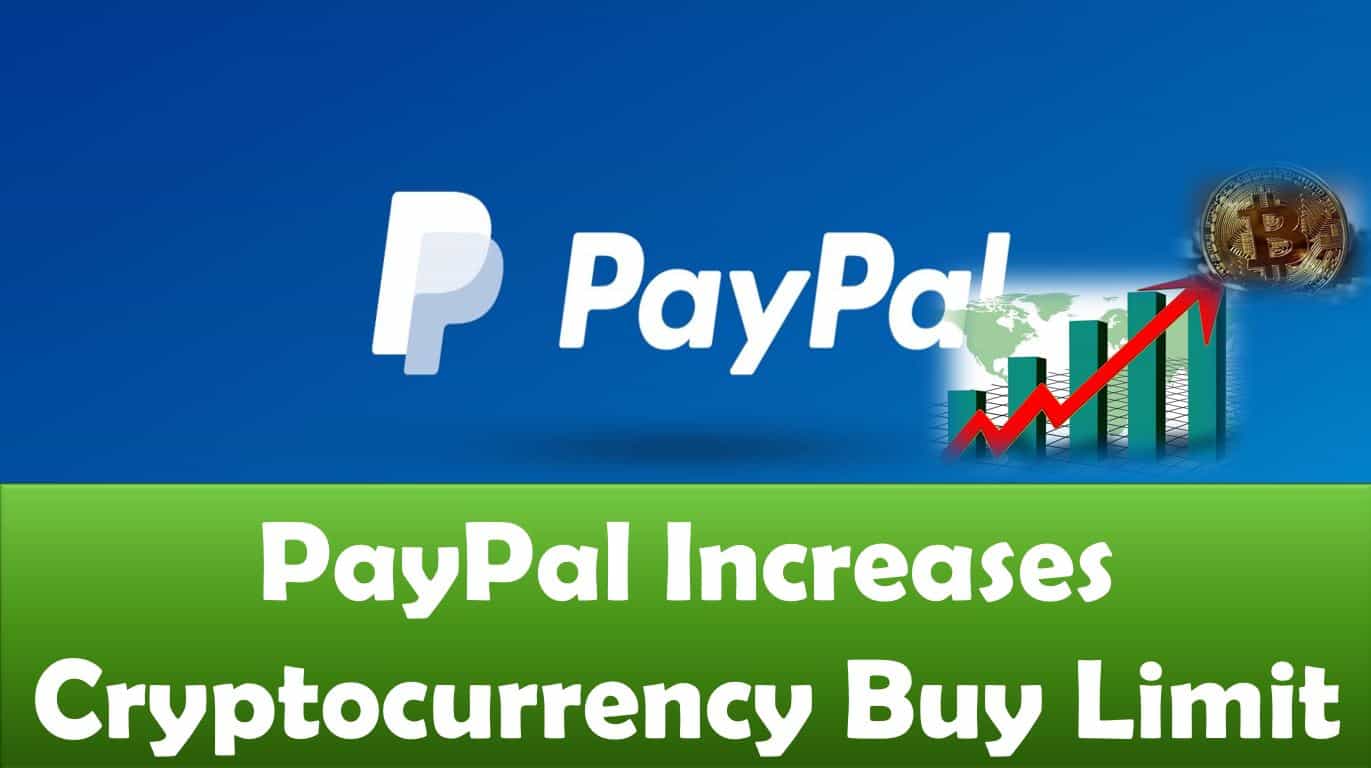 PayPal Increases Cryptocurrency Buy Limit
Last updated on July 29th, 2021 at 12:11 am
Leading global payments giant PayPal is changing its terms to accommodate more crypto users to the platform. The payments firm has increased the weekly buy limit for cryptocurrencies to $100,000.
The new limit is five times more than the $20,000 limit that was set previously. In addition, PayPal has also erased the $50,000 annual cryptocurrency buy limit so that users can enjoy more crypto transactions.
In a statement, PayPal's vice president of blockchain crypto and digital currencies, Jose Fernandez da Ponte, stated that
"These changes will enable our customers to have more choice and flexibility in purchasing cryptocurrency on our platform."
The five-fold increase in the weekly crypto limit comes less than a year since PayPal ventured into crypto purchasing services. PayPal launched a crypto checkout service for U.S. users in March when the crypto market was booming, paving the way for the mainstream adoption of cryptocurrencies.
PayPal has also stated that it will be educating its users about cryptocurrencies. To achieve this, the payment firm will be incorporating an in-app guide and other educational materials that will educate users about cryptocurrencies and help them do away with the myth that makes people stay away from the crypto market.
PayPal's Push for Crypto
PayPal first ventured into the crypto market in October 2020 when it allowed its clients to start buying cryptocurrencies. Later, the platform allowed users on Venmo, its affiliated mobile payments app, to purchase Bitcoin, Bitcoin Cash, Ethereum and Litecoin.
When PayPal launched this service, it was welcomed by the crypto community because it was seen to boost the mainstream adoption of cryptocurrencies. The new service was also attributed to the major crypto bulls in the crypto market in the first quarter of the year.
Some people in the cryptocurrency space have a short memory when it comes to PayPal however. Prior to 2020, PayPal was no friend to the cryptocurrency space.
As a matter of fact, they ostracized anyone trying to use their platform to access crypto and even went so far as to part ways with any business that used their service and dared to accept crypto payments as well.
In January this year, PayPal also made a strategic investment into Taxbit, intending to help crypto investors have an easy way of filing their taxes. Through Taxbit, cryptocurrency investors can calculate the number of taxes they owe.

The recent update to PayPal's crypto services comes at a surprising time, given that the crypto market lost much value in May. Bitcoin, the largest cryptocurrency, shed almost 50% of its value by retreating from an all-time high of around $63,500 to the current price of around $30,000.
PayPal has stated that the ongoing push for crypto through launching crypto services boosts user engagement. In May, PayPal's CFO, John Rainey, stated that 50% of crypto users on the PayPal app use the platform daily.
Rainey also stated that users who buy crypto using the app use the platform twice as much as other users. Most of the crypto users on the app are those analysing crypto prices.
Fintech firms have been more open towards embracing the crypto sector compared to traditional financial firms. Other payment firms with crypto services include Cash App, Visa and MasterCard.
Disclaimer
The information provided here is for INFORMATIONAL & EDUCATIONAL PURPOSES ONLY!
View our complete disclaimer on our Disclaimer Page