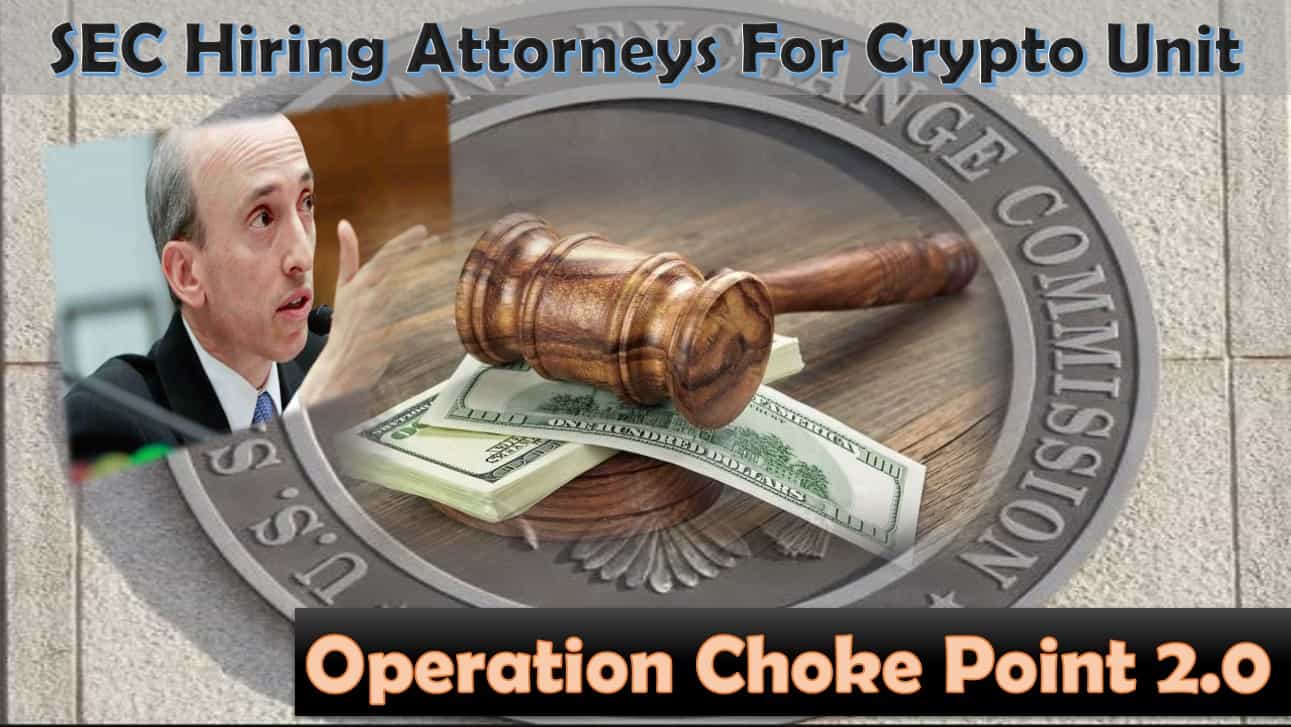 Seeking Legal Eagles: SEC Hiring Attorneys for Cyber & Crypto Unit
These days it's easy to feel a bit lost in the ever-evolving landscape of cryptocurrency regulations. It seems like there are new developments coming out of D.C. everyday.
And the ramp up for a crypto crackdown continues.
Now, the Securities and Exchange Commission (SEC) has created new job postings on USA Jobs for qualified legal professionals to join their efforts to continue enforcement actions against the space.
In a recent job posting the SEC announced its intention to hire general attorneys for its Crypto Assets and Cyber Unit, which falls under the purview of their Division of Enforcement.
The Commission is looking to fill these positions in the cities of New York, San Francisco, and Washington D.C.
Among the responsibilities listed in the job postings, successful candidates will be expected to perform in-depth and time-sensitive investigations into matters pertaining to crypto-asset securities and cyber concerns.
This position offers a salary between $140-259K and will likely also include additional tasks such as drafting subpoenas, analyzing evidence, and more.
While these positions are certainly going to be utilized to create enforcement action instead of regulation, it's important to see not only where we're going, but where we are today, especially in relationship to where we've been.
Choke Point, Enforcement & Taxation
This recent job posting is just the next step in the SEC's unbridled enforcement actions against companies and projects in the cryptocurrency space.
The posting of these job openings by the SEC comes on the heels of SEC Chairman Gary Gensler going before Congress in an attempt to get more funding for his enforcement actions.
But, this continued enforcement pressure is having an increased effect as it comes alongside increased taxation.
New Tech Taxes Incoming
These random enforcement actions by the SEC are compounded by additional pressures that are starting to hit tech related companies in the form of additional taxation here in the U.S.
This is thanks to the 2017 Tax Cuts and Jobs Act. This act brought about changes to the research and development (R&D) credit rules under section 174. These changes are set to come into effect this year.
The timing of this, combined with the current banking crisis, and obvious targeting of crypto-friendly banks by the U.S. government, is leaving many already cash-strapped companies, potentially facing massive tax bills.
The new R&D law, while intending to boost economic growth, contains broad and vague language that may end up hurting businesses. The law stipulates that all software development must be amortized over five years if carried out in the U.S., and 15 years if conducted overseas.
As several countries offer more attractive R&D incentives than the U.S., many software development companies are likely to shift bases of operations elsewhere.
Choke Point 2.0 Against Crypto
A worrying trend has recently emerged with the targeting of crypto-friendly banks. This trend appears to be the U.S. government's attempt to deny traditional banking services to projects related to the crypto industry.
Operation Choke Point 2.0, as it's been dubbed, appears to be a multi-agency effort, being directed by the Biden administration, to use government agencies to take away financial access to crypto related companies. The end goal of this type of action is to ultimately starve them of funding in order to crush the crypto industry.
These efforts are not new. Both the Obama and Trump administrations relied on similar measures.
In 2018, as an example, under massive federal pressure, Bank of America (BoA) and Citigroup exercised similar efforts against firearms companies, while simultaneously reporting firearm purchases to the federal government.
However, not everyone in Congress is onboard with this approach when it comes to the crypto space.
Enforcement Oversteps
While the SEC's approach to regulating the crypto industry has been embraced by many, it hasn't received universal praise.
As an example, Representative Tom Emmer criticized the SEC's Chair Gary Gensler, referring to him as a "bad faith regulator" and raising concerns about his approach to overseeing the industry.
Representative Tom Emmer made a candid statement regarding Gary Gensler's regulatory oversight of the crypto sector when he appeared as a guest on an episode of the Unchained podcast, which is hosted by author, and journalist, Laura Shin.
"This guy in my mind, is a bad-faith regulator. He's been blindly spraying the crypto community with enforcement actions while completely missing the truly bad actors."
During this interview Emmer cited Coinbase's recent run-in with the SEC as an example of questionable regulatory methods being utilized by Gensler.
He noted that the company had been proactively seeking compliance feedback on staking products, and other matters from the SEC, yet Coinbase still received a Wells notice in March despite their efforts.
Disclaimer
The information provided here is for INFORMATIONAL & EDUCATIONAL PURPOSES ONLY!
View our complete disclaimer on our Disclaimer Page