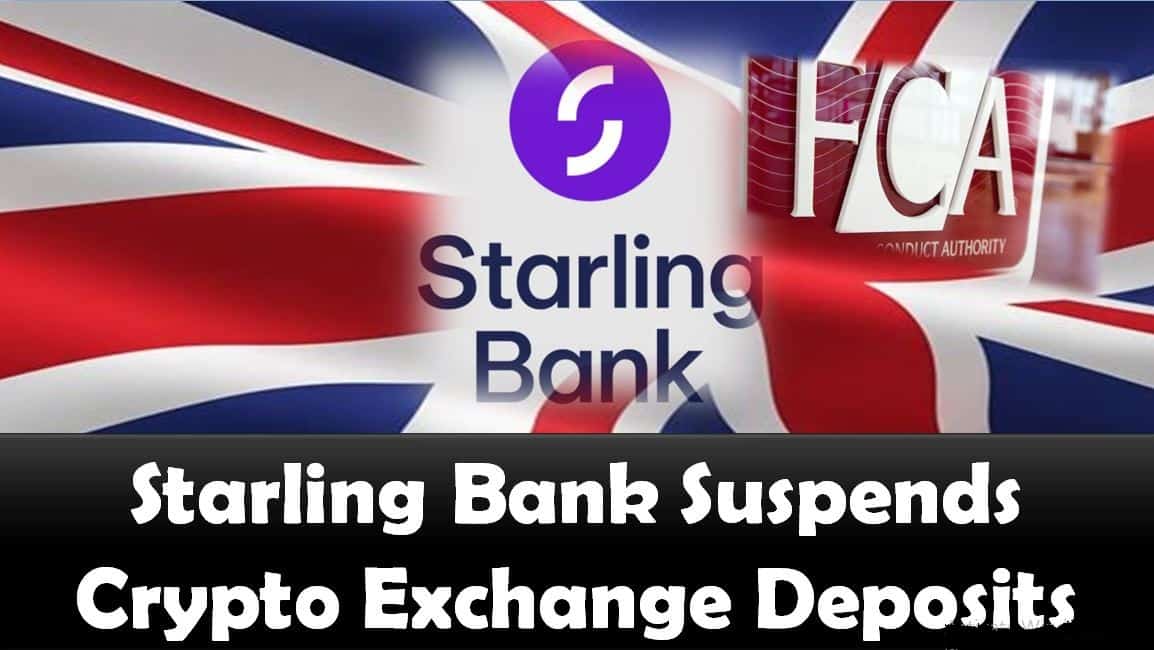 Starling Bank Suspends Crypto Exchange Deposits
Last updated on November 1st, 2022 at 11:25 am
Recently, United Kingdom-based Starling Bank suspended crypto exchange deposits, blaming it on the increased level of financial crimes with crypto payments.
However, the bank, in its latest announcement, stated that it plans to resume such service by late June.
The bank's spokesperson stated that it will be resuming its payments to crypto exchanges on June 23, when the bank has taken additional measures to protect customers.
Telegraph also reported that some top banks in the U.K. may be following Starling's route to block payments to crypto exchanges. The report revealed that some users are complaining about social media that online bank Monzo and high-street bank Barclays are not allowing them to make payments.
However, Barclays refuted the claims, saying it had not restricted any form of payments to crypto exchanges. But Monzo was unavailable to comment.
Issue For All Banks
The Starling Bank's spokesperson stated that it was not alone in the action it took to suspend crypto exchange payments. It was "not an issue for Starling, but all banks," the spokesperson reiterated.
Economic secretary to the Treasury and U.K. Parliament member John Glen spoke about the authorization of crypto-based companies in the region. According to him, the Financial Conduct Authority (FCA) has given only five companies the license to operate a crypto business in the country.
Based on the information available on the FCA official website, the licensed firms include Archax exchange, crypto-friendly bank Zigglu, Diginex's Digivault and two Gemini-affiliated companies, Gemini Europe and Gemini Europe Services.
Glen stated that several firms have applied for a license, but more than 90% of them have withdrawn their application because of FCA's intervention. Glen added that 167 crypto-based businesses have outstanding applications.
Regulations Pending
This regulatory statement is coming after some UK-based banks warned their customers about the increased level of crypto fraud and scam. NatWest Bank and National Westminster Bank are among the banks that reportedly sent warnings to their customers about fraud.
"I can imagine this is going to be becoming more and more common for crypto users,"
one of Starling Bank's customers said on Reddit when complaining that his crypto transfers had been blocked.
The content of the alert by NatWest stated that the bank had received multiple reports about scams and fraud in the industry in Q1 2021.
According to the FCA, there have been strong concerns about the increased rate of crypto crime in the U.K. lately cryptocurrencies are seen as the means to carrying out illegal transactions without any sort of trace to the perpetuators.
This is in addition to the general assertion that crypto assets are extremely highly risky to trade and not properly regulated.
The FCA has already warned crypto traders that they should be prepared to lose all their money in such investments due to its high volatility.
The authority also plans to place bans on crypto companies, not on its official register. But such a move has been postponed to July due to inadequate time to carry out the necessary documentation.
Disclaimer
The information provided here is for INFORMATIONAL & EDUCATIONAL PURPOSES ONLY!
View our complete disclaimer on our Disclaimer Page