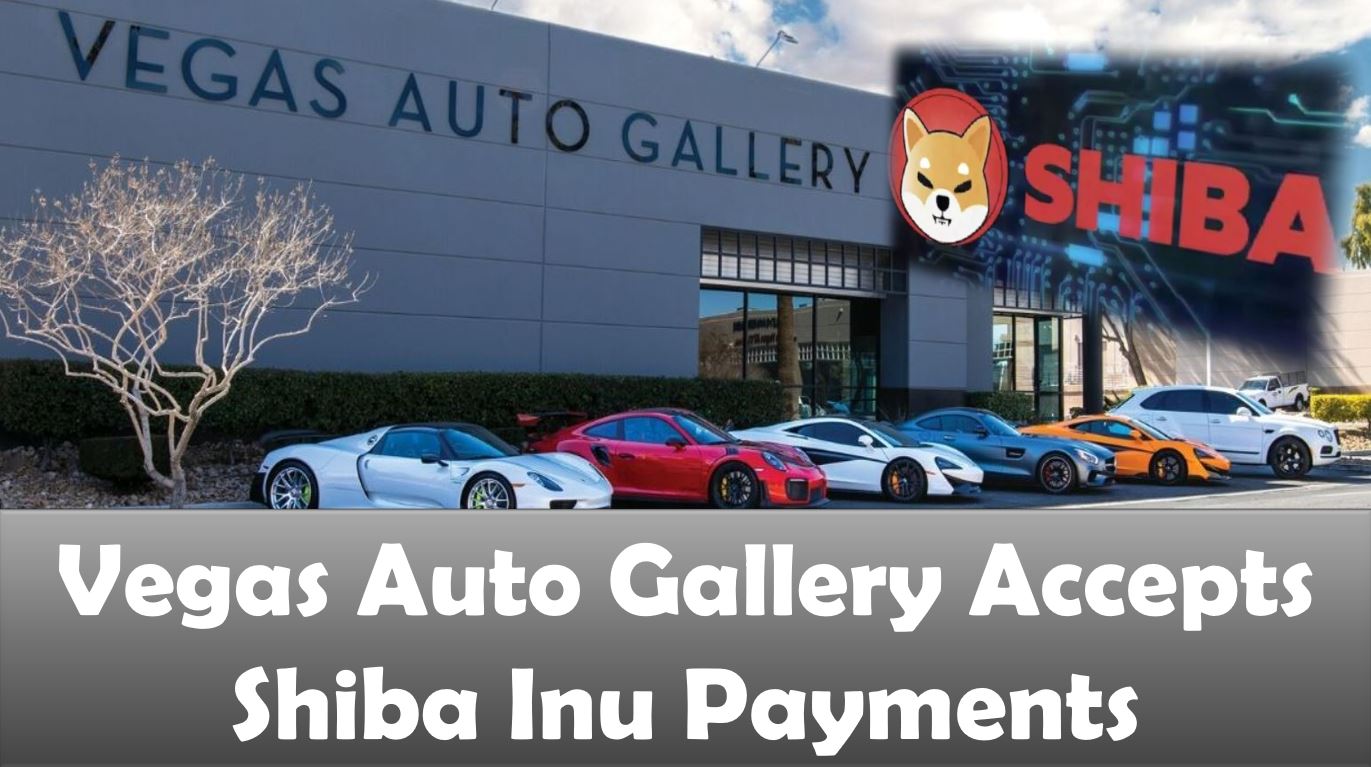 Vegas Auto Gallery Accepts Shiba Inu Payments
Last updated on December 4th, 2022 at 10:09 pm
Shiba Inu has been making notable gains in recent months and its adoption is growing by the day. The latest piece of good news for the Shiba Army is that the meme coin has been accepted as a means of payment by a luxurious car dealer in Las Vegas.
Vegas Auto Gallery is a luxury auto dealership based in Las Vegas. According to a notice released on Saturday, it has now announced that Shiba Inu will be added to the list of its supported cryptocurrencies.
Vegas Auto Gallery is a car dealership launched in 2018 by Nick Dosa and Ed Ghaben, who are industry veterans in the car dealership sector.
The store deals in luxurious and high-end vehicles, with some of the notable brands available, including Rolls Royce, Aston Martin, Lamborghini and Bentley.
Towards the end of last year, Dosa, one of the store's owners, stated that after launching the capability of Bitcoin purchases, the primary cryptocurrency accounted for up to 5% of the entire revenues collected from the car dealership.
When the dealership launched crypto payments, any crypto related transactions are automatically converted into U.S. dollars through BitPay, a leading cryptocurrency payment-processing firm. Hence, the dealership does not hold any of the revenues collected through this initiative in crypto and this way.
Shiba Inu Continues Growing Adoption
Shiba Inu has been on a notable bullish rally and while it has shed some of these gains, it continues to attract much attention across the crypto sector.
When Shiba Inu was launched, many claimed that it would be the Dogecoin killer and this seems to have happened after it surpassed Dogecoin's market cap in October.
One of the strengths of this meme coin is community support. An influx of buyers in the market usually contributed to notable gains, which has been happening with Shiba Inu. Besides this support leading to rising values, it has also been attributed to the recent endorsement that this meme coin has received from merchants globally.
Shiba Inu
While many people have dismissed meme coins because of the high volatility levels they tend to exhibit, they have continued to attract a lot of attention.
After its launch, Shiba Inu was dismissed from making any notable gains in the future. However, since it started gaining traction, it has slowly started to attract much attention.
Vegas Auto Gallery is not the only major merchant to accept Shiba Inu payments. Newegg, a leading electronics retailer firm, announced possible plans of adding Shiba Inu as part of the cryptocurrency payments accepted by the firm.
The other global firm that has also promised to start accepting Shiba Inu payments is AMC Entertainment.
AMC had earlier announced that it would accept Dogecoin as a payment option following increased demand for such a listing by Dogecoin supporters. Now, AMC Entertainment will add Shiba Inu to its list of supported cryptocurrencies in two months.
Smaller retail companies are also making plans to support Shiba Inu. Towards the end of October, a restaurant in Paris stated that it would enable Shiba Inu payments.
Disclaimer
The information provided here is for INFORMATIONAL & EDUCATIONAL PURPOSES ONLY!
View our complete disclaimer on our Disclaimer Page