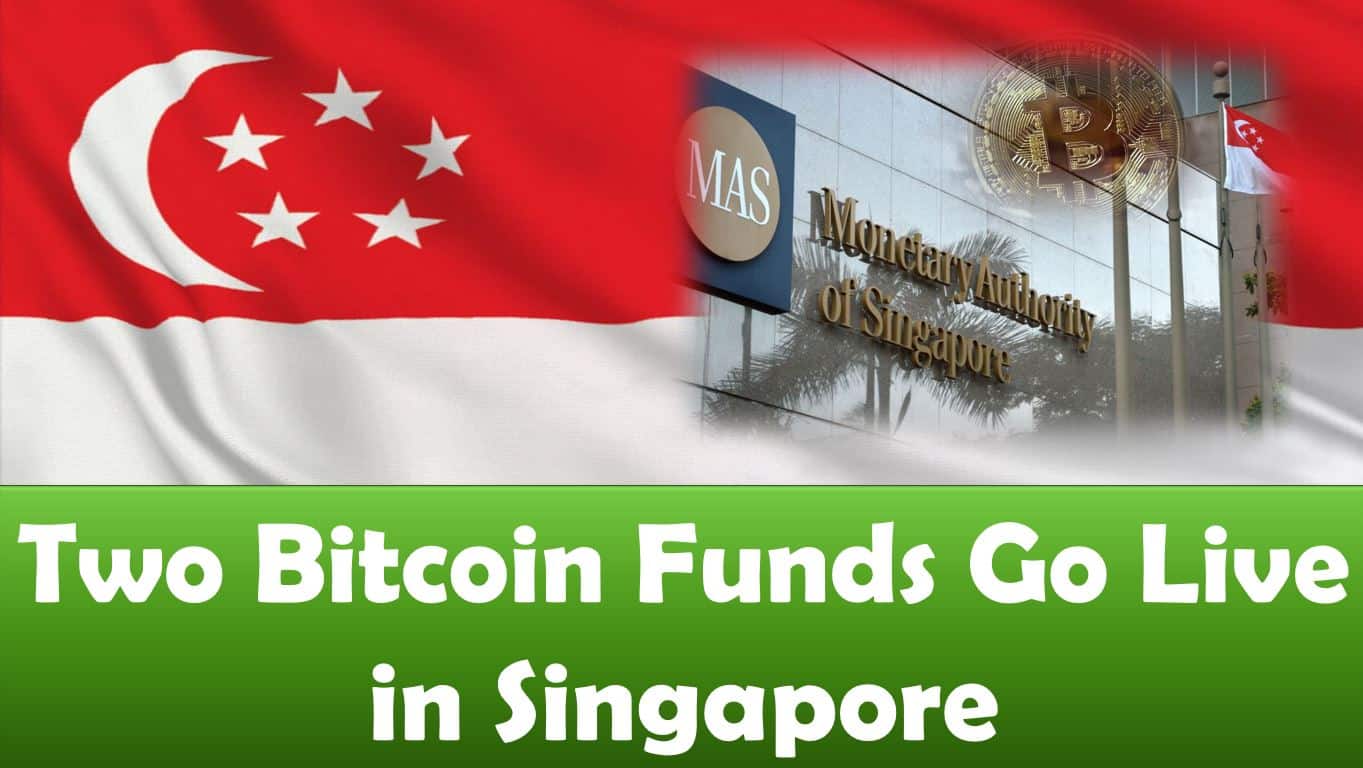 Two Bitcoin Funds Go Live in Singapore
Last updated on December 4th, 2022 at 10:08 pm
This year has seen much growth in terms of adopting Bitcoin by countries, business and even some regulators.
As an example, in October, the U.S. contributed to a major Bitcoin bull market after approving a Bitcoin futures-based exchange-traded fund.
The latest country to announce the launch of a Bitcoin fund is Singapore. However, unlike in the U.S., this Bitcoin fund will be issued by a fund manager and will only be available to institutional investors.
Launching Two Bitcoin Funds
Fintonia Group, a fund management firm based in Singapore and regulated by the Monetary Authority of Singapore, has announced the launch of two institutional-grade Bitcoin funds.
The new funds are known as the Fintonia Bitcoin Physical Fund and the Fintonia Secured Yield Fund.
These funds will only be open to institutional investors, according to an announcement issued on Thursday. Moreover, they will also offer a simple and secure exposure to Bitcoin.
According to an announcement from the founder and chairman of Fintonia, Adrian Chng,
"The funds are live, and investors can subscribe and redeem regularly as they are open-ended funds, similar to a mutual fund. The funds are only available for accredited investors."
The Fintonia Bitcoin Physical Fund will target institutions that want to gain exposure to Bitcoin. It will allow these institutional investors to buy, store and sell a large number of digital assets.
Chng further stated that this fund would deal with Bitcoin directly. As such, it will acquire the physical Bitcoin and it will not be based on a derivative instrument on Bitcoin, which is the case in the U.S.
The second fund will be the Fintonia Secured Yield Fund. This fund will not seek to offer direct exposure to Bitcoin, but it will allow investors to apply for loans that have been collateralized by Bitcoin.
Chng stated that
"Bitcoin is an excellent form of collateral for loans. It trades 24/7 and is highly liquid, with approximately $30 billion to $60 billion per day. If required, it can be quickly liquidated in comparison with, for example, commodities and real assets."
The two funds will rely on a third-party custodian with all the needed licenses. This custodian will be tasked with storing cryptocurrencies on cold wallets. Moreover, these investments will be insured to ensure that investors are protected in case of theft and hacking of exchange platforms.
Reducing Crypto-to-Fiat Friction
Fintonia stated that as a MAS-regulated fund management firm, it seeks to reduce the hindrances of crypto to fiat transactions. Moreover, the firm has the necessary measures to comply with the Know Your Customer regulations and the anti-money laundering requirements.
During the announcement, Fintonia stated that the fund would function like others in the market.
"These open-ended funds provide professional investors with a recognized legal and regulatory structure, similar to that of a typical mutual fund."
Fintonia Group has been one of the early supporters of cryptocurrencies, according to Chng. He stated that the firm was now more focused on cryptocurrencies because they had "evolved into a separate asset class."
As part of this pro-crypto stance, in November of 2020, Singapore announced that its largest bank would launch a fiat-to-crypto exchange.
Singapore is one of the most progressive crypto economies. Its clear and established crypto regulatory framework has made it a major hub for regulators, which have issued licenses to several crypto firms.
However, the country's regulators issued a warning to Binance a few months back for violating the existing laws. Binance has since exited the Singapore market.
Disclaimer
The information provided here is for INFORMATIONAL & EDUCATIONAL PURPOSES ONLY!
View our complete disclaimer on our Disclaimer Page