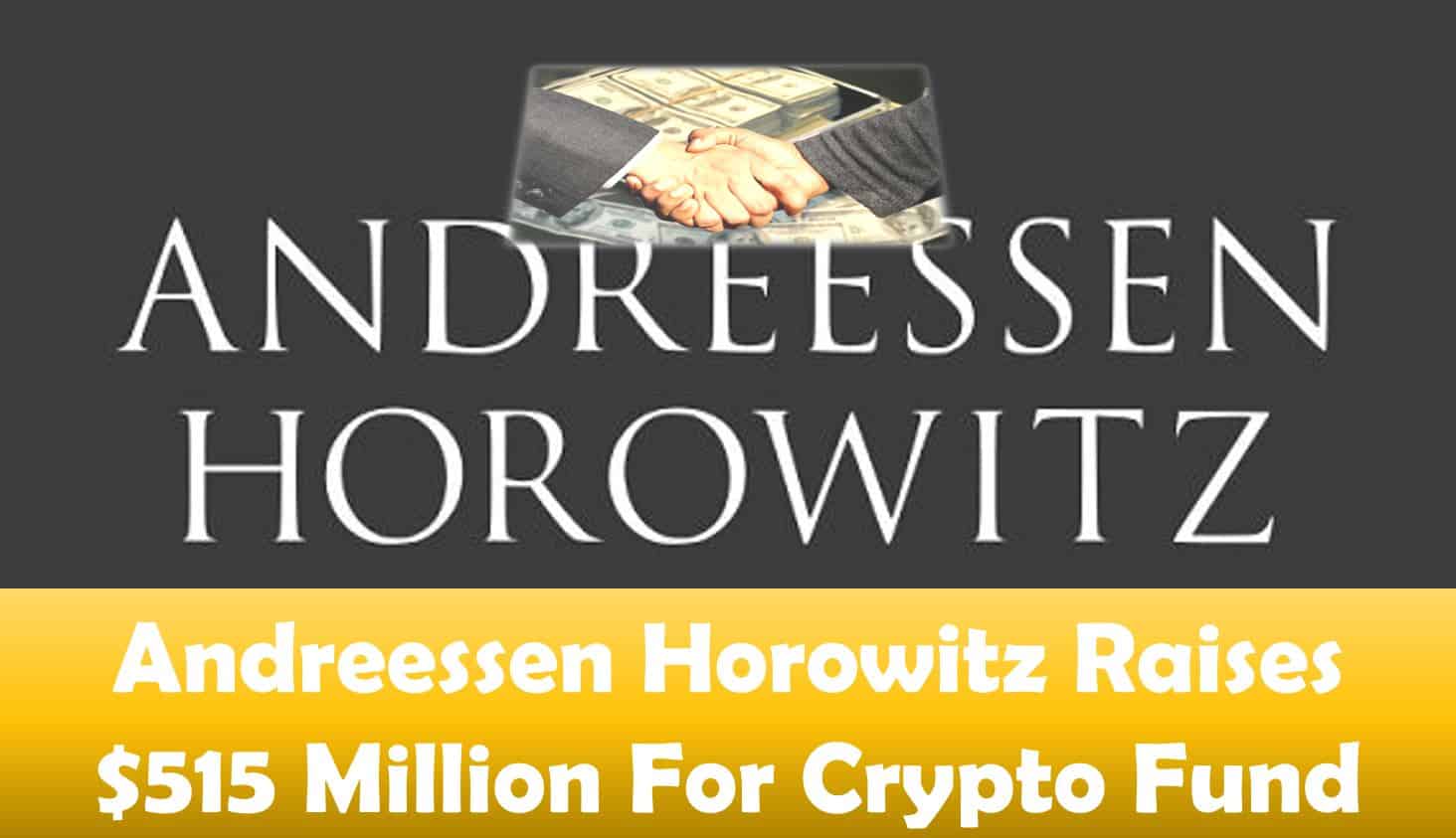 Andreessen Horowitz Raises $515 Million For Crypto Fund
Last updated on December 8th, 2022 at 09:14 am
The crypto industry has come a long way in the last several years and the best way to see it is to notice how much money crypto funds manage to raise. The best example of this is the top venture firm, Andreessen Horowitz.
New Crypto Fund Exceeds Expectations
The company decided to expand its presence and influence in the crypto sector by starting a second crypto fund. Its goal was to raise $450 million, as earlier reports had suggested. However, now that the funding round has ended, the company reported raising significantly more.
In fact, it managed to surpass its original goal by $65 million, totaling $515 million, as Fortune recently reported.
Andreessen Horowitz already has one crypto-focused fund, as mentioned. That one raised around $300 million back in 2018. The fund then focused on various blockchain projects and that is likely what will happen with the second one, too. While this is a fair assumption, it remains just that, as the Fortune did not mention any startups working with crypto in its report.

Meanwhile, Andreessen Horowitz's general partner, Chris Dixion, commented on blockchain technology.
He said that "It's very rare that major, new computing paradigms come along and we think this is on the scale of cloud and mobile for the Internet."
He added that he believes that there will be many more blockchain projects that will see a launch by the end of the year.
One of them includes a blockchain-based cloud computing project called Dfinity. This is a project that attracted the attention of Andreessen Horowitz a while ago. In fact, the company already used its first crypto fund to back it.
Andreessen Horowitz's Impact on Crypto
The company, of course, invested in numerous other crypto projects in the last few years. One of them is Facebook's Libra.
This is a project made quite a bit of waves, not just in the crypto but throughout governments and central banks as well. Its very announcement spurred banning and hearings throughout the world.
As many might remember, its announcement caused China's central bank to speed up its Central Bank Digital Currency (CBDC) plans. With China making a move, many others started working on their own CBDCs in order to stay on track and not miss out on the new trend.
Andreessen Horowitz also invested in Maker DAO (MKR) and even Coinbase, among multiple others.

However, that doesn't mean that the company's involvement with the cryptocurrency industry is limited to investments alone. In fact, the firm announced an entire crypto startup school a few months back.
The announcement came in December 2019 and it said that the crypto course will be available completely for free. It will last for about seven weeks and it was supposed to launch in February 2020.
Unfortunately, the company did not launch it as of yet, nor did it release any new update regarding the project.
At this point it's only conjecture as to the reason for the delay. It could simply be a simple delay, allowing the company to focus on other projects or perhaps it might be possible that the global pandemic had something to do with it.
Disclaimer
The information provided here is for INFORMATIONAL & EDUCATIONAL PURPOSES ONLY!
View our complete disclaimer on our Disclaimer Page