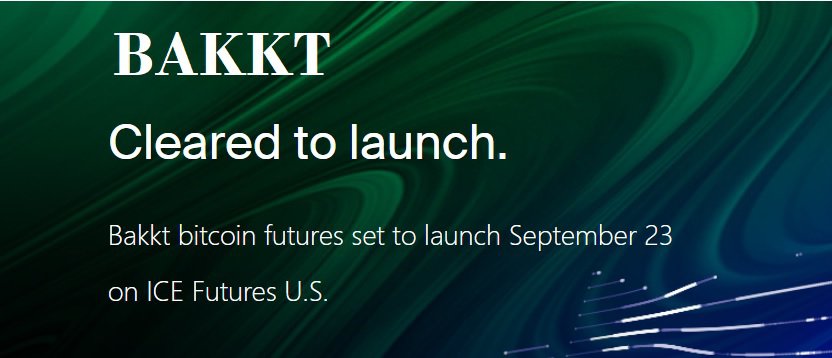 Bakkt Launching Bitcoin Futures
Last updated on November 1st, 2022 at 02:51 pm
Bakkt's efforts for bringing Bitcoin futures contracts are finally paying off and the company has announced that it will officially launch the contracts in only a month, on September 23rd.
The launch has brought quite a lot of excitement to the crypto world, as the crypto community expected it for more than a year now.
Unfortunately, due to regulatory issues, the approval of the contracts was constantly delayed and many started doubting that Bakkt will ever achieve its goal.
However, all that changed as US regulators finally gave Bakkt the green light.
The Bitcoin futures exchange will have its contracts margined and it will allow them to be settled via Bitcoin itself. With that in mind, it can also be considered as an alternative to still unregulated spot markets, due to the fact that it can offer custody arrangements.
Bakkt Daily & Monthly Futures Contracts
According to what is known so far, Bakkt will offer Bitcoin (USD) Daily Futures, as well as Bitcoin (USD) Monthly Futures. This is already a significant improvement when compared to what its competition has to offer.
The CME, for example, only provides monthly Bitcoin Futures contracts.
However, it is also estimated that the daily contracts might affect Bitcoin price's volatility.
Experts believe that the volatility of Bitcoin's everyday price might increase due to the daily contracts, so investors and traders should keep that in mind.
But, even so, the fact that Bakkt is fully regulated will also bring positive effects, such as the improvement of fundamentals around BTC.
The news of Bakkt's approval was met with great positivism throughout the Bitcoin community.
Discussions within the space revolved around conversations about how these contracts will be settled in 'physical' Bitcoin.
As a result, hopes are high that Bitcoin will see improvements in regards to its liquidity and price discovery.
Bakkt CEO, Kelly Loeffler, also commented on the new development, stating that the core service Bakkt aims to offer regulated, secure custody options, as well as trading on an institutional scale.
As for Bakkt's monthly futures contracts, they are based on the forward pricing curve, meaning that investors will have the ability to get insight into prices up to twelve months.
Loeffler also spoke about Bitcoin's halving schedule which is expected in the following year and how it is expected to be enabled for speculation via the monthly contracts.
As for the daily contracts, they will also be margined and will allow institutional investors to get more involved, thus bringing more money to the industry on a daily basis.
Disclaimer
The information provided here is for INFORMATIONAL & EDUCATIONAL PURPOSES ONLY!
View our complete disclaimer on our Disclaimer Page