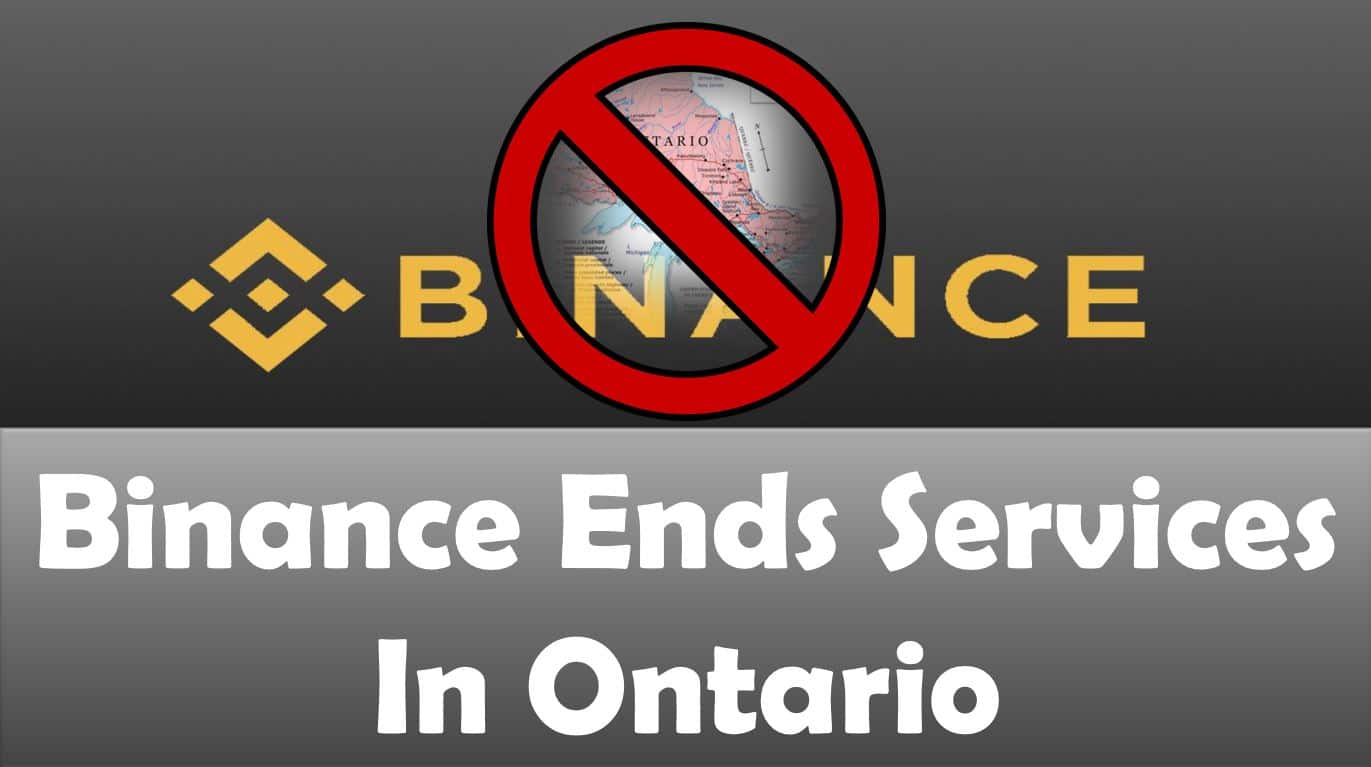 Binance Ends Services In Ontario
Last updated on September 9th, 2022 at 09:50 am
Binance, the largest crypto exchange by volume, has announced it will be halting its offerings in Ontario.
In a statement provided on the Binance website, the exchange stated that
"As part of our continuing compliance efforts, Binance has updated its Terms of Use to provide that Ontario (Canada) has become a restricted jurisdiction, effective 2021-06-26 at 3:59:59 AM (UTC). Regrettably, Binance can no longer continue to service Ontario-based users. Ontario-based users are advised to take immediate measures to close out all active positions by December 31, 2021."
Heightened Regulations in Ontario
Ontario has recently curated a tough regulatory environment aimed at protecting investors in the country.
On April 19, the financial regulator in the region launched a new set of requirements and prospectus exchanges were required to adhere to. The increased cryptocurrency regulations are meant to safeguard this rapidly growing sector.
Just last week, the Ontario Securities Commission stated it would be holding a hearing for Bybit, another leading cryptocurrency exchange. Bybit has also been in conflict with various regulators in Japan, Europe and the U.S. over its offerings. In addition, the exchange was found to be 'bending' the Canadian crypto laws.
Earlier this month, the Ontario financial regulator also took measures against two firms linked to the KuCoin crypto exchange.
The Ontario Securities Commission stated that
"KuCoin is operating an unregistered crypto asset trading platform, encouraging Ontarians to use the platform, and allowing Ontario residents to trade crypto asset products that are securities and derivatives."
Binance Under Increased Scrutiny
It is not the first time that Binance is receiving a warning from financial watchdogs.
Recently, the exchange giant received a warning from Japanese regulators for offering services for which it was not licensed. The Financial Services Agency (FSA) had issued a similar warning to the exchange in 2018 under similar claims that it was offering services that it was not registered for.
Before issuing the warning to Binance, the governor of the Bank of Japan had shown scepticism towards cryptocurrencies. Earlier this year, the governor stated that Bitcoin was a "speculative asset."
However, Binance is still accessible to users in Japan. IP addresses from the country can still access the website and the user registration page.
In the US, Binance was also accused of a similar transgression of offering unlicensed services. However, American users were given a grace period of several months to shift from the platform and move to Binance U.S.
However, despite these restrictions, Binance has shown a high level of compliance in jurisdictions where it operates.
Binance had tried to officially enter the Japanese crypto market through a partnership that failed to go through. Even though the exchange has not given an official response on the restrictions by the FSA, users are anxious to see whether the restrictions will affect their operations.
Changpeng Zhao, the CEO of Binance, stated that the American market was more advanced since it always had an 'intelligent' way of going around the geofence.
Disclaimer
The information provided here is for INFORMATIONAL & EDUCATIONAL PURPOSES ONLY!
View our complete disclaimer on our Disclaimer Page