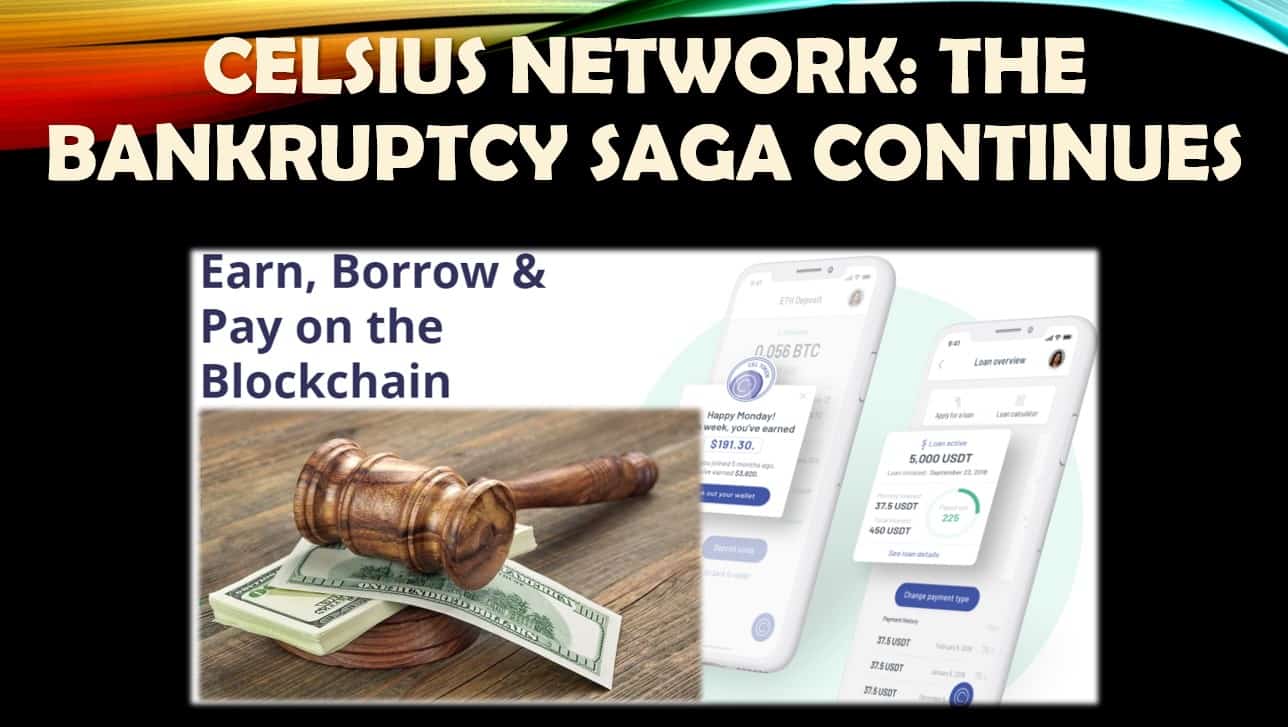 Celsius Network: The Bankruptcy Saga Continues
In June of 2022, Celsius, a once prominent crypto lender headquartered in New Jersey, suspended customer withdrawals. A month later, in July, they filed for bankruptcy.
During this time, Celsius stated that they had over 1.7 million registered users and 300,000 active users with account balances exceeding $100.
Celsius Network has recently provided an update on their Chapter 11 bankruptcy proceedings, which offers insight into their dealings with retail borrowers and creditors.
The update encompasses a range of subjects, including in-kind cryptocurrency returns, custody solutions for the CEL token, settlement of CEL pricing, creditor classes, and taxation policies for returns.
Reorganization Plans For Celsius
In November we notified Celsius users that the court had provided an opportunity to file a Proof of Claims.
In February 2023, debtors of Celsius Network presented a sale plan to the U.S. Bankruptcy Court of the Southern District of New York. The plan forms part of the overall reorganization for Celsius's business and has the support of the official committee of unsecured creditors.
NovaWulf Digital Management, a digital asset investment firm will provide the distribution of the Debtors' liquid crypto assets. This is meant to maximize the value of the Debtors' illiquid assets through a new company run by experienced asset managers.
This includes an in-principle agreement and is interested in making a direct cash contribution of $45 Million to $55 Million to Newco, a term used a describe a corporate spin-off before it is assigned a final name.
This "comprehensive" sales process, outlined in January 2023, invited 130 parties, signed NDAs with 40 potential bidders, and ended up with six bids for the retail platform and three for the mining operation. The binding agreement to designate NovaWulf as the successful bidder still needs to be finalized.
This latest report presents a comprehensive examination of the approach taken towards the handling of in-kind crypto returns.
In the reorganization plan, Celsius Network has opted to settle for the two leading cryptocurrencies, namely Bitcoin and Ethereum.
Furthermore, unless the Internal Revenue Service (IRS) declares otherwise, under section 1313(a) of the tax code, such returns are deemed non-taxable events.
User Withdrawals Below $100K Secure
Based on recent findings, retail consumers who withdrew amounts less than $100K and agreed to the plan will not be subjected to a clawback.
Some customers, however, with "withdrawal preference exposure" between $100,000 and $250,000 can settle 27.5% of their funds in either U.S. Dollars, Bitcoin or Ethereum.
For withdrawals exceeding $250,000, the litigation trust will closely scrutinize each case individually.
Additionally, users with account balances over $5,000 will earn equity shares in the new company and receive payouts from any remaining cryptocurrency after smaller accounts have been reimbursed.
Disclaimer
The information provided here is for INFORMATIONAL & EDUCATIONAL PURPOSES ONLY!
View our complete disclaimer on our Disclaimer Page