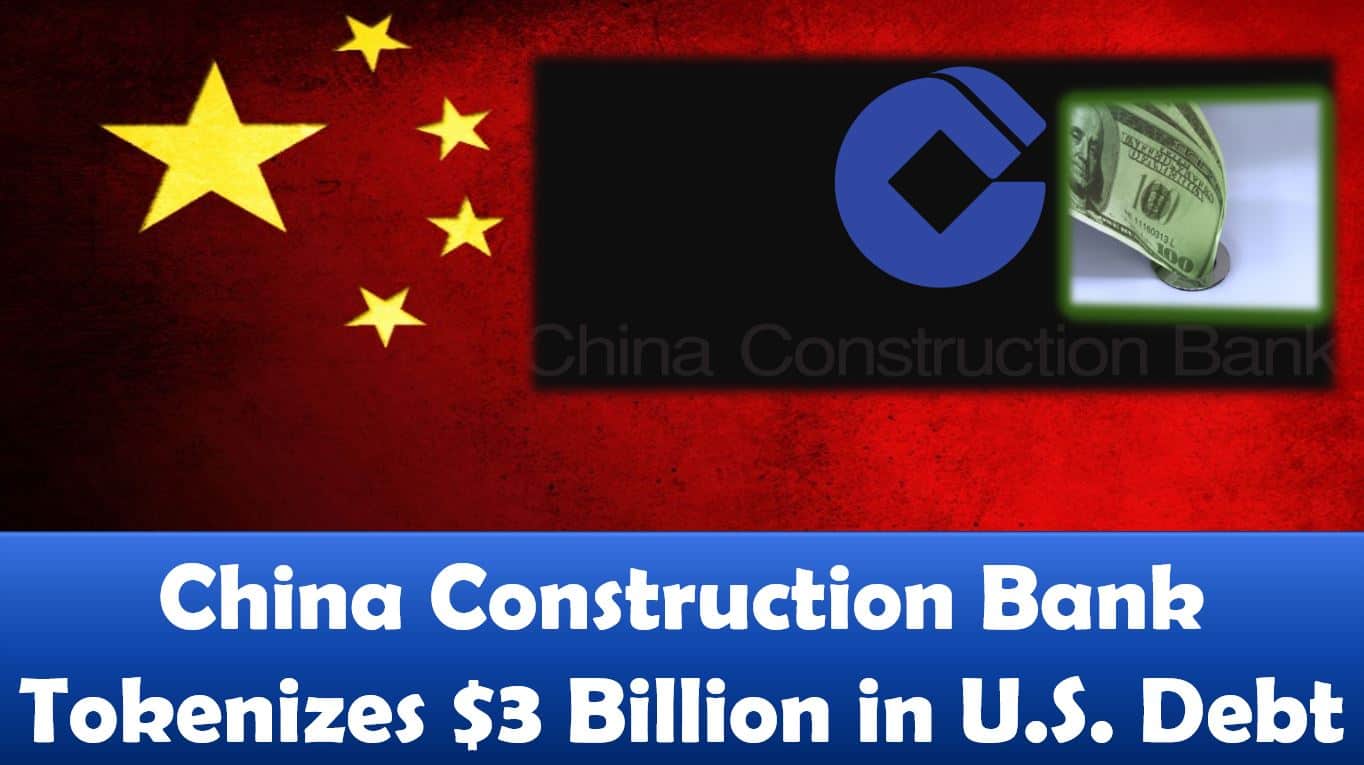 China Construction Bank Tokenizes $3 Billion in US Debt
Last updated on November 1st, 2022 at 12:29 pm
We've seen blockchain technology usher in some amazing things, especially when compared to traditional financial options. The meteoric rise of Decentralized Finance (DeFi) now allows for investor to garner almost unheard of gains.
Now, even traditional banks are looking to blockchain to help them reduce costs and provide financial products. The China Construction Bank (CCB) is partnering with Fusang, a Hong Kong-based fintech firm to tokenize $3 billion worth of debt via blockchain.
There is little debate that blockchain technology has impacted the financial sector positively. Now the CCB is proving this true as it is easier to issue conventional financial instruments, such as bonds and equities using the technology. By providing the same services at a lesser cost, makes this a more attractive option to issuers.
In this case, CCB is selling off $3 Billion of U.S. debit. It is doing so by issuing certificates of deposits. These CDs will be issued via the bank's Labuan branch, and it will have three months tenure.
According to the announcement, the certificates will generate about 0.75% interest at maturity, with a minimum issuance of $100 for each certificate. The interest is higher than the 0.25% interest given as annual interest by banks.
While these types of certificates generally target professional investors and sold for much higher amounts. But retailers are now able to buy these digital certificates which are on the blockchain for much small amounts.
Narrowing The Gap
Felix Feng Qi, the principal officer of the bank's Labuan branch, stated that the issuance of these tokenized assets will help to bridge the gap between fintech and the wider financial markets. It gives small investors the opportunity to participate in the industry, which has been traditionally dominated by institutional investors.
The partnership will also give other investors to trade the digital certificates of the bank via Bitcoin on the Fusang exchange. The bond trading can also be carried out using the US dollar, and is set to commence on Friday.
According to the Chief Executive Officer of Fusang, Henry Chong, Fusang also has additional plans to work with China Construction Bank on the issuance in other currencies if the present deal becomes successful with investors.
The first phase of the $3 Billion program will see the bank release $58 Million worth of digital certificates for investors. If the digital security issuance is successful, it will represent the first of its kind on a Chinese bank's blockchain.
The article in the South China Morning Post also revealed that this issuance by China Construction Bank is not protected by China's deposit insurance.
Disclaimer
The information provided here is for INFORMATIONAL & EDUCATIONAL PURPOSES ONLY!
View our complete disclaimer on our Disclaimer Page