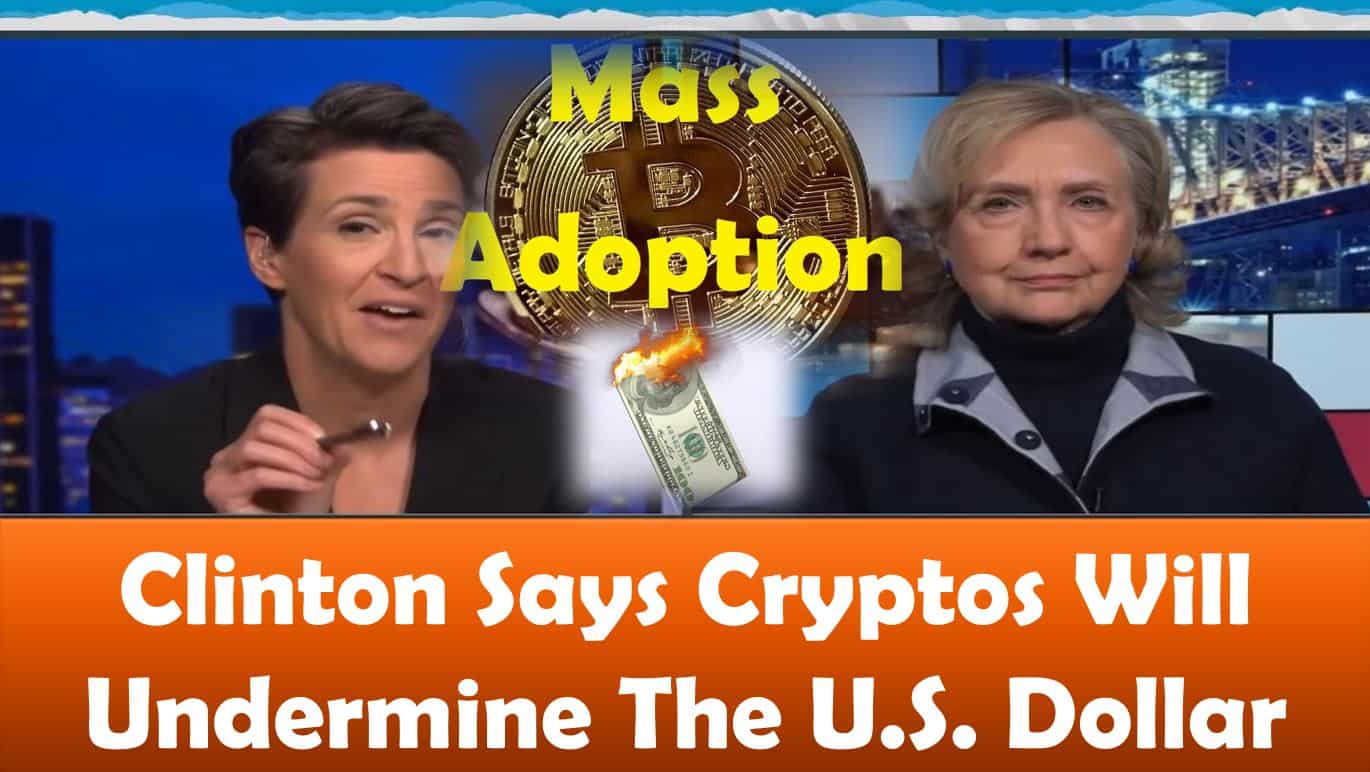 Clinton Says Cryptos Will Undermine The U.S. Dollar
Last updated on November 1st, 2022 at 11:09 am
The former U.S. presidential candidate, Hillary Clinton, has again come out with a harsh stance against cryptocurrencies. Clinton has stated that cryptocurrencies could strengthen the economic status of other competing developing countries while leaving the United States dollar to be vulnerable.
Clinton has therefore stated that cryptocurrencies needed to be regulated by the Biden administration to ensure that they are not manipulated by China and Russia to "destabilize" the status of the U.S. dollar as the world reserve currency.
Clinton's Critique of Crypto
Clinton vied for the U.S. presidential election in 2016 against Donald Trump.
While the two are political rivals, they have shared a similar belief regarding cryptocurrencies. Trump has previously stated that Bitcoin was a "scam." Like Clinton, he has also stated that cryptocurrencies were a threat to the U.S. dollar.
Clinton seems to be joining Trump's line of thought regarding cryptocurrencies. In a recent appearance with Rachel Maddow of MSNBC, she reaffirmed her previous harsh stance against digital assets. 
Clinton addressed the issue of regulations on technological companies and how these firms can be protected from foreign interference.
One of the topics they discussed was the global regulatory framework for tech firms and talked about the recent regulatory compliance by Google and Apple in Russia.
As the conversation proceeded, Clinton touched on the issue of the crypto market.
She stated that "larger sums of money" were being gathered by eastern superpowers such as China and Russia, controlling certain cryptocurrency chains.
She also added that cryptocurrencies were a threat that went beyond the United States and that external parties could also pose a threat to global financial stability.
"We're looking at not only states such as China or Russia manipulating technology of all kinds to their advantage. We're looking at non-state actors – either in concert with states or on their own – destabilizing countries [and] the dollar as the reserve currency," he stated.
Clinton was also on record recently stating that cryptocurrencies had the potential to destabilize economies. She called for all countries to be wary of the rise of cryptocurrencies because these assets can undermine fiat currencies and affect the normal running of the economy.
Other Superpowers On Crypto
The U.S. is currently lagging behind in terms of cryptocurrency adoption and having a clear regulatory framework.
In Russia for example, cryptocurrencies have received the green light from the government to be used as a means of payment. Last month, Russia's finance minister stated that the country would not impose cryptocurrencies with harsh restrictions such as those in China.
On the other hand, China has created a harsh stance towards cryptocurrencies.
Earlier this year, the country imposed a ban on cryptocurrency mining, making all miners migrate to overseas markets.
Moreover, it declared that cryptocurrency trading was illegal and exchange platforms such as Huobi and Binance have left the country.
On the other hand, the European Council recently announced that it will accept two regulatory frameworks.
These frameworks have been deemed one of the most advanced in the cryptocurrency sector. They seek to bring regulations into the crypto sector and create a framework that will protect investors while supporting innovations.
Despite the hostility towards crypto in the U.S., the country is slowly taking China's position as the largest global crypto hub. Currently, the U.S. accounts for the largest share of Bitcoin's mining hash rate.
Disclaimer
The information provided here is for INFORMATIONAL & EDUCATIONAL PURPOSES ONLY!
View our complete disclaimer on our Disclaimer Page