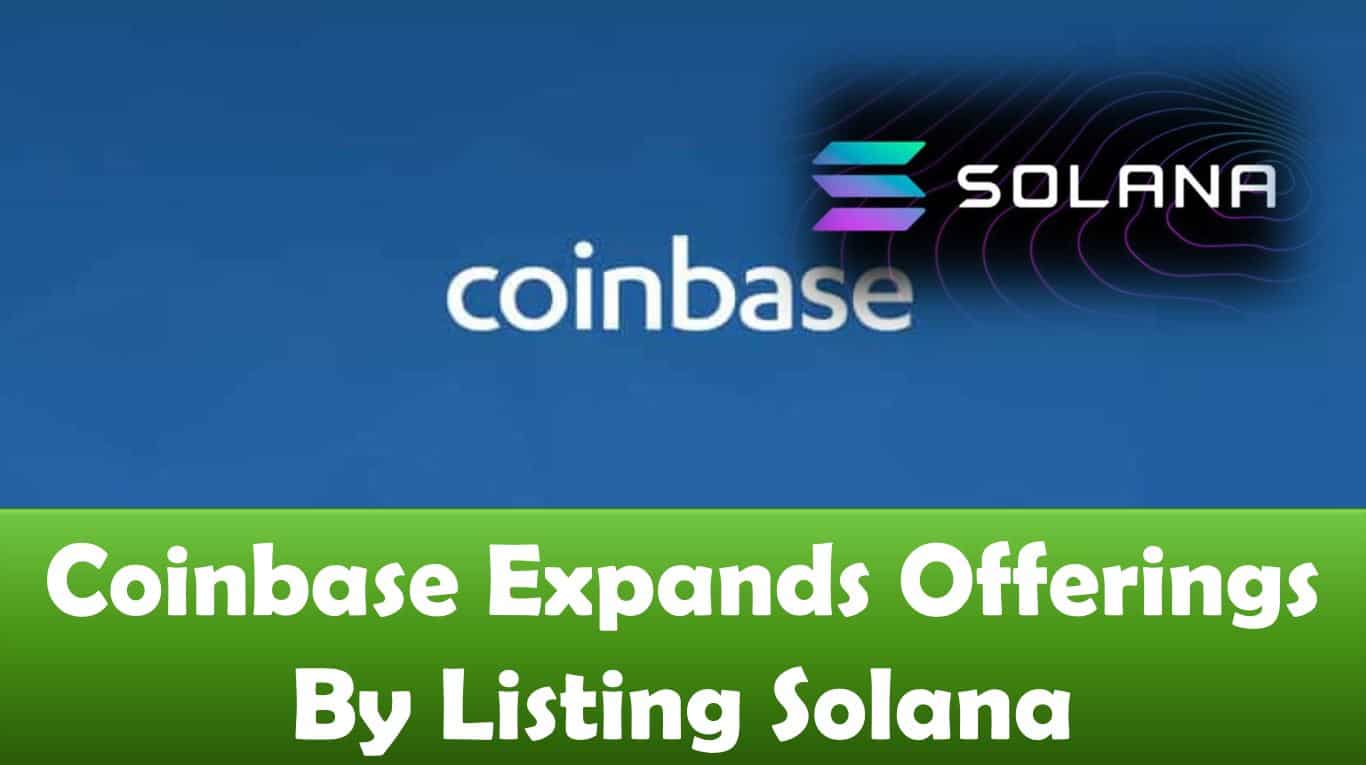 Coinbase Expands Offerings By Listing Solana
Coinbase, one of the leading cryptocurrency exchange platforms, plans to expand the list of the number of tokens supported on the platform. The exchange is planning to increase its user-base by being the ideal trading platform for traders that want to hold a diversified portfolio of crypto assets.
Recent reports indicate that Coinbase wants to list tokens on the Solana ecosystem.
The addition of these tokens comes as Solana becomes popular in the crypto market. The blockchain has recorded major growth and adoption over the past year.
Sources close to the exchange note that Coinbase plans to enable the withdrawal of tokens in the Solana Program Library.
This feature will be available in the near future. SPL tokens are the native tokens on the Solana blockchain.
Coinbase will also offer support to the USDC stablecoin on the Solana blockchain. This stablecoin has seen significant growth due to the growing adoption of Solana. Its market cap currently stands at around $4.7 Billion.
The USDC on the Ethereum blockchain has a market cap of $44 Billion. While the difference is huge, Solana holds the second-largest share of USDC on a blockchain.
Stablecoins facilitate transactions on a blockchain network, aiding developers in launching projects.
The addition of these tokens is a notable move for the Coinbase exchange. The exchange has only listed native tokens for layer one blockchain and ERC-20 tokens.
By listing SLP tokens, Coinbase will be, for the first time, listing tokens listed on chains other than Ethereum.
While Coinbase is one of the largest exchanges in the market, users have been under pressure to increase the number of tokens supported on the platform. The exchange's token offering is barely half of the number listed on Binance, the world's largest cryptocurrency exchange.
Cryptocurrency exchanges usually rely on trading fees for their revenues. By only listing a few tokens, the exchange is limited in the revenue it can raise and this has presented a challenge to the company in terms of meeting investor expectations.

Coinbase Affect Fading
The Coinbase exchange is popular for causing a price rally whenever a new token is listed on the platform. However, recent market analysis shows that the popular "Coinbase effect" could be fading.
One of the reasons behind this could be that the exchange now has a huge token base. Initially, only a few tokens were listed on Coinbase, and any new addition caused a stir in the market.
Additionally, the recent market recession has affected the prices of tokens across the crypto charts. A recent analysis shows that the tokens listed on Coinbase were recording major losses compared to leading coins such as Bitcoin and Ethereum.
The tokens that Coinbase had considered to list in the past but failed to do so have also performed better than those listed.
The market dip has also affected Coinbase shares. The shares of the exchange are currently 45% below the all-time high.