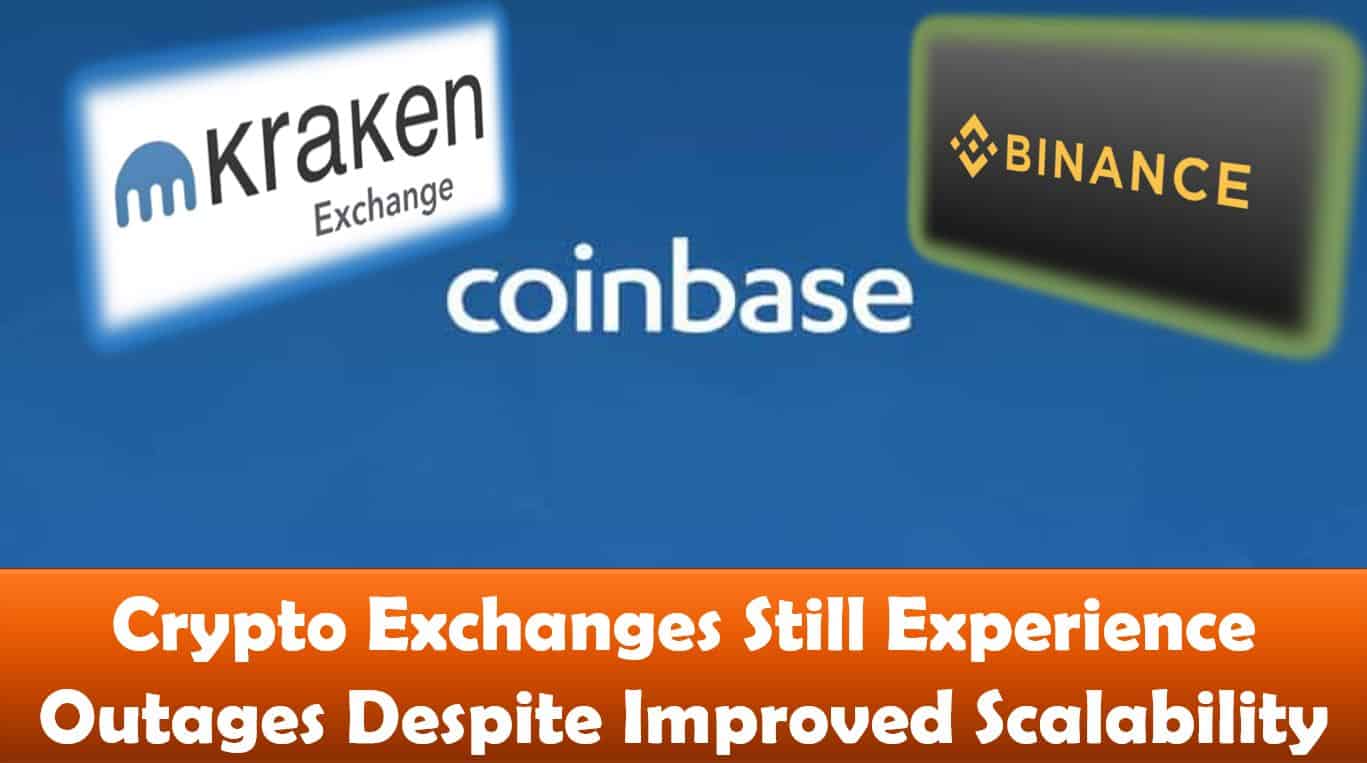 Crypto Exchanges Still Experience Outages Despite Improved Scalability
Last updated on November 1st, 2022 at 04:00 pm
Exchanges have benefited hugely from the recent onset of the bull run. During this relatively short period of time many cryptocurrencies have doubled their number of users over the last few months.
However, the exchanges still have their headache. As new traders flood into these exchanges amid record crypto prices, they have found it difficult to maintain a strong network.
The exchanges have witnessed repeated outages, especially for major cryptocurrencies like Coinbase, Bittrex, Kraken and Binance.
Crypto Exchanges Deal With High Volumes
Whenever there is a heavy spike in volume, the exchanges are always affected, as the network becomes slow and lethargic.
While many of the exchanges are trying to improve their network's capacity, it's still difficult for them to predict exactly how much network capacity they need to improve.
According to Raúl Marcos, Chief Executive Officer of crypto consultancy Carbon, the outages experienced with exchanges have almost become inevitable.
"Regarding exchanges experiencing service outages, it's normal and understandable," he stated.
He said people's interest grows exponentially whenever Bitcoin breaks an all-time high. As a result, there is a massive influx of traders on the exchanges, which in many cases take the exchanges unawares.
Exchanges Not Prepared For Volume Spikes
Sathvik Vishwanath, Co-founder and Chief Executive Officer of crypto exchange UnicornX, revealed that it is always difficult to predict any price surge in the crypto market. Even when the surge is anticipated, it's almost impossible to know how big the surge will be. As a result, most exchanges are not prepared for any high increase in trading volume.
The surge in terms of the number of transactions and new user-signups is very unpredictable in the cryptocurrency industry, and it will be difficult and very expensive to have scaling setups always on standby. Even when the setups are on standby, they may not be enough for some types of surge. This has posed a lot of scaling problems for crypto exchanges who are having downtimes whenever there is an upsurge or record upward movement of crypto prices.
Chief executive officer of Binance Changpeng Zhao admitted that exchanges' have series of challenges, as they face so many technical issues in the market.
Crypto exchanges offer direct real-time service to consumers all over the world, he added.
Since they have to carry out their operations with almost extreme rapidity, it makes it even more difficult to deal with unexpectedly high volumes, he concluded.
Disclaimer
The information provided here is for INFORMATIONAL & EDUCATIONAL PURPOSES ONLY!
View our complete disclaimer on our Disclaimer Page