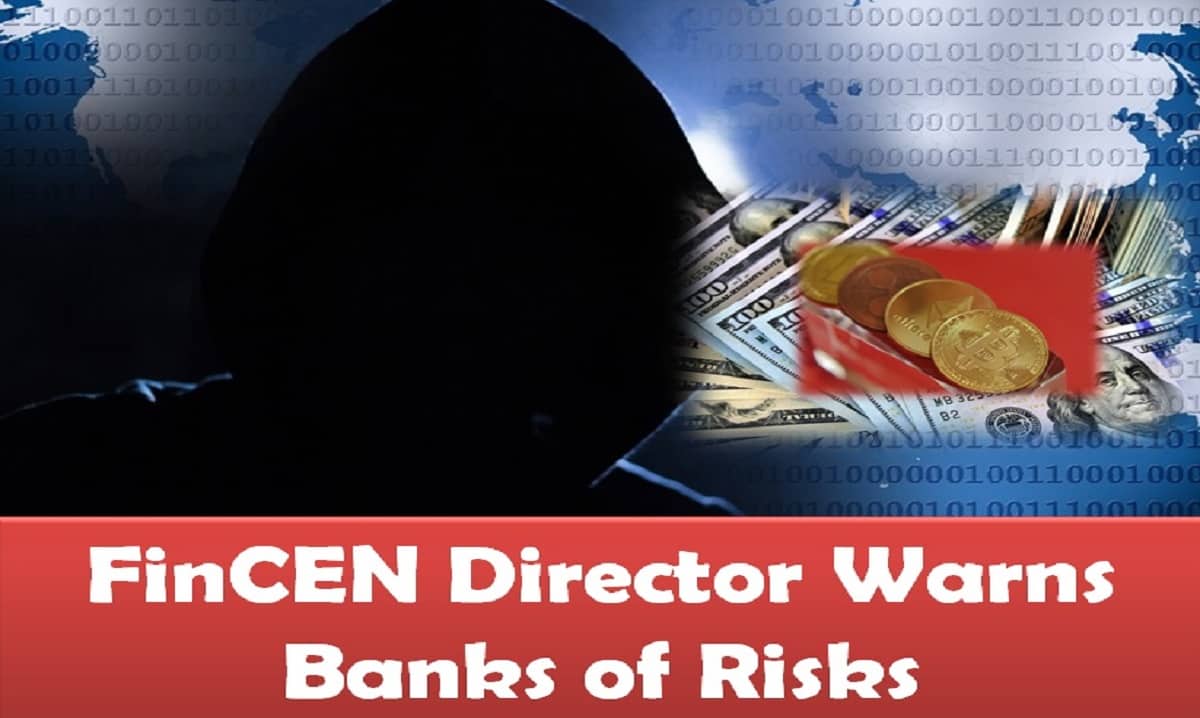 FinCEN Director Warns Banks of Risks
Last updated on September 9th, 2022 at 09:20 am
Money laundering and other illicit activities being carried out with and funded by Bitcoin and other cryptocurrencies has been a staple complaint of governments and financial regulators alike.
These authorities and regulators around the world are having serious challenges keeping down the rate of money laundering carried out with digital currencies. To combat this 'issue' many have set rules and policies to reduce the risks posed by criminals who launder money and commit all sorts of financial crimes through cryptocurrencies.
We've reported on several of them. These crackdowns include the UK announcing a 'crackdown' on dirty money, the Netherlands banning foreign crypto related business and the UN saying that crypto makes fighting crime and terrorism more difficult.
Now, FinCEN director, Kenneth Blanco, has advised banks to be very careful with digital currencies as there are risks of exposures to worry about.
---

---
Regulators Say Effective Anti-Money Laundering is Required
Blanco advised financial institutions and banks to control the illegal cashing out of funds in digital currency form. He said they should adopt effective anti-money laundering measures to seriously reduce the risk of financial loss associated with money laundering in the digital currency sector.
Blanco issued the reminder during a virtual conference organized in Las Vegas to address the challenges of money laundering
His statement was in line with the agency's FIN-2019-A003 law, which stated that every financial institution and the bank has the responsibility of reporting dubious transactions relating to money laundering, as well as other illegal activities.
But presently, it seems that most of the banks are unaware of the impact of digital currency transactions. As a result, many of them are not bothered about adopting AML strategies. Blanco said many of the banks are not taking the risks seriously whenever they are examined.
"If banks are not thinking about these issues, it will be apparent when examiners visit," Blanco reiterated.
He further stated that crypto exchanges are not the only companies that should be worried about the exposure risks relating to digital currencies. He said banks and other financial institutions should also consider the risk.
FinCEN will be working with other examiners to find out how banks are doing when it comes to managing the risks through AML policies. That means the efforts banks have taken towards adopting the FinCEN rules will be clear when the examiners visit.
Financial Authorities Working To Protect Investors
Some incidents have been reported where retail banks involved themselves in illegal money service businesses by exchanging cryptocurrencies for cash.
But the U.S. financial regulatory bodies are busy to make sure there are strong policies in place that will counter such dealings. Already, the U.S. Justice Department has indicted several crypto-based money laundering businesses.
FinCEN has written to U.S. banks that it is closely monitoring the response from the banks when it comes to their acceptance of the AML programs and how far some of them have gone to apply the rules in the program.
The new FinCEN rule states that it is the role of all banks and financial institutions to report suspicious activities regarding how criminals and other threat actors carry out money laundering activities by exploiting card verification checks.
Since many banks are not clear how transactions in virtual currencies affect their existence, the threat actors are presently having a field day until the FinCEN regulations are applied.
Disclaimer
The information provided here is for INFORMATIONAL & EDUCATIONAL PURPOSES ONLY!
View our complete disclaimer on our Disclaimer Page