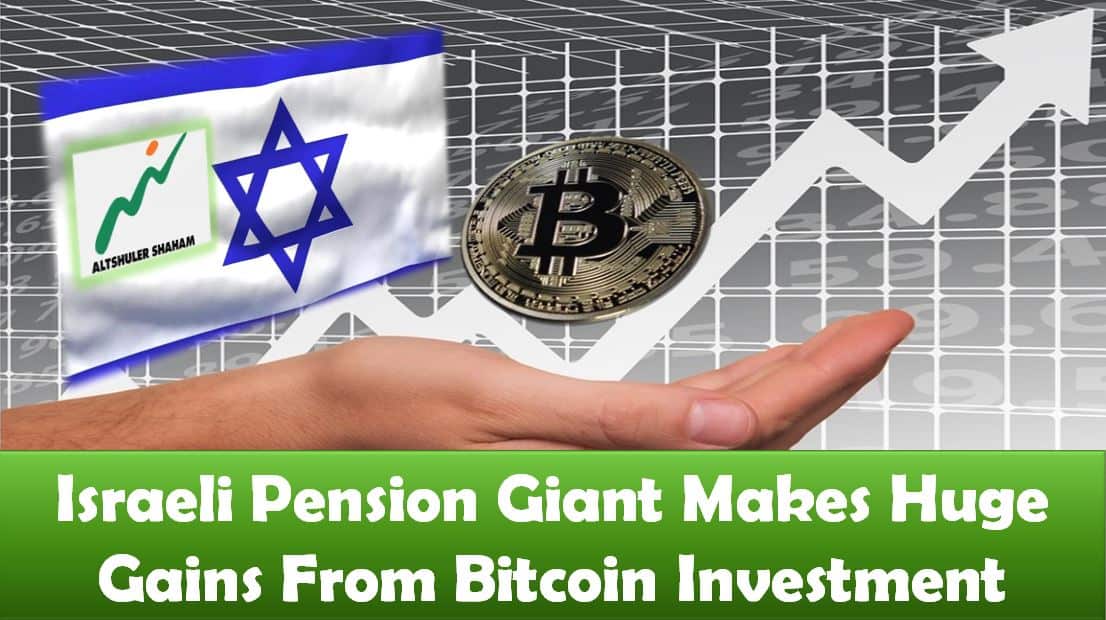 Israeli Pension Giant Makes Huge Gains From Bitcoin Investment
Last updated on December 5th, 2022 at 02:10 pm
According to reports, Israeli asset manager Altshuler Shaham has doubled its $100 Million Bitcoin investment made through Grayscale Bitcoin Trust.
The investment house is regarded as one of the largest in Israel and this recent development shows increased institutional interests in the top cryptocurrency.
The report reveals that Altshuler Shaham invested late last year when Bitcoin was still trading at about $21,000. It has already sold one-third of the investment and its holdings are still worth 50% more than its purchase price.
"The $100 Million investment has become $200 Million, and of the $200 Million we have already sold about a third," the firm stated.
The company is the only Israeli firm to have pumped in this magnitude of investments in Bitcoin so far.

More Bitcoin Interests By Institutional Investors
In March, a report emerged that Chinese tech firm Meitu invested $40 Million into crypto assets (Bitcoin and Ethereum), making it the first Hong Kong-listed firm to invest such magnitude of funds in cryptocurrencies.
This development is coming at a period when institutional investors are looking to gain more exposure to Bitcoin and cryptocurrencies. Some of them have increased their investment activities on crypto assets directly while others prefer going through investment arms like Grayscale.
Known as the largest Bitcoin fund in the world, Grayscale Bitcoin Trust was setup in 2013. It gives investors the chance to gain exposure to Bitcoin. The fund and Coindexk are owned by Digital Currency Group.
Based on recent data, Grayscale presently has $42.1 Billion in assets under management invested across its different crypto assets and trust funds.
Plans For Future Investments
The report reveals that Altshuler Shaham presently has about $150 Million worth of Bitcoin investments and there are plans to add even more. But any future investment will depend on market volatility and Bitcoin's price.
The fund revealed that it was initially worried by the high volatility levels of Bitcoin before the investment. But it decided to invest after seeking series of opinions and consultations from industry experts.
Altshuler Shaham also has an alternative assets department that has both BTC and ETH wallets. The firm added that the part it has taken to invest in Bitcoin is a new one for the firm, as it took a few months to get the necessary approvals for such investment.
Disclaimer
The information provided here is for INFORMATIONAL & EDUCATIONAL PURPOSES ONLY!
View our complete disclaimer on our Disclaimer Page