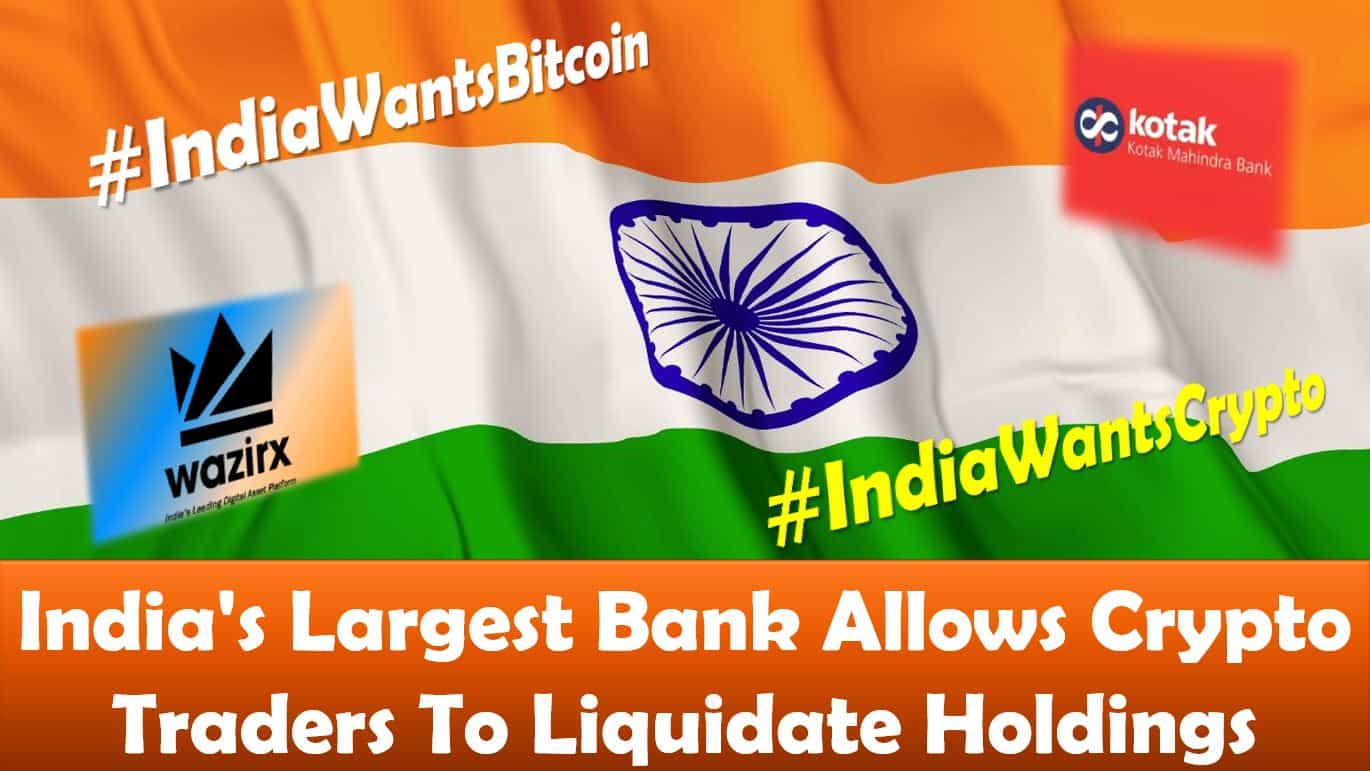 India's Largest Bank Allows Crypto Traders To Liquidate Holdings
Last updated on October 31st, 2022 at 11:56 pm
The largest private bank in India, Kotak, is finally embracing cryptocurrencies and it has become the only major banking institution in India to open its doors to digital assets.
Kotak has partnered with WazirX to make crypto trading easy for crypto investors in India.
According to a publication by the Economic Times, this partnership will allow traders on WazirX to liquidate their crypto holdings through the bank.
Kotak noted that it would allow crypto traders on WazirX to use the banking services to convert their crypto assets into fiat. The partnership between Kotak and WazirX is a big move for India's crypto community.
Before this partnership, banks in India did not endorse cryptocurrencies. Over the past eight months, banks in India have frozen crypto transactions, including payments and withdrawals. With the largest bank in the country now endorsing crypto, it could pave the way for other banks to follow suit.
A spokesperson close to the matter stated that the WazirX crypto exchange firm had created an account with Kotak. The individual stated that this account would be used to receive and pay funds to investors trading on the exchange.
"The account is yet to become operational. Paperwork, KYC, and some testing are done," the report stated.
Kotak and WazirX are yet to issue an official statement on the matter. However, once this service is rolled out to the public, it will be a major turning point for the crypto framework in India.

Until now private banks in India have been reluctant to deal in crypto. Most reasoning for this position is due to the lack of a clear regulatory framework to govern crypto trading activities.
Most of these banks refer to a circular from the Reserve Bank of India that bars banking institutions from offering crypto services. However, the circular released in 2018 is no longer valid because India's Supreme Court nullified it. This allowed banks to offer crypto services, but the move has not made these banks launch crypto offerings.
The failure of banks in India to offer crypto services despite the Supreme Court ruling has created much skepticism on the real issue.
According to Rameesh Kailasam, the leader of a technological lobby group in India, banks in India are not offering crypto services because of the financial health and risk concerns from crypto investments.
"Post RBI clarifying to banks in May this year that they cannot cite the 2018 order as it was set aside by the Supreme Court, banks were free to engage with the cryptocurrency ecosystem. Since then, banks have been permitted to engage provided they understand necessary due diligence processes around KYC, ML, CFT, PMLA, FEMA, besides looking at their own financial health and risk exposure. Hence banks who have done this homework would typically be free to engage with the industry."
The crypto framework in India is still shaky, given the pending cryptocurrency bill being discussed during the winter parliamentary session. The partnership between Kotak and WazirX is a positive sign that a clear regulatory framework will be developed soon.
Sources familiar with the matter have stated that the government is looking for ways to regulate cryptocurrencies and not impose a total ban on these assets.
India's Struggle For Crypto
Due to a lack of regulatory clarity in India, moving between cryptocurrency and fiat is near impossible. While there is a desire by the citizens of India to have access to crypto, this is met by major pushback from the Reserve Bank of India (RBI) and the government.
Proposals surrounding cryptocurrency in the country have ranged from extreme taxation to outright banning. Most recently, in a show of support for the digital asset class, cryptocurrency exchanges in India increased their marketing campaigns ahead of the holiday season there.
Disclaimer
The information provided here is for INFORMATIONAL & EDUCATIONAL PURPOSES ONLY!
View our complete disclaimer on our Disclaimer Page