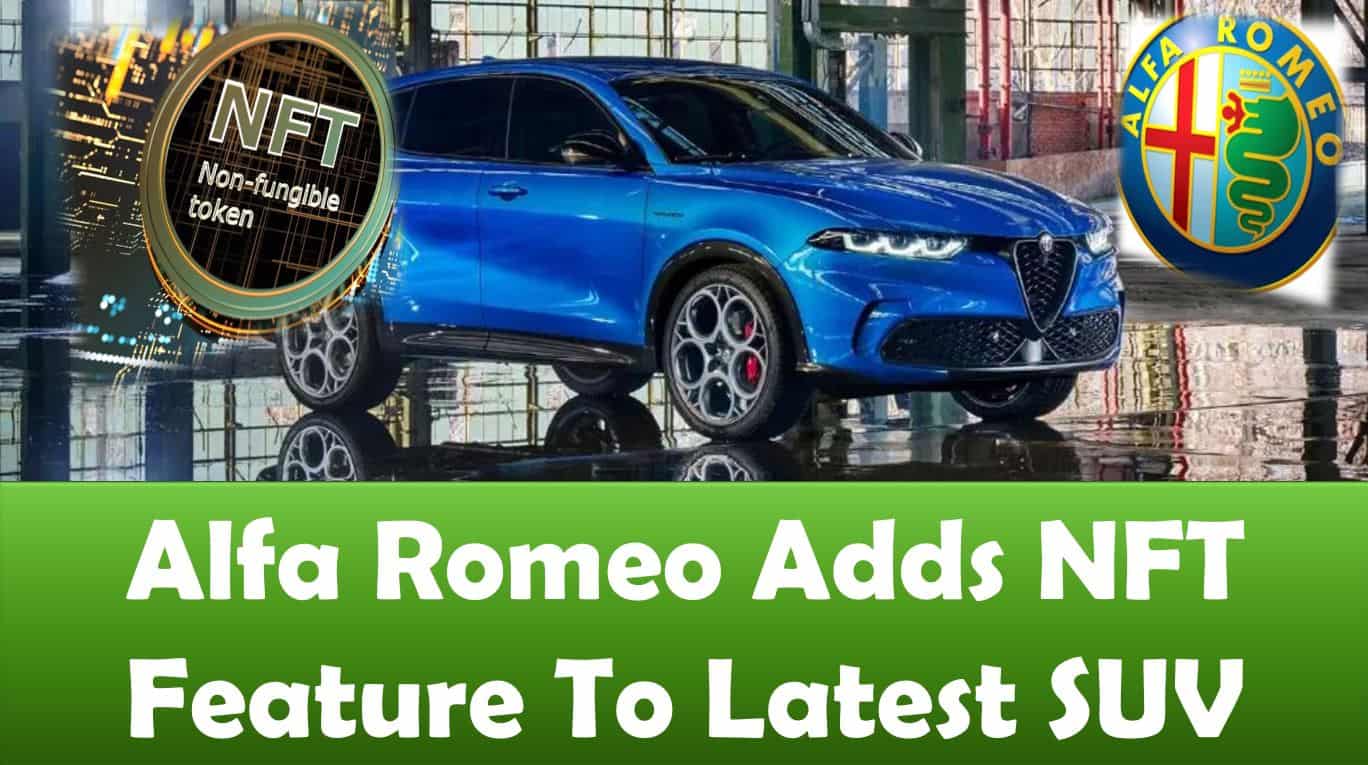 Alfa Romeo Adds NFT Feature To Latest SUV
Last updated on September 9th, 2022 at 10:25 am
Alfa Romeo, an Italian carmaker, has released details about its latest car model. According to the firm, this vehicle will adopt the innovative technologies of blockchain and non-fungible tokens (NFTs).
Alfa Romeo announced that it was the first company in the car manufacturing industry to link each vehicle with a blockchain-based token. This token will keep track of the car within its entire life cycle.
The most outstanding feature about this SUV is that every vehicle will be accompanied by an NFT. The NFT will be used as a certification during the purchase process. The Tonale NFT will also maintain the records and data of the vehicle during its entire lifespan.
The head of global marketing and communication at Alfa Romeo commented on this development, saying,
"Upon customer's consent, the NFT will record vehicle data, generating a certificate that can be used as a guarantee of the car's overall status, with a positive impact on its residual value."
The company further stated that the certificate generated through this NFT could be used to assure that a vehicle has been well-maintained. A user can be guaranteed to have a better resale value.
However, the car should be serviced by a certified Alfa Romeo dealer for maintenance data to be recorded.
Brands Integrating NFTs
Various brands across different industries have been rushing to integrate NFTs into their offerings.
Automobile companies have been leading in adopting NFTs, with the market being estimated to reach $240 Billion by 2030. Automobile NFTs usually involve minting unique digital collectibles attached with vehicle purchases.
Some luxury car brands have already dipped their toes in NFTs. Lamborghini, Rolls-Royce and Mercedes-Benz have announced experimenting with NFTs and how this can be good for their brand.
Earlier this month, Lamborghini announced the launch of its first NFT project known as "Space-Time Memory." This project involves a collection of five NFT pictures illustrating a Lamborghini Ultimae going into space.
Mercedes Benz also recently announced its partnership with Art2People. Through the partnership, the carmaker wants to unveil a limited-edition Mercedes-Benz NFT collection based on its G-Class vehicle model.
The popularity of the blockchain space has resulted in brands integrating various offerings in the sector as a marketing strategy.
Over the past year, almost every industry announced having blockchain offerings. One of these sectors was real estate, where deals settled in cryptocurrencies have been unveiled.
The sports sector has a higher rate of blockchain adoption, mainly attributed to fan tokens. These tokens boost fan engagement and raise additional revenues for sports teams. The benefits of NFTs in the business world have triggered a race towards adopting this new technology.
NFTs have gained a lot of use cases because they allow the buyers to own a piece of something they are interested in. for instance, McLaren announced that it was launching an NFT of its Formula 1 car to allow fans to collect a rare piece of the racing company.
Disclaimer
The information provided here is for INFORMATIONAL & EDUCATIONAL PURPOSES ONLY!
View our complete disclaimer on our Disclaimer Page