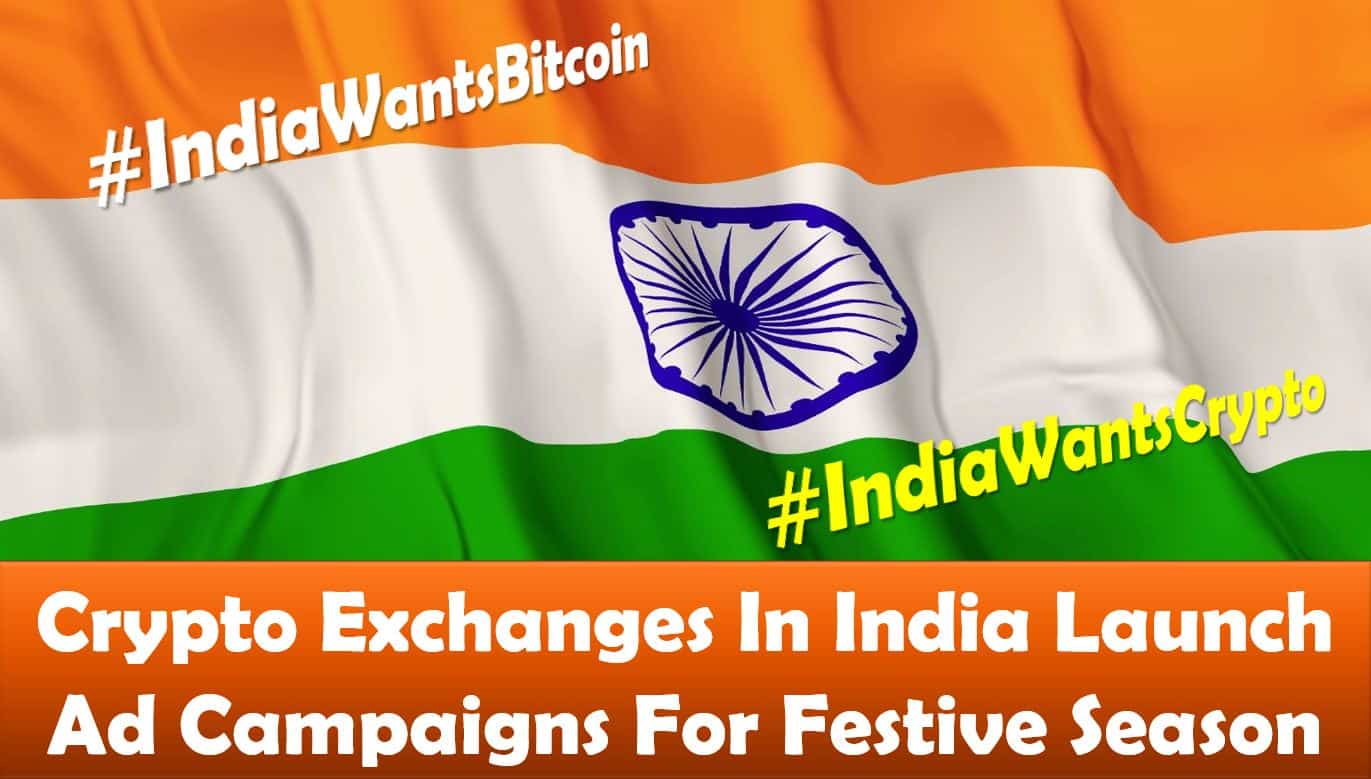 Crypto Exchanges In India Launch Ad Campaigns For Festive Season
Last updated on November 1st, 2022 at 12:14 am
With the commencement of the holiday season in India cryptocurrency exchanges have intensified their campaign activities. These campaigns are urging people to invest in the crypto market. Some exchanges have even started a crypto giveaway as a more aggressive strategy trying to entice people to invest.
The Hindu festive season commenced on September 10. During this season, gold is the most common form of a gift. However, exchanges are urging people to change the norm and instead gift Bitcoin to one another.
Unocoin, one of the popular exchanges in the country, has stated that people adopting Bitcoin as a way of gifting each other during this season can play a crucial role in increasing awareness about the crypto sector.
Sathvik Vishwanath, Unocoin's co-founder, has stated that the exchange has teamed up with e-commerce platforms to allow people to purchase gift vouchers using Bitcoin. These gift vouchers can then be used for online shopping.
Unocoin is not the only exchange seeking to promote Bitcoin and other cryptocurrencies during the Hindu holiday season. WazirX, another popular exchange platform, is also launching various products aimed at promoting crypto gifting.
According to Rajagopal Menon, a marketing executive at WazirX, introducing crypto gifting aligns with the exchange's objectives. The exchange also stated that it had increased the number of employees from 50 to 200, and this number is expected to be even higher during the holiday season.
India's Crypto Environment
Despite the boom in crypto exchange activities in India, a clear regulatory framework is yet to be developed. While various proposals have been tabled regarding crypto regulations, legislatures have yet to pass any law.
However, this is expected to change soon, as a new law is being formulated.
The new law that will be introduced in the coming months will take away the crypto ban that has been in place in the country. However, the new laws are not expected to accommodate Bitcoin and other cryptocurrencies fully in the economy.
According to the Chairman of the Parliamentary Standing Committee on Finance, Jayant Sinha, the upcoming law on cryptocurrencies will revolve around promoting national security and ensuring that crypto does not affect the stability and growth of the Indian economy.
Hence, it will not be like the law formulated in El Salvador, where Bitcoin was accepted as legal tender.
Sinha also added that there were concerns about using virtual currencies for money laundering and financing terrorism.
Back in May, legislatures in the country discussed the abolition of a previous crypto ban terming it as outdated.
A new panel was formed to look into how blockchain and digital assets can be used in a regulated manner in the modern economy.
A former deputy governor of the Reserve Bank of India, Rama Gandhi, has also called for legislatures to be timely in formulating regulations for cryptocurrencies.
In his remarks, Gandhi stated that cryptocurrencies should not be viewed as currencies but rather as assets and commodities. This will place them in the same category as gold.
Disclaimer
The information provided here is for INFORMATIONAL & EDUCATIONAL PURPOSES ONLY!
View our complete disclaimer on our Disclaimer Page