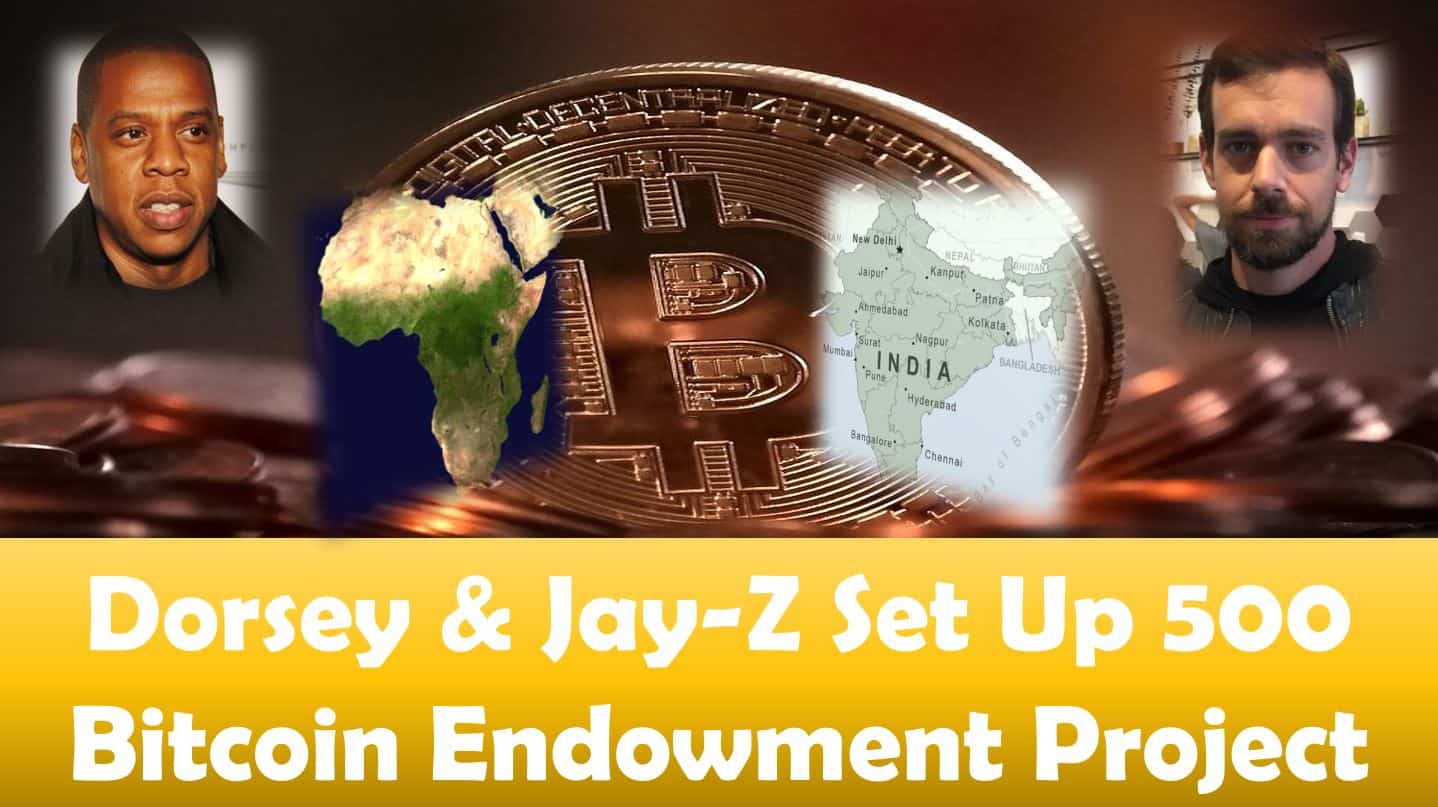 Dorsey & Jay-Z Set Up 500 Bitcoin Endowment Project
Last updated on December 5th, 2022 at 02:21 pm
Music Mogul Jay-Z and Twitter Chief Executive Officer Jack Dorsey have invested 500 Bitcoin ($23.6 Million) to roll out an endowment project in Africa and India.
Dorsey, who is also a Bitcoin enthusiast, revealed that the partnership between him and Jay Z will initially focus on two areas – Africa and India. However, he added that other regions will be included in the project subsequently.
"It'll be set up as a blind irrevocable trust, taking zero direction from us," Dorsey added.
Dorsey stated that three board members will be required as the project kicks off. He also posted a link to enable prospective board members to apply to execute the project successfully.
The project's mission, as stated in the announcement, is to "make Bitcoin the Internet's currency."
The Twitter boss has always been in the news when it comes to the cryptocurrency industry. A few days ago, Twitter announced that it's considering adding Bitcoin to its balance sheet. Then on Wednesday, Dorsey donated $1 Million to Coin Center, a cryptocurrency policy think tank.
Dorsey said he is very passionate about Bitcoin due to its technology and the model it demonstrates. Its decentralized system means that it's a fundamental internet technology that isn't controlled by a single individual, entity, or government.
"The reason I have so much passion for Bitcoin is largely because of the model it demonstrates," he stated.

Bitcoin To Fund Development Projects
According to the announcement, the funding for the project will be used to fund Bitcoin development in the two regions. This is coming at a period when Bitcoin and other cryptocurrencies are experiencing a sustained period of market upsurge. The project is also coming at the period when the Indian government is looking at regulations and taxation on Bitcoin and cryptocurrency transactions.
Varun Deshpande, the co-founder of Onjuno, a digital banking platform in India, commented on the government's plan. He stated that India is indeed the world's leader in software development, but the country has not made any meaningful contribution to Bitcoin's core development.
Emerging Markets for Bitcoin in Africa
In October last year, another of Dorsey's firm, Square, purchased $50 Million worth of Bitcoin to provide more access for the decentralized currency via Cash App, its mobile payment platform.
Dorsey said Africa was chosen as part of the project because of the regions increased growth of the technology and its number of users.
The continent, Nigeria in particular, has witnessed a surge in Bitcoin and crypto adoption in recent years. Within the past 5 years, the country has maintained the second position in the world when it comes to the volume of Bitcoin traded. Africa's emerging market is enticing for many cryptocurrency related projects. It is expected that Cardano will be making announcements soon regarding Africa and singer and entrepreneur Akon has a crypto city underway in Senegal.
Disclaimer
The information provided here is for INFORMATIONAL & EDUCATIONAL PURPOSES ONLY!
View our complete disclaimer on our Disclaimer Page